I never would have guessed that a 30-second com­mer­cial could be struc­tured on the same sto­ry­telling beats as a typ­i­cal 90-minute movie.
And yet that's exactly what the late Blake Sny­der demon­strated in his last book, Save The Cat Strikes Back.
If you're not famil­iar with the Save the Cat series of screen­writ­ing books, let me explain.  Blake Sny­der breaks the typ­i­cal movie down into 15 dra­matic "beats," that also coin­cide with tra­di­tional 3-act story struc­tures and Joseph Campbell's monomyth/hero's jour­ney cycle.
If you're inter­ested in learn­ing more, you can down­load all 15 beats on the "Blake Sny­der Beat Sheet" along with a dia­gram of how the beats line up with a basic 3-Act Struc­ture over at the offi­cial Save The Cat Web­site.
At any rate, it's impor­tant to keep in mind that these are the struc­tural beats for feature-length movies – that's what makes it so cool and semi-mind-blowing that they also work for a 30 sec­ond commercial.
So here's how Blake broke down the dra­matic struc­ture of a Pledge Com­mer­cial, using these same struc­tural "beats" that he uses to teach scriptwriting:
"The Day I Dis­cov­ered Pledge
Open­ing Image – A down­cast house­wife.  Home a mess.  Dust every­where.  This "before" snap­shot depicts the Set-Up, and even a Sta­sis = Death moment, for it looks like things won't change.
Cat­a­lyst – Then our hero dis­cov­ers….. Pledge!
Debate – "Should I use it?"
Break Into Two – Yes!
Fun and Games – With a spray can of her B-story ally, the delighted home maker flies through the house, dust van­ishes like magic, table­tops glow.  And the "false vic­tory" at Mid­point shows she can live like this all the time.  But there's a problem….
Bad Guys Close In – To have the "new," she must give up the "old."  Can our hero face the truth of what she must sacrifice?
All Is Lost – What "death" has to occur?  What "old idea" must be got­ten rid of?  What is the "All Is Lost" moment of our Pledge com­mer­cial?  Why it's drop­ping Brand X in the trash!  It's the fur­ni­ture pol­ish that our hero used to use that is now obsolete.
Break Into Three – Hav­ing dis­pensed with Brand X, the syn­the­sized pair fin­ish up the house­work with delight and…
Final Image – Dressed in her ten­nis out­fit, racket in hand, a newly together house­wife walks out the door, leav­ing the pri­mally named Pledge atop a very shiny table to guard her home.
The End"
So what's the point of all this?  Three things:
1. To rein­force the impor­tance of script­ing your online videos.
That pledge com­mer­cial prob­a­bly had very lit­tle dia­logue, but the mes­sag­ing was still scripted as intensely as a feature-length film.  And the same thing occurs with the vast major­ity of high-conversion prod­uct videos and viral videos.
More impor­tantly, if you can and should script an inter­ac­tive video, shouldn't  you also "script" vis­i­tor inter­ac­tion with your Web­site?  Surely you've given thought to what hap­pens on this or that page, but have you con­sid­ered the over­all "per­sua­sive arc" that would take place as the vis­i­tor moves through your site?
2. To rein­force the impor­tance of Story in your online messaging
We may claim to be "just the facts" kind of guys and gals, but we're not.  We wouldn't be human if we were.  As a per­sua­sive tech­nique, Story rules, even in:
3. To rec­om­mend Blake Snyder's books to you if you haven't read them.
His Save the Cat series is well worth the read, regard­less of whether or not you have any aspi­ra­tions toward writ­ing film scripts.  Just check out his Ama­zon reviews for his first and sec­ond books and you'll see.
Wel­come Back from the Holidays
Oh, and I also wanted to wel­come every­one back from the hol­i­days.  Hope all of you enjoyed some much-deserved time off.  Thanks for read­ing my stuff.  I'm res­olute in my com­mit­ment to bring you as much great mate­r­ial as pos­si­ble in the com­ing year.
P.S.  If you have any sug­ges­tions for top­ics or any­thing you'd like to see cov­ered, feel free to e-mail me.
Con­ver­sion Opti­miza­tion con­sul­tants, more than a few copy­writ­ers, and most SEO experts used to look down on Flash-based sites.
Flash sites weren't well indexed by search engines and had a bad habit of turn­ing a pull medium into a not-so-interactive video.  Oh, and their con­tent was often more gra­tu­itous than per­sua­sive in a flash-animated splash page sort of way.
Most all of that has changed, and we're really start­ing to see inter­ac­tive video come into its own, as is the case with Eloqua's new promotional/lead gen­er­a­tion video.  If you haven't seen it yet, you really should take a few min­utes out of your day to take a look.  And maybe spend a few more min­utes to poke around dif­fer­ent path­ways and responses.
Another great exam­ple is Boone Oakley's "YouTube Web­site," as demon­strated by their home page that I've embed­ded below: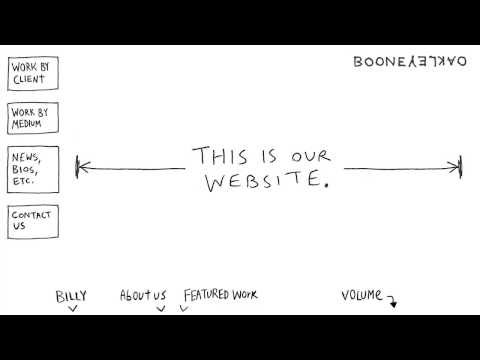 But make sure to look past the tech­nol­ogy to see the copywriting.
Yes, you read that right: I said copy­writ­ing. That video — includ­ing each and every one of it's forked paths — was planned out, scripted, and sto­ry­boarded. The video is cool; the mes­sag­ing is brilliant.
Viewed through that lens, you'll notice that most of the core per­sua­sive points remain the same regard­less of whether you click on "Mar­ket­ing" or "Sales" or "Exec­u­tive."  What changes is the focus on this or that fea­ture set, the videos order­ing of tak­ing points, and the per­spec­tive in which some of the mate­r­ial is cov­ered.  Bril­liant.  And a tech­nique that Bryan and Jef­frey Eisen­berg pio­neered with text-and-hyperlink-based sites.
So while I love the video and I think it rep­re­sents new oppor­tu­ni­ties to inject per­son­al­ity and charisma into inter­ac­tive "con­ver­sa­tions," keep in mind that tech­nol­ogy has to sup­port mes­sag­ing, and the core inter­ac­tiv­ity involved is no dif­fer­ent than that of reg­u­lar old embed­ded hyper­links.  Proper per­sua­sive plan­ning is still required.
If peo­ple are sus­pi­cious of facts and fig­ures, and they won't believe unsub­stan­ti­ated claims, what the hell can a copy­writer fall back on?
You can fall back on demon­stra­tion.  This ones a favorite of infomer­cials and it was the one qual­ity that the late Billy Mays insisted on when select­ing prod­ucts to pitch.
Or you can use a Real­ity Hook, where you tap into the unde­ni­able truths already res­i­dent within the minds of your audi­ence.  Here's a pitch per­fect exam­ple of that as recently cov­ered by Influ­en­tial Mar­ket­ing Blog:
Remem­ber the days of get­ting eight hours of sleep? Nei­ther do we. Most of us these days are get­ting a scant six hours of sleep. The equal­izer? The all-new Sealy Pos­ture­pedic.® Designed to elim­i­nate the pres­sure points that cause toss­ing and turning.

How did we achieve such a mirac­u­lous feat? Well, the short ver­sion (there's a more tech­ni­cal ver­sion below) is that it used to be, we either had push-back sup­port or pres­sure relief. Never both. So, with some very smart guys called the Ortho­pe­dic Advi­sory Board, we made the push-back support/pressure relief dilemma his­tory. And voilà, the new Sealy Pos­ture­pedic was born. Mat­tresses that make the six hours of sleep we do get, a bet­ter six.
A cou­ple of points:
1) The real­ity hook should not be a "Mas­ter of the Obvi­ous" state­ment.  The hook, rather than being a cliche, should either uncover the fal­sity of a cliche, or be a fresh obser­va­tion of a com­mon, but mostly unvoiced, expe­ri­ence.  Don't try to get all NLP on your read­ers by pac­ing them with brain-dead obser­va­tions in the hopes of "form­ing a chain of yeses."  Respect the intel­li­gence of your read­ers, please.
2) The real­ity hook only gets your foot in the door. It get's your audi­ence pre­dis­posed to see you as on the level and to con­tinue read­ing.  And while these are very good (and cru­cial) things, you still have to weave in other cred­i­bil­ity enhanc­ing tech­niques and gen­uine sub­stan­ti­a­tion.  In this case, Sealy builds increas­ing cred­i­bil­ity by admit­ting a for­mer down­side or lim­i­ta­tion: back sup­port and pres­sure relief are kind of mutu­ally exclu­sive.  Makes sense right?  And they do this while also let­ting the reader know that they've got the sci­ence and proof to back up their claims of hav­ing tran­scended that dilemma through engineering.
3) The real­ity hook is usu­ally an obser­va­tion about a prob­lem and annoy­ance, which means you bet­ter be able to talk about how you've over­come that annoy­ance in the life of the cus­tomer.  In other words, you tran­si­tion from the real­ity hook to the What's In It For Me (WIIFM) prin­ci­ple as fast as you can.  Again, Sealy does this by talk­ing about their mat­tresses' abil­ity to make 6 hours feel like more sleep and to elim­i­nate pres­sure points while also pro­vid­ing back support.
And really, I think that last point goes beyond copy­writ­ing to strat­egy.  As my friend, Chuck McKay, will tell you, a sure-fire strat­egy for many small busi­nesses is to  find what pisses peo­ple off about your indus­try or mar­ket and then offer a prod­uct or ser­vice free of that annoy­ance.  One-hour Heat­ing and Air Con­di­tion­ing is a per­fect exam­ple of that, and you can lis­ten to there very first radio ad (and real­ity hook) by click­ing the link below:
Audio clip: Adobe Flash Player (ver­sion 9 or above) is required to play this audio clip. Down­load the lat­est ver­sion here. You also need to have JavaScript enabled in your browser.
Fly­ing wicked fast through the sky doesn't feel fast at 36,000 feet.
No one has ever turned to the pas­sen­ger in the next seat and said, "wow are we ever book­ing it through these clouds!" This despite the fact that the air­liner is screech­ing through the air at 500 mph.
Yet fly­ing 120 mph about 50 feet off the ground in a heli­copter feels fast (butt-puckeringly fast, in fact, depend­ing on how tall the trees are ;). And dri­ving a Jet Ski at 35 mph directly on top of the water feels even faster.
The Les­son:
Action alone doesn't equal intensity.
Action seen through the right Per­spec­tive equals inten­sity.
In movies and comics, sto­ry­tellers achieve per­spec­tive through stag­ing.  Here's a bril­liant exam­ple of the dif­fer­ence per­spec­tive can make (an exam­ple I stole from Mark Kennedy* over at Tem­ple of the Seven Golden Camels):
Increas­ing A Sentence's Inten­sity Through Perspective
Apply­ing this prin­ci­ple to writ­ing, we see that the action itself — that is, the verb — only cre­ates real inten­sity when viewed through the right per­spec­tive.  Watch how inten­si­fy­ing the verb alone doesn't inten­sify the men­tal image all that much:
"

He hit me."

"

He decked me."

"

He Steven Seagal'd my ass."
But once I change the per­spec­tive you get:
"

His fist freight-trained into my upper lip, snap­ping my head back into darkness."
or "My nose snapped under­neath his knuck­les, black­en­ing my senses till I felt the cold floor tiles against my cheek."
Verb-wise, "Steven Seagal'd" and "freight-trained" are about on par with one another, but the lat­ter sen­tence cre­ates a sharper men­tal image.  Even more to the point, "snapped" isn't nearly as vivid a verb as "Steven Seagal'd" but the inten­sity of that last sen­tence still trumps any of the first three.
Chang­ing the Sub­ject Changes the Per­spec­tive — and the Intensity
Despite the com­mon­place to 'use strong verbs,' a pow­er­ful verb tied to a week sub­ject will only spin its wheels. Choos­ing the right sub­ject fore­grounds the action in the mind of the reader.
Here are a few more examples:
Ugly: "She walked lan­guidly and sug­ges­tively down the stairs and greeted her guests."
This sen­tence lamely attempts to con­vey the sex­ual over­tones of the lady's descent by slap­ping on an abun­dance of lame adverbs. Stan­dard advice is, "replace adverbs with bet­ter verbs" — and that's solid advice that yields some­thing like this:
(Not so) Bad: "She cat-walked her way down the stairs, enchant­ing each of her male guests in turn."
But chang­ing the per­spec­tive, does what just improv­ing the verbs alone can't:
Pretty Good: "Her hips swayed with each step, beck­on­ing her guests' attention."
Or "Her suit­ors' eyes tracked each hip-sway and leg unveil­ing as she made her grand entrance down the staircase"
It works for Emo­tional Per­spec­tive too
Which sen­tence best cap­tures the emo­tional sense of this photo?
a) As he trudged along the pave­ment, the man's down­cast eyes saw only the mean streets and dark pavement.
b) Trudg­ing the pave­ment, the man's down­cast eyes were met by dark shad­ows and the grim side­walk of mean streets.
c) Dark­ness piled over the man's down­cast head, lim­it­ing his sight to a nar­row patch of grim side­walk and des­o­late street.
How much of the dif­fer­ences between these sen­tences involves verbs, and how much involves perspective?
Bot­tom Line: writ­ing with strong verbs is great advice, but those action words won't have their full impact or inten­sity until you pro­vide the right perspective/subject.
* Appar­ently, Mark Kennedy got the mouse draw­ings from the Dis­ney book, The Illu­sion of Life.  Also, my thanks to Shane Arthur for ask­ing a ques­tion about strong verbs that prompted this post.