Tru­ism #1: If peo­ple see it com­ing, the trans­for­ma­tional moment — the moment when a char­ac­ter moves past his pri­mary fears, block, wound, or lim­i­ta­tion — will fail to cre­ate max­i­mum emo­tion in the reader because it'll get damp­ened or squashed by the audience's psy­cho­log­i­cal defenses.
Tru­ism #2: If the trans­for­ma­tional moment isn't prop­erly set up, and instead the writer just launches into high drama on the page, the scene won't be believ­able and it will fall emo­tion­ally flat for the reader.
Here's an exam­ple of this sec­ond tru­ism from the movie, Zom­bieland:
***Warn­ing — Movie Spoil­ers Ahead*****
There's emo­tion on the screen, duly por­trayed by Woody Har­rel­son, but it never really touches the audi­ence.  The flash­back, in fact, feels a bit off.  Who feeds their dog pan­cakes or lifts them up and bathes them like that?  But then again, Woody's char­ac­ter is a bit "off," so the viewer (or this viewer at least) let's the dis­con­nects slide.
And that's the genius of this scene.  Because as the movie goes on and the audi­ence gets tied up in the more excit­ing aspects of zom­bie bash­ing, they for­get all about that dis­con­nect until the writer springs this scene on them:
After watch­ing that scene, it dawned on me that the audi­ence wasn't meant to feel emo­tion in the first scene: it was just the set-up for this sec­ond scene in a way that would keep the audi­ence from "brac­ing" against the emo­tion.  Hence the "nar­ra­tive mis­di­rec­tion" of the puppy flashback.
That unde­tected set-up makes all the dif­fer­ence because we, the audi­ence, were taken in along with the Greg Eisenberg's char­ac­ter, "Colum­bus."  So we felt Columbus's insight and empa­thy as our own. It trans­fered right from the screen to our chests.
Bet­ter yet, while the audi­ence was caught up in the emo­tion of that scene, the writer set us up for this bit of dialogue:
Bril­liant, huh? We see the nihilis­tic loner con­front his loss and then over­come his iso­la­tion.  And it feels real. In fact, the emo­tion and drama works quite well for an oth­er­wise silly comedy.
Copy­writ­ing Tech­niques to Take Away From All This
First of all, the copy­writ­ing equiv­a­lents of these tech­niques prob­a­bly require a "don't try this at home, kids" style warn­ing, because they are in direct con­tra­dic­tion to stan­dard: "hit 'em as hard as you can with a WIIFM Appeal and UVP state­ment right off the bat"-style copy­writ­ing advice.  Advice which I nor­mally endorse as sound prac­tice, by the way.
But these tech­niques and exam­ples DO work when done right and are worth study­ing and think­ing about.  So with that caveat, here's what I have seen used:
1) Some­times the indi­rect approach works bet­ter. As I wrote ear­lier, most copy­writ­ers want to go in with guns a' blazin', spew­ing high-voltage WIIFM and UVP state­ments along with emo­tional problem-agitation-focused copy.  But some­times a slower start works to your advan­tage by allow­ing you to set-up your dra­matic moments and power statements.
So long as your copy is inter­est­ing and is sub­tle in its set-ups, this indi­rect approach can mas­sively out­pull reg­u­lar "reason-why" style copy. For exam­ple, here's how the famous Wall Street Jour­nal copy starts:
"On a beau­ti­ful late spring after­noon, twenty-five years ago, two young men grad­u­ated from the same col­lege. They were very much alike, these two young men.

Both had been bet­ter than aver­age stu­dents, both were per­son­able and both – as young col­lege grad­u­ates are – were filled with ambi­tious dreams for the future.

Recently, these men returned to their col­lege for their 25th reunion.

They were still very much alike.

Both were hap­pily mar­ried. Both had three chil­dren. And both, it turned out, had gone to work for the same Mid­west­ern man­u­fac­tur­ing com­pany after grad­u­a­tion, and were still there.

But there was a dif­fer­ence. One of the men was man­ager of a small depart­ment of that com­pany. The other was its president."
With the tale even­tu­ally lead­ing up to this power statement:
"The dif­fer­ence lies in what each per­son knows and how he or she makes use of that knowledge.

And that is why I am writ­ing to you and to peo­ple like you about The Wall Street Jour­nal. For that is the whole pur­pose of The Jour­nal: To give its read­ers knowl­edge – knowl­edge that they can use in business."
Can you imag­ine the fall off in response if the copy­writer had skipped the set-up and just launched into the power state­ment?  Can you imag­ine the U.S. School of Music cor­re­spon­dence course decid­ing a straight offer would work bet­ter than the immor­tal open­ing of "They laughed when I sat down at the piano but when I started to play!-"
And then there's this bit of direct mail mas­ter­piece that con­tin­ues to work so well a recent copy just arrived in my inbox today:
You look out your win­dow, past your gar­dener, who is busily prun­ing the lemon, cherry, and fig trees…amidst the splen­dor of gar­de­nias, hibis­cus, and hollyhocks.

The sky is clear blue. The sea is a deeper blue, sparkling with sunlight.

A gen­tle breeze comes drift­ing in from the ocean, clean and refresh­ing, as your maid brings you break­fast in bed.

For a moment, you think you have died and gone to heaven.

But this par­adise is real. And afford­able. In fact, it costs only half as much to live this dream lifestyle…as it would to stay in your own home!

Dear ETR Reader,

I'd like to send you a FREE copy of a unique–and invaluable–report.  It's called How to Retire in Par­adise on $30 a Day. And it tells you about the best places in the world for retire­ment living.
Again, imag­ine how much less effec­tive the straight offer of "Retire in Par­adise on $30 a Day" would have been. No set-up, no emo­tional punch.
And while I'll be the first to admit that read­ers are more sus­pi­cious of set-ups and more time sen­si­tive than ever before, the con­tin­ued use of this e-mail proves it still pulls.  Trust me, if the direct mail super­stars of Early to Rise had tested some­thing bet­ter, they'd be using it.
2) Ref­er­ence your prospect's "photo in a wal­let" sym­bol­ism to lever­age oth­er­wise unavail­able emo­tions. Woody Harrelson's char­ac­ter, Tal­la­has­see, wasn't plan­ning on help­ing res­cue the two girls. He needed to be con­vinced. But rather than launch into a ratio­nal argu­ment, or a straight­for­ward WIIFM-style appeal, the "Colum­bus" char­ac­ter clothed his appeal in the tal­is­manic image of Tallahassee's only keep­sake from his lost son.  And it worked.
I guar­an­tee you that your prospect's likely have a "wal­let pic­ture" type of men­tal image, some sym­bol, keep­sake, or event that pow­er­fully embod­ies and evokes their emo­tional stakes.  If you wish to give your copy greater emo­tional impact, find out what that talisman-like sym­bol is, and cre­ate men­tal images that take advan­tage of that sym­bol­ism.  Exam­ples of this abound, but per­haps the most famous is Michelin's tagline:
Before this Miche­lin ad, no one really cared about small qual­ity dif­fer­ences between tire brands. The "wal­let pic­ture" imagery Miche­lin employed changed all that.
So while these tech­niques prob­a­bly aren't for begin­ning copy­writ­ers, they are worth think­ing about. They're worth prac­tic­ing.  And — if and when you nail it — they're worth using.
Many have prob­a­bly already seen this video of Tay­lor Mali's slam poetry clas­sic, Totally Like What­ever, You Know? But how could I not ref­er­ence it after my pre­vi­ous post on pas­sion­ate copy.  So here it is — enjoy: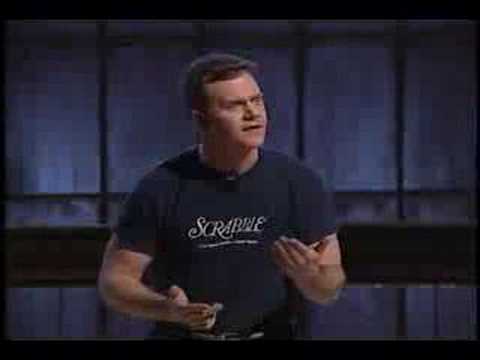 You're too f-ing polite, is what it boils down to.
I know because my copy drafts some­times suf­fer from the same problem.
As a reac­tion against the hard-sell, yellow-highlighter copy abhorred by most Web 2.0 types, we some­times adopt an "it's either demon­stra­ble in no-big-deal lan­guage, or it's not worth sell­ing" atti­tude.
And that's fine if you've got a freemium pric­ing model and are sell­ing peo­ple on some­thing obvi­ously super-cool like Screenr. In that case, just demon­strat­ing the prod­uct in the video is enough.
But what hap­pens when demon­stra­tion isn't so easy?  Does your aver­sion to hype keep you from writ­ing effec­tive "this is impor­tant, darn it" copy?
What hap­pens when the prod­uct is life chang­ing or exactly what the prospect needs and you have to moti­vate the prospect with the image of a future state of hap­pi­ness? Or through the men­tal image of where they're cur­rently head­ing if they don't take action?  Could the ghosts of Christ­mas Past, Present, and Future have per­suaded with a gen­teel approach, or did con­fronting Scrooge require more drama than that?
The Dif­fer­ence Between Hype and Gen­uinely Pas­sion­ate Copy
So am I advo­cat­ing hype?  No.  The dif­fer­ence between the sort of chest-thumping copy that you should avoid and the too-important-to-be-polite (TITBP) copy radi­ates from the emo­tions behind it.  What pas­sion pow­ers the copy and what's the emo­tional stance toward the reader?
Pow­ered by pride and a we-we focus, chest-thumbing copy pre­sumes to win the

girl

prospect over through sheer self-confidence and smooth lines.
Pow­ered by love/concern/anger-at-the-stupidity-of others/raw pas­sion, the too-important-to-be-polite copy is on a mis­sion to burst into the restau­rant and say the scary truth no mat­ter what, even if it means los­ing the

girl

prospect (or at least the wrong prospect).
In other words, too-important-to-be-polite copy over­comes the author's fear of mak­ing a scene. To quote Charles Bax­ter in The Art of Sub­text:
"If good man­ners com­prise the code of behav­ior that ren­ders our behav­ior accept­able and thus almost invis­i­ble in  polite soci­ety, bad man­ners make us vis­i­ble, for good or ill. We become a spec­ta­cle. Bad man­ners put us on a stage, and a stage, as every writer knows, is what is required for dra­matic force.

…we cre­ate a scene when we forcibly illus­trate our need to be vis­i­ble to oth­ers, often in the ser­vice of a wish or demand we wish to impose. Cre­at­ing a scene is thus the stag­ing of a desire."
If the desire you are stag­ing is sim­ple greed, then your bad behav­ior will not only be impo­lite, but gen­uinely unpleas­ant, in the worst of the yellow-highlighter tradition.
But if the desire you stage is to reach your real audi­ence and to improve their life with your prod­uct or ser­vice, or to keep them from mak­ing a stu­pid mis­take — well, the right audi­ence will respond to your pas­sion by pulling out their credit cards.
A Per­fect Exam­ple of Mak­ing A Scene
This week's Mon­day Morn­ing Memo is a per­fect exam­ple of TITBP copy.  The memo retains the out­line of a low-key presentation:
here's the prob­lem the course is addressing,
here's who'll come teach it and why you'll want to hear what they have to say, and
here's why you'll want to reg­is­ter early
But quite apart from the low-key tone of the rest of the Memo, the high­lighted para­graphs are pas­sion­ately and force­fully worded. The author clearly believes it's in your best inter­est to attend and he's not afraid to cre­ate a scene in order to con­vey that — even if the "scene" is hypo­thet­i­cal and staged only in your mind's eye:
If you're a mar­ket­ing pro­fes­sional who believes you're far too savvy to be fooled by data, we beg you NOT to bring a client with you to this class. Our goal is to lift your under­stand­ing to a higher level. This will hap­pen. You will learn astound­ing new things. Valu­able new things. Rev­o­lu­tion­ary new things. We don't want to cre­ate a sit­u­a­tion where you feel a need to defend your old ideas. If you bring a client, it's going to be awk­ward when some of your old beliefs are disproven.
Roy's also not afraid to plainly state the scarcity of rooms avail­able, either.  Again, it's in the reader's best inter­est to act now rather than later, so he says so, with conviction.
This, of course, applies to more than just pas­sion. It applies to draw­ing hard lines as well.
So, here's the ques­tion: when the sit­u­a­tion demands it, are you will­ing to make a scene with your copy? Are you rec­og­niz­ing when the sit­u­a­tion demands it?
P.S. If you're look­ing for a great, technique-by-technique way to put more pas­sion and urgency into your copy, check out Dave Navarro's trans­la­tion of yellow-highlighter copy into respectful-but-urgent mes­sag­ing.
Maybe he thinks peo­ple won't read between the lines.
Or maybe he really is brazen enough to not care if they do.  What­ever the case, the e-mails I've been receiv­ing from him have cer­tainly raised my eyebrows.
Long con­sid­ered the dean of hard-sell direct response copy­writ­ing, Dan Kennedy has made a career of slam­ming brand-based adver­tis­ing, rou­tinely call­ing those engaged in it, "adver­tis­ing victims."
Dan Kennedy's "Influ­en­tial Writing"
But Kennedy's cur­rent info-product is NOT about how to write per­sua­sive copy that sells – a skill he now con­sid­ers below the skill level of "influ­en­tial writ­ing," which is the sub­ject of his cur­rent mar­ket­ing push.
Accord­ing to Kennedy, influ­en­tial writ­ing, as opposed to tra­di­tional direct response-style per­sua­sive writ­ing, is all about build­ing an rep­u­ta­tion (read, "image") of your­self in the minds of your audience.
You can imag­ine how read­ing Kennedy's endorse­ment of image-based brand­ing sent out to his own e-mail list is a bit like Ted Hag­gard admit­ting he's gay to his fun­da­men­tal­ist con­gre­ga­tion – except Ted wasn't nearly so brash as to come out before being caught, or to pro­claim homo­sex­u­al­ity as OK – let alone as being superior."you gotta be kid­ding me" moment.
If you think I'm wrong to relate "influ­en­tial writ­ing" to brand­ing, lis­ten to how Kennedy's own prod­uct copy describes influ­en­tial writ­ing as:
Writ­ing to

ATTRACT

peo­ple of the great­est mon­e­tary value to you
Writ­ing to

CONNECT

(impor­tant if you want influ­ence, power, sus­tained suc­cess, secure income)
Writ­ing to Gain Accep­tance of Advo­cated Posi­tions (it's about hav­ing peo­ple "with you" — not just sell­ing to them)
Kennedy's basi­cally describ­ing a method for cre­at­ing an image of your­self as heroic, on your audience's side, a cham­pion against their ene­mies and for com­mon, shared val­ues.  He thinks you should cre­ate a tribe and have your­self not just as the tribe's leader, but as its icon.
Theodore Mac­manus, Cadil­lac, and "Influ­en­tial Writing"
Yet, if you replace the "you" with a prod­uct or brand, it's pretty clear that Kennedy is talk­ing about brand­ing.  In fact, I can think of no clearer exam­ple of "influ­en­tial writ­ing" than Theodore F McManuss's leg­endary Cadil­lac ad, "The Price of Lead­er­ship," a pure brand­ing cam­paign if ever there was one.  Here's the copy from it:
"In every field of human endeavor, he that is first must per­pet­u­ally live in the white light of publicity.

Whether the lead­er­ship be vested in a man or in a man­u­fac­tured prod­uct, emu­la­tion and envy are ever at work.

In art, in lit­er­a­ture, in music, in indus­try, the reward and the pun­ish­ment are always the same. The reward is wide­spread recog­ni­tion; the pun­ish­ment, fierce denial and detraction.

When a man's work becomes a stan­dard for the whole world, it also becomes a tar­get for the shafts of the envi­ous few. If his work be merely mediocre, he will be left severely alone — if he achieve a mas­ter­piece, it will set a mil­lion tongues a-wagging.

Jeal­ousy does not pro­trude its forked tongue at the artist who pro­duces a com­mon­place paint­ing. What­so­ever you write, or paint, or play, or sing, or build, no one will strive to sur­pass or to slan­der you, unless your work be stamped with the seal of genius.

Long, long after a great work or a good work has been done, those who are dis­ap­pointed or envi­ous con­tinue to cry out that it can­not be done.

Spite­ful lit­tle voices in the domain of art were raised against our own Whistler as a moun­te­bank, long after the big world had acclaimed him its great­est genius.

Mul­ti­tudes flocked to wor­ship at the shrine of Wag­ner, while the lit­tle group of those whom he had dethroned and dis­placed argued angrily that he was no musi­cian at all.

The lit­tle world con­tin­ued to protest that Ful­ton could not build a steam­boat, while the big world flocked to the river to see his boat steam by.

The leader is assailed because he is the leader, and the effort to equal him is merely added proof of that leadership.

Fail­ing to equal or to excel, the fol­lower seeks to depre­ci­ate and to destroy — but only con­firms once more the supe­ri­or­ity of that which he strives to supplant.

There is noth­ing new in this. It is as old as the world and as old as the human pas­sions — envy, fear, greed, ambi­tion, and the desire to surpass.

And it all avails nothing.

If the leader truly leads, he remains — the leader.

Master-poet, master-painter, master-workman, each in his turn is assailed, and each holds his lau­rels through the ages.

That which is good or great makes itself known, no mat­ter how loud the clamor of denial.

That which deserves to live — lives."
Remem­ber, this was an ad placed in the Sat­ur­day Evening Post. A non-targeted, non-direct response ad.  And the copy never even men­tions the product.
And yet sales for Cadil­lac spiked and the ad was voted "The Great­est Ad of All Time" in 1948.  Peo­ple imme­di­ately iden­ti­fied with it. Elvis Pres­ley even framed a copy of the ad and hung it in his Grace­land office, and it's been said that both Cadil­lac and MacManus's agency received weekly requests for copies of the ad for 30 years fol­low­ing it's ini­tial and only run in the Sat­ur­day Evening Post.
But McManus was not just famous for that copy, he was famous for that style of copy, for being the anti-Claude Hop­kins, the man who shunned reason-why adver­tis­ing in favor of indi­rect sug­ges­tion, posi­tion­ing, and, well, brand­ing through mass media.
Here's how Mac­Manus sum­ma­rizes his approach in his book, The Sword-Arm of Busi­ness:
"…[Cadillac's Adver­tis­ing] nearly always sug­gested and sel­dom asserted. And it dealt not so much with the Cadil­lac motor car as with people's thoughts about the Cadil­lac motor car. It did not so much say that things were true, as it assumed them to be true… It fig­ured that there are cer­tain whole­some qual­i­ties all nor­mal human beings admire, and it cel­e­brated the pres­ence of those qual­i­ties in the motives of the men who designed and man­u­fac­tured a motor car."
And now Dan Kennedy seems to have lifted a page or two from the Mac­Manus play­book…  But can it really be? Has Dan Kennedy actu­ally come out of the brand­ing closet?
In Defense of Dan
The short answer is maybe not.  One of the major dif­fer­ences between what Dan calls influ­en­tial writ­ing vs. brand­ing seems to be that:
Influ­en­tial writ­ing is directed only at already exist­ing cus­tomers, peo­ple you've already sold to, in an effort to increase trust and purchases
Whereas tra­di­tional brand­ing cam­paigns have used mass media to cre­ate a com­monly held opin­ion or image of the product/company, Influ­en­tial Writ­ing is directed toward estab­lish­ing the rep­u­ta­tion of an indi­vid­ual.  [though the pre­vi­ous quote, makes it clear that Mac­Manus also used that tech­nique as well, which he most famously did for the Dodge Broth­ers and for Wal­ter Chrysler.
More­over, Dan has, in at least one blog post, explained his dis­tinc­tion between brand­ing, which he def­i­nitely rec­om­mends, and branding-only cam­paigns, which he believes are largely unsuit­able for most small busi­ness owners.
So What's the Final Conclusion?
Real­ize that when con­fronted with polar­ity, the weak stu­dent will cling to one of the poles and demo­nize the other, while the strong stu­dent will pon­der each and har­ness the dynamic elec­tric­ity that flows between them.
My per­sonal opin­ion is that Dan Kennedy's per­sonal brand­ing neces­si­tated an anti-branding stance that he always com­mu­ni­cated a lit­tle more force­fully than he truly believed. Dan needed an enemy to stand against and he chose brand­ing cam­paigns and lack of adver­tis­ing account­abil­ity as (some of) his pri­mary ene­mies — again, as part of con­sid­ered attempt to brand his pub­lic persona.
Now that Dan's peel­ing back the tech­niques he's used to brand him­self all these years, he's hop­ing that an alter­na­tive name for brand­ing will keep peo­ple from see­ing any dis­crep­an­cies or con­flicts between his per­sona and the brand­ing that he's been engaged in over the last decades or two.
Or maybe he's just stew­ing for a fight — some­one stu­pid enough to call him out it : )
What do you think?
P.S. Brian Clark's Third Tribe is a great exam­ple of liv­ing in the dynamic flow­ing between the two extremes of direct response copy and community/tribe build­ing, and a highly rec­om­mended resource as well.