Let there be light. Of course that's the first step. What else would it be?
Isn't flicking on the lights the first thing you do when walking into a dark room, even to the point of reaching your hand around the door frame to find and actuate the light switch before you've even technically entered the room? And how many of us just plain leave the lights on even if we're not in the room? Bottom line: we want to see where we're going, even if it means wasting electricity.
It's no different online.
People want to know where a link will take them before they click a link. They want to know what will happen next before they click the submit button. Visitors want reassurance that an action isn't irrevocable or a click won't bring them somewhere they don't want to go. In fact, a large proportion of Web design best practices are based around this single principle:
Point of Action Assurances reassure visitors that you won't sell their info or spam them and/or that your shopping cart is safely encrypted and their purchase is money-back guaranteed
Proper hyperlink construction allows visitors to predict where the link points and what kind of content awaits them on the other side of the link
Well-made check-out processes show shoppers where they are in the process and what steps are left
Call to Action Buttons announce their importance through visually prominence and 3-dimensional design/lighting effects that make the buttons look "clickable."
Great Product Photos help people see what they're really buying, just like great product copy and user reviews help describe the ownership experience
"Working With Us" and/or "Our Methodology" Pages along with timelines all help prospective clients see what engaging your services will be like and they all boost lead gen conversion
And so on.
With that in mind, take a look at this A/B test described by Anne Holland's Which Test Won. Does it surprise anyone that the version which tells visitors what happens next converts 190% better?
Maybe not. But let me ask you: are there places on your Website where you're failing to tell visitors what to expect?Does your Web design unintentionally turn the lights off on prospective customers?
Any copywriter worth a darn has heard of WIIFM – What's In It For Me. Every prospective customer is constantly asking that question and copy that fails to provide a compelling answer, well, fails.
But prospective customers want to know more than just WIIFM, they want to know What's In It For You (or WIIFY)? In other words, why are you offering me such a good deal? What do you get out of it?
WIIFM grabs attention, but WIIFM without credibility comes off as a scam. You could be literally mailing people $100 bills free of charge and get no conversions, because people can't possibly see the upside for you. The more the deal sounds too good to be true, the more the copy has to answer WIIFY, typically in the form of "How we can afford to sell at these prices." And perhaps the greatest example of WIIFY is the legendary "Frustrated Contractor" letter.
Written by John Young for Jim Abrams' HVAC company, the direct mail sales letter made both of them rich and has since been used by every every single HVAC business in the US and credited with producing $1 billion in HVAC sales. What does it say? Well, you can download a current version of the letter – still in use – here. But the short answer is that it headlines with WIFFM and then immediately switches to WIFFY.
In other words, the letter promises to sell the customer a brand new, high-end furnace and A/C unit for thousands less than normal price – so long as the customer buys in the winter. Why? Because HVAC guys are busy in the summer but unable to keep their employees busy in the winter, creating frustrated businessmen watching their installers get paid to sit around watching day-time TV. Prospects get a great deal (WIIFM) and contractors move some inventory during the slow season while keeping their guys busy (WIIFY).
Variations on the letter will also mention the owner having ordered or been left with too many HVAC systems in inventory and the need to clear them out, etc. But the point is that the letter's sounds-too-good-to-be-true offer gained credibility in the eyes of the prospect by addressing WIIFY – what was in it for the contractor.
How This Applies to Branding
The problem with WIFFY as it is applied to sales letters and event advertising is that the level of your credibility is often tied to a passing or seasonal dynamic. To use an example from the Robert Collier Letter Book, a clothier was able to offer incredible prices on Madras Shirts because the mill was all-but out of business and sold it's inventory of shirting fabric at once-in-a-lifetime prices. Obviously, that's a message you can only get away with saying once, otherwise you look like the cheesey car lot guys who hype inventory clearance sales on a year-round basis.
Branding requires a WIIFY that retains relevance and credibility today, tomorrow, next year, etc. That could be a new technology, a direct to the consumer pricing model, or the like. But that doesn't do you too much good as a copywriter. Either a client has a legitimate competitive edge – and is likely already advertising it – or not.
So what to do?
Nothing Says Your WIFFY Has to Be Economic
As an example, here's an ad featured in Roy Williams' recent Monday Morning Memo:
"When I was seven years old, I held my father's head in my hands as he took his last breath and died. A thing like that stays with you. It helps you understand that relationships – people – are what life's all about.You gotta tell'em you love'em. This is J.R. Dunn. So now you know why I became a jeweler. Fine jewelry is one of the ways we tell people we love'em. When I got older and fell head-over-heals for Ann Marie, the love of my life, I didn't have enough money to buy her an engagement ring. She married me anyway. Go figure. But I can promise you this: If you're thinking of getting engaged to the love of your life, come to J.R. Dunn Jewelers in Lighthouse Point. No one in Florida, no one in America, is going to give you a better engagement ring for your money than me. One of the great joys of my life is to make it possible for guys to give the woman they love the diamond she deserves. There was nobody there for me when I needed an engagement ring. But I promiseI'll be there for you."
Do you think this ad provides the listener with a WIFFY?
Of course it does, but the WIFFY is emotional, not economic. The listener – or this listener, at least – believes that J.R. Dunn will give him a great deal on an engagement ring because there's an emotional pay-off for Mr. Dunn. And as always, deep emotions are always linked to self-identity, hence the opening story / Mental Image.
So if you want to create credibility, go beyond WIIFM to WIFFY. And if you want that credibility to last beyond a single sales event, try tying your WIFFY to emotion.
* Photo credit to ihasahotdog
Eight years after it was first published, Steven Pressfield's The War of Art has sold significantly more copies this year than any year following its initial release.
In an industry where writers expect to lose money on their non-fiction books, and further expect their titles to languish, unsold and ignored after the initial publishing push, this books recent surge in sales and popularity represents an incredible success story – one accomplished without a traditional marketing push, or a plug by Oprah (though it darn well deserves it, if you happen to be reading, Ms. Winfrey), or even a re-release from the publisher.
How did Steve do it?
A few reasons come to mind, some more salient than others:
The book has proved itself a modern classic for its intended audience of writers and regularly makes appearances in Top 10 lists of books for writers. There's nothing like solid content and great user experience to drive customer evangelization.
Steve has actively welcomed and encouraged a new audience for his book, one that eventually saw that the book was only superficially about writing or fine art, and was, at heart, a textbook for anyone looking to do valuable, creative, and remarkable work. Don't underestimate this, not many authors would have bothered to notice the interest of an unanticipated audience, let alone actively welcomed and courted it.
Steve has given away lots of new content written in the same spirit as the book. He has embraced the counterintuitive notion that giving away content expands your base of fans willing to pay for content.
Steve has actively engaged with his fans and that increased engagement has resulted in increased sales. This goes beyond just opening his blog to comments and responding to them. In fact, Steve has actively given interviews, appeared in guest posts, been available on Twitter, and generously corresponded with even the lowliest of bloggers.
OK, so the list hardly surprises, right? It basically reads like an online marketer's checklist of "What's Working Now." Who hasn't been told to "be authentic," or to "do great work," or especially to engage in the "gift economy," after all?
So rather than detailing the oft discussed items within the list, let's look at the hidden forces and motivations behind the successful implementation of those items.
The Emotional Dynamic Underneath "Authenticity"
The most striking thing about Steve's success is also the most striking thing about his writing and his "style" in general: his profound ability to relate insight into the human condition in a way that's practical for those of us slogging through our own work-a-day worlds. If you're interested in a "from the foxhole" perspective, shared from a generous intent to pass on what actually works down in the mud and the blood and the sweat and the tears, you won't do better than Steve's stuff.
But a recommendation to copy this particular virtue of Steve's sounds suspiciously like yet another exhortation to "be authentic" dressed up in fancier language.
So how do you bridge the gap? How do you imbue your own online marketing efforts with some of the same magic that took a nearly 10-year-old non-fiction book on the psychology of writing and turned it into everyone's favorite handbook for doing work that matters?
Territory vs. Hierarchy
As it turns out, Steve provides the answer both in his book and in his inaugural Writing Wednesday's post. Here's a quote from that post, talking about what separates successful pros at blogging from the also-rans:
"There are many excellent and extremely professional bloggers and their stuff is a pleasure to read. They are making contributions. They're part of the solution. But I also see no few writers of blogs who are stuck in their own egos. You can tell it from the first sentence, even the first phrase. It's in their tone of voice. The text reeks of jealousy, pettiness, competitiveness and bile. It's like the tone academics take when they're sticking knives in each other's backs. It has nothing to do with solutions and everything to do with fear, ego and narcissism. They are writing as amateurs. Their aim, though they will deny it even after being waterboarded 283 times, is to advance (or simply preserve) their own egos. I know, because I've been in that place. When the happy breakthrough comes for those writers, their work will rise an entire level overnight, then keep rising for levels and levels beyond that."
With this quote in mind, look at the list again. Now ask yourself how easy any of those things would be if your primary motivation was to climb to a higher place in the pecking order? How easy? How about next to impossible.
Acting out of ego engages a hierarchical mindset, and no one can look to maintain or improve their place in the hierarchy while giving away their best stuff to their audience and fans. You can't be enamored of your position within the group while fearlessly inviting outsiders to join in. Neither can you comfortably venture outside your group, away from where you hold status, expertise, power, etc. Nor can you reject the urge to second-guess your audience if everything you write, say, and do is aimed at impressing or manipulating them.
In short, the more hierarchical your value system, the more difficult you'll find "new marketing."
And yet, we're practically programmed to think hierarchically in school, at our jobs, and socially. There are the alpha dogs and the under dogs. The queen bees and the wanna-bees. Thinking hierarchically is the default position for most of us, and it's what our lizard brain/yetzer hara/Resistance steers us towards.
So there's no jettisoning hierarchical thinking without replacing it with some other mindset; self-identity has to come from somewhere. The other option, as Steven describes it in The War of Art, is to replace hierarchy with territory: claiming a territory of practice/service and drawing your identity through that practice rather than your place in the pecking order. As Steven writes:
"We humans have territories too. Ours are psychological. Stevie Wonder's territory is the paino. Arnold Schwarzenegger's is the gym. When Bill Gates pulls into the parking lot at Microsoft, he's on his territory. When I sit down to write, I'm on mine.

What are the qualities of a territory?

1. A territory provides sustenance. Runners know what a territory is. So do rock climbers and kayakers and yogis. Artists and entrepreneurs know what a territory is. The swimmer who towels off after swimming her laps feels a hell of a lot better than the tired, cranky person who dove into the pool 30 minutes earlier.

2. A territory sustains us without external input. A territory is a closed feedback loop. Our role is to put in effort and love; the territory absorbs this and gives it back to us in the form of wellbeing.

When experts tell us that exercise (or any other effort-requiring activity) banishes depression, this is what they mean.

3. A territory can only be claimed alone. You can team with a partner, you can work out with a friend, but you only need yourself to soak up your territory's juice.

4. A territory can only be claimed by work. When Arnold Schwarzenegger hits the gym, he's on his own turf. But what made it his own are the hours and years of sweat he put in to claim it. A territory doesn't give, it gives back.

5. A territory returns exactly what you put in. Territories are fair. Every erg of energy you put in goes infallibly into your account. A territory never devalues. A territory never crashes. What you deposited, you get back, dollar for dollar"
Beyond that, a territory is where we can go in humility, to serve our higher calling, not as a bid for attention but as a gift to our tribe, specifically, and to the world in general.
As my mentor and partner, Roy Williams says,
"Any goal that begins with the words, 'My goal is to have…' is certain to bring unhappiness. Goals that scratch your life-itch are the ones that begin, 'I will serve people by….'

…So who are your people and how do you plan to serve them?"
Yet even though it would seem your tribe would come first, and your method of service would come afterwords, in relation to the tribe, this doesn't often work in a modern and (in an anthropological sense) post-tribal world. You find your territory first, and your tribe will be drawn by what your work has produced.
You identify your territory by knowing what you'd do if you were the last person on earth. What would still be worth doing if there was no one to impress and no way to move up in the pecking order?
And you claim that territory through putting in the work, selflessly, as a professional. When that happens you're no longer afraid to share your best stuff, because you're always getting better, always coming up with new stuff. Welcoming new members becomes second nature, as does engaging in open conversation with people regardless of their status in the pecking order.
Territory-based identity, as Steven defines it, makes Web 2.0-style marketing workable. Without it, you'll be fighting your own instincts and, ultimately, sabotaging your efforts.
And yet, even though following this path makes life easier, Resistance – Resistance in the form of procrastination, rationalization, and ego – gets in the way, making it feel like the harder option. Focusing on claiming your territory through the work helps steel you for those battles against resistance.
Sound like something worth pursuing? Well, realize that this potentially life altering stuff on Territory vs. Hierarchy is compressed into only a few pages of a 165-page book – and the rest of the books is every bit as good, if not better!
Most of the The War of Art is about overcoming resistance, the necessary first step to doing the honest work needed to claim a territory, making it pretty much THE book for creative entrepreneurs who struggle with procrastination.
If that sounds like a must-read book to you, YOU'RE RIGHT! Go buy a copy.
Better yet, buy the new, digital copy for your favorite e-reader for 1/5th the price of the paperback. The sooner you start reading this stuff, the faster you can begin moving past resistance, to claim your territory, and achieve the real work you were meant for.
Enjoy!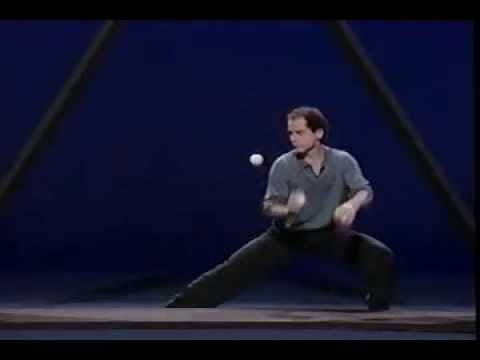 This guy is awesome. He also has a much longer performance that he put on for TED…