Inter­ac­tive ads often strike me as a next-generation "funny ad" — with the "inter­ac­tiv­ity" feel­ing just as gra­tu­itous as the humor in most funny ads.
And as any copy­writer worth his pay can tell you, gra­tu­itous humor hurts ad performance.
So as clever as many inter­ac­tive ads are, the ad pro­fes­sional in me usu­ally walks away from them with that same impres­sion: did this really help con­vey the mes­sage, or did it just show­case the "tal­ents" of the ad agency?
But that wasn't the case with Spent from the Urban Min­istries of Durham (cre­ated by McKinney).
Spent lacks all of the "hey look at me, I'm dig­i­tal and cool" vari­ety of inter­ac­tiv­ity, as it's a text-based game.  But Spent's text-based inter­ac­tiv­ity forces the player to make the same soul-crushing and dilemma-filled choices pushed onto America's work­ing poor.
As Ad Freak writes, "It's a jar­ring expe­ri­ence, and sev­eral of the choices will stick with you long after you've played."  Now that's inter­ac­tiv­ity that works!
Inter­ac­tive Insight From the Heath Bros
And Spent reminded me of this exam­ple of per­sua­sive inter­ac­tiv­ity high­lighted in Chap­ter 5 of Chip and Dan Heath's Switch:
Chil­dren com­plet­ing chemother­apy are sent home to com­plete their treat­ment by tak­ing a reg­i­men of antibi­otics and low-dosage chemother­apy pills.
But com­pli­ance is crit­i­cal to suc­cess.  Miss­ing 20% of your meds means a 200% higher chance of get­ting can­cer again.
To increase com­pli­ance HopeLab devel­oped a video game that let kids play the part of a sil­ver nano-bot that kills can­cer cells with chemo rays.
The game has 20 lev­els and is sup­posed to teach kids about their Chemo reg­i­men and recov­ery through between-game lessons
The game is a smash­ing suc­cess, boost­ing com­pli­ance by 20% and dou­bling kids chances for cancer-free success.

BUT

, most of the kids only com­pleted 2 lev­els of game play, mean­ing they got lit­tle info and mostly game-play
The find­ings seemed counter-intuitive, until HopeLab's research direc­tor asked a mar­ket­ing pro­fes­sor at Stan­ford to explain:
"Think about this from a Mar­ket­ing per­spec­tive. We can change behav­ior in a short tele­vi­sion ad. We don't do it with infor­ma­tion. We do it with iden­tity, 'If I buy a BMW, I'm going to be this kind of per­son. If I take that kind of vaca­tion, I'm this kind of eco-friendly person.'"
In other words, the game got the kids to iden­tify with the chemo as their weapon for get­ting their life and health back, rather than as a reminder of their sick­ness. It dra­mat­i­cally changed how they felt about tak­ing chemo through direct involve­ment – an involve­ment made pos­si­ble through interactivity.
Got it? Inter­ac­tiv­ity should fos­ter imag­i­nary and emo­tional con­nec­tion to the per­sua­sive mes­sage. If it's not doing that, it's prob­a­bly a waste of resources.
How This Applies to Reg­u­lar Advertising
What you're prob­a­bly think­ing is: That's great, Jeff, if you've got the ad bud­get to cre­ate inter­ac­tive ads in the first place.
My first response: the costs of inter­ac­tive adver­tis­ing have dropped tremen­dously over the last few years. Plus the more you rely on message-based involve­ment and the less you require wizz-bang graph­ics, the cheaper it's likely to be.  In other words, don't dis­miss it; research it, and even if it is still too expen­sive, be will­ing to check back in a year's time.
My sec­ond response: If text alone can be inter­ac­tive, no other medium has an excuse not to be.
Does that sec­ond response sur­prise you?
Here's an exam­ple of inter­ac­tive text (not hyper­links) from Roy Williams' Mon­day Morn­ing Memo, Reveal­ing the Vivid Unex­pected:
"The thing about grow­ing up is that you get fewer scabs on your knees, but more inter­nal injuries. Do you remem­ber the day when that lit­tle yel­lowham­mer flew straight at the win­dow? You picked it up. It had a drop of blood on its beak. Iden­ti­cal color to ours. Just one drop, like a bright bead. And then there were all those brightly plumed kids who left school, fly­ing cheer­fully and didn't get far. Ran smack into World War II. Lit­tle Tommy Nay­lor lying in Africa some­where, blood on his beak. Iden­ti­cal color to ours."
– mono­logue of Peter Sal­lis as Nor­man Clegg, Last of the Sum­mer Wine; Get­ting Sam Home, (1983) writ­ten by Roy Clarke

We're not told the yel­lowham­mer col­lided with the win­dow. Nei­ther do we read the words "dead" or "death." Yet we know the lit­tle bird hit the win­dow and died because of the line, "You picked it up."

We come to this con­clu­sion on our own. This tech­nique of "rev­e­la­tion by infer­ence" pulls us into the nar­ra­tive by mak­ing us fill in its blanks…

…Read the pas­sage again and wit­ness the bril­liant restraint. Roy Clarke flashes just a few slides onto the movie screen of our mind and we fill the gaps between them. We con­clude:

(1.) A yel­lowham­mer is a bird.
(2.) It hit the win­dow and died.
(3.) Tommy Nay­lor was a school­mate.
(4.) Tommy grew up and went to war.
(5.) Tommy died in Africa in WWII

But none of this is told to us directly. Yet we know it just as surely as if it had been.
Tony Schwartz and Evok­ing a Response with Old-School Media
As you can see, forc­ing your audi­ence to "fill in the gaps" is a form of inter­ac­tiv­ity that's avail­able to all media, whether it's bill­board, radio, or TV.   As Media Guru Tony Schwartz writes:
"For an adver­tiser, the issue of con­cern should cen­ter on how the stim­uli in a com­mer­cial inter­act with a viewer's real-life expe­ri­ences and thus affect his behav­ior in a pur­chas­ing sit­u­a­tion." [Empha­sis added]
Now, Tony is most famous for his Daisy com­mer­i­cal, an inter­ac­tive piece of adver­tis­ing if ever there was one. Take a look:
Goldwater's cam­paign com­plained bit­terly about the ad, claim­ing it was an attack ad and that it mis­rep­re­sented Goldwater's remarks and poli­cies with regard to nuclear weapons, but oddly enough, the ad never men­tions Gold­wa­ter or his poli­cies. That was filled in by the lis­ten­ers as they inter­acted with the images and sounds.  They filled in the gaps.
And for those ask­ing the ques­tion, yes, the tech­nique works just as well for prod­uct com­mer­cials rather than polit­i­cal ads. Here's a com­mer­cial where Tony Schwartz used his tech­niques to pitch Coca-Cola with­out ever men­tion­ing the product's name:
So the real ques­tion isn't are you using dig­i­tal adver­tis­ing, but are you cre­at­ing inter­ac­tive adver­tis­ing, regard­less of your media?
If not, maybe you need a bet­ter ad writer.  Or maybe you need a bet­ter trained copy­writer.
P.S. As the Web holds all media, the impor­tance of mean­ing­ful, non-redundant inter­ac­tion between graph­ics and copy and video and cross-channel com­mu­ni­ca­tion is becom­ing more and more impor­tant.  Start think­ing about it, if you haven't already.
How cool are the guys at Crutchfield?
This after­noon I got a call from Crutch­field and they not only thanked me for yesterday's post & con­test, but offered the win­ner a $75 gift cer­tifi­cate in addi­tion to what­ever prize Bryan, Jef­frey are going to award.  Love it.  Of course, in enter­ing the con­test and post­ing your suggestions/mock-ups to a pub­lic forum, you're allow­ing Crutch­field to use those same rec­om­men­da­tions, just so we're 100% clear.
But that leaves a few lin­ger­ing questions:
1) What are
WE

going to give the winner?

Well, it's going to be a small stack of auto­graphed books and a small extra award (just a bit of lagniappe to sweeten the win­nings). Right now the books will be signed ver­sions of Call to Action, Always Be Test­ing, Mag­i­cal Worlds of the Wiz­ard of Ads, and Mar­ket­ing Outrageously.
2) How long do you have to sub­mit your sug­ges­tions / mock-ups?
We are accept­ing entries until the Fri­day after next, on the 4th of March, and Bryan and Jef­frey will be announc­ing the win­ners that fol­low­ing Monday.
If you haven't already done so, go look at the already-submitted rec­om­men­da­tions and mock-ups. Some solid stuff has come in already. Plus, it's good to size up the com­pe­ti­tion
Best of luck to every­one and thanks again to Crutchfield.
"As a per­son with autism, it is easy for me to under­stand how ani­mals think because my think­ing processes are like an animal's" — Tem­ple Grandin
Because Tem­ple Grandin is spooked by the same things ani­mals are spooked by, she's ide­ally suited for opti­miz­ing envi­ron­ments and han­dling sys­tems for them. For her, great design is all about elim­i­nat­ing any­thing that will cause anx­i­ety or doubt in the minds of the animals.
I often think of Web Opti­miza­tion in the same terms.  As a semi-luddite work­ing in the tech­nol­ogy field, I find myself spooked by the same things nor­mal cus­tomers are spooked by. Things that are intu­itive to tech nerds and coders are dis­tinc­tively NOT intu­itive to me.  And this makes me really, really good at opti­miz­ing Web­sites for nor­mal folk.
So with apolo­gies to Krug, my cen­tral ten­ant is "Don't Make Me Doubt!"
Elim­i­nate my doubts by let­ting me know what each action, click, form, but­ton will do before I'm asked to take that action.
Don't just answer my explicit ques­tions, ensure you also address my unar­tic­u­lated con­cerns.
If you want me to click it, make it look click­able. Let me know what the but­ton will do.  Make it explicit and unambiguous.
And yes, words mat­ter when it comes to usabil­ity — not just the freakin' but­ton color!
In other words, design your Web­site so that there's never any room for doubt.
Crutch­field Goons It up — Here's Why…
And that brings me to a recent shop­ping expe­ri­ence with Crutch­field.  Now, Crutch­field does a lot of things right, includ­ing some rather rig­or­ous opti­miza­tion and split test­ing. But I really think they got at least part of this check-out process wrong. Here's what happened…
I clicked the buy/add to cart but­ton for a new LCD TV, and was shown this screen:
Now, first of all, great job on try­ing to sell me on acces­sories I might need for my new TV. Nice cross-sell.  But, um, lousy job on exe­cu­tion and design — you're spook­ing your cus­tomers, Crutch­field!  Here's why:
1) The green box around the TV and the but­ton makes that part of the screen look like a ban­ner add, which almost made me scroll right past the darn thing because I've been trained to ignore ban­ner ads.
2) When I do scroll down, I'm pre­sented with a bunch of wall mounts and a but­ton that says: "add selected items to cart," but I don't see my TV as part of the add items, and I won­der whether or not the TV has been added to cart.
3) I scroll back up and read a state­ment that the TV Has been added to cart, but I'm then pre­sented with the option to "Skip This Step" — but I don't want to skip adding the TV to my cart.  Grrr!
4) After a moment's thought and a glance up at my cart icon I real­ize that the but­ton and the state­ment are NOT asso­ci­ated with one another, even though they are grouped together by that darn green box, caus­ing me to assume that they were some­how con­nected. Once I real­ize that, it becomes clear that the "step" I'm being offered to skip is the cross-sell oppor­tu­nity and not the already accom­plished step of adding my TV to my cart.
Think of this as a com­bined design/copywriting screw-up, where the design mis­com­mu­ni­cated the asso­ci­a­tion between the mes­sage and the but­ton, and the copy on the but­ton helped fos­ter that mis­com­mu­ni­ca­tion by com­mu­ni­cat­ing a salesman's point of view rather than a buyer's point of view.  See in the minds of sales­men, cross sell­ing is a "step" in the sales process, but in the minds of buy­ers, there is no log­i­cal con­nec­tion between buy­ing some­thing and being cross-sold. It may be a reminder or oppor­tu­nity, but it's not a "step."
5) What exactly is the dif­fer­ence between a wall mount and a low pro­file wall mount? You'd think it refers to how close to the wall the TV mounts.  But then what does "super slim" mean?  Wouldn't a super slim wall mount BE low pro­file?  Why don't they have pic­tures?  Well, I guess I could click on the item, but… don't want to be taken away from this page, espe­cially if I'm not totally sure the TV has been added to my cart and will fol­low me.
As it turns out, click­ing on the link doesn't take me away from the page — it just pops up a pic­ture of the prod­uct, but really, I had no freakin' way of know­ing that, so I nei­ther clicked the link, nor did I bother select­ing a wall mount.  Nor in fact, did I end up buy­ing anything.
How Would
YOU

Fix It?

Ok, so now that I've given you all the ways that my semi-luddite mind was spooked by this ungainly design/copywriting com­bi­na­tion, it's YOUR turn to tell me how you'd fix it:
What changes would you test first?
What's per­haps the ideal fix, and what rep­re­sents the most eas­ily imple­mented fix that'll still get the job done?
How much will you rely on design and how much on copy?
Descrip­tions are great, but hyper­links to mock-ups are even bet­ter.  Use yFrog or something.
I'll have Bryan and Jef­frey Eisen­berg judge the designs and we'll pro­nounce a win­ner with some cool, to-be-determined award.
Give it your best shot in the comments!
P.S. Yes, dear reader, design and copy have to work together for best results.  Each influ­ences the other.  In fact, Jef­frey Eisen­berg and I will be teach­ing a newly revised ver­sion of Per­sua­sive Online Copy­writ­ing in order to address exactly these chal­lenges — how design and copy work together; how video and copy work together; how Social Media and con­tent mar­ket­ing and micro-copy work together.  It's a hands on work­shop and it's in Austin on April 30th and 31st.  You should come!
Did it (or would it) work is always the wrong ques­tion to ask around adver­tis­ing.
And that holds dou­ble for Super Bowl Ads.  So while I hardly rel­ish the annual jaw­bon­ing of the chat­ter­ing classes in their pre­dictable dis­dain for Go Daddy's com­mer­cials, and equally pre­dictable love for things like VW's com­mer­cials, there are things to learn from those discussions.
Specif­i­cally, when­ever you're in the mid­dle of such a yam­mer ses­sion, it's always worth asking:
How do peo­ple frame the debate?
How do they (fail to) define their terms?
What assump­tions go unexamined?
Which bias holds strongest amongst the public?
What you'll typ­i­cally find is that most every­one jumps right into ask­ing, "did it work?" But almost no one stops to ask whether "did it work" is the right ques­tion to focus on.  Hon­estly, any­thing can be made to "work" given ever increas­ing resources and ever dimin­ish­ing def­i­n­i­tions of "work."
The right ques­tion is: did (or does) this ad rep­re­sent the wis­est and best use of the company's resources?
Or hell, I'd even set­tle for a wise use of com­pany resources.  But still, that ques­tion changes the dis­cus­sion rather pro­foundly doesn't it?
Let's take the Chrysler ad as an exam­ple: did that ad work?  Well, if you mean did its emo­tional mes­sage touch the hearts of most view­ers, then yeah, it "worked." Mostly because peo­ple wanted to believe it. But in the larger sense of "did it rep­re­sent a wise use of Chrysler's resources," I think most peo­ple would be hard pressed to say that two minute spot was a wise investment.
Why? Because, as my col­league Tim Miles said, "I love the con­cept. I love the copy. I love every­thing about it. It made me want to check out the car. I just wish the Chrysler Eminem Detroit Love Story had been for Ford."
And what I believe he meant by that was, "As much as I want to believe that mes­sage about Chrysler, I can't and I don't. But I would (and I do) believe it about Ford." Which brings to mind a few questions:
Why wasn't Ford adver­tis­ing in the Super Bowl?
What makes Ford a more cred­i­ble pro­tag­o­nist for the come­back kid story Chrysler was try­ing to weave?
Answers:
1) Ford's main adver­tis­ing goal has been to spot­light and rein­force the grow­ing REALITY that its cars and trucks are supe­rior to (or at least equal to) the best that Toy­ota and Honda have to offer. Bet­ter build qual­ity, resale value, fea­ture sets, style, etc.  They aren't spend­ing money on a Super Bowl Ad because they're too busy trum­pet­ing the fact that this or that car has a higher pro­jected resale value than a com­pet­ing Toy­ota model. Or show­ing how this or that prospec­tive cus­tomer likes the Ford model bet­ter than the Honda model. It's pretty much the Pepsi chal­lenge with cars: you take a prospec­tive Toy­ota cus­tomer, have them drive around in a Ford, and "Oh my gosh, I actu­ally like the Ford bet­ter!"
2) Both Ford's bet­ter real­ity and more con­sis­tent adver­tis­ing of that real­ity prior to the Super Bowl made us all more will­ing to believe a Ford-based come­back story.  And yeah, the fact that Ford didn't take any bailout money also helps, but I'd bet that if Cadil­lac had made that Chrysler ad, we'd all have had a much dif­fer­ent reac­tion. Cadillac's been pump­ing out world class vehi­cles for awhile now, and they also have a very con­sis­tent adver­tis­ing message.
So did the Chrysler Super Bowl Ad rep­re­sent the best and wis­est use of their ad bud­get? Remains to be seen, and I don't really have enough info to answer that, quite frankly. I can say that it's not only pos­si­ble but likely that tons of peo­ple will give the Chrysler 200 a look who never would have with­out the big splash that ad made. And it's also pos­si­ble, though far less prob­a­ble, that just maybe that car is good enough to con­vert those "looks" into sales. With that last part the make or break factor.
But this post isn't really about Chrysler and its ad; it's about you and your adver­tis­ing. The same ques­tions I've been apply­ing to Chrysler are even more impor­tant for your mar­ket­ing.  So let me ask you:
Are you going to ask "would it work?" Or are you going to do the hard work to deter­mine, "does this rep­re­sent the high­est and best uses of my resources?"
Are you going to attempt to entrance peo­ple with a false nar­ra­tive that's directly coun­ter­manded by what peo­ple see with their own two eyes?  Or are you going to tell your own authen­tic story, com­plete with strong proof ele­ments, eas­ily seen and con­firmed by your tar­get audience?
Are you going to spend an out­sized por­tion of your bud­get on a stunt? Or are you going to put your faith in a con­sis­tently repeated and rein­forced mes­sage that's rel­e­vant to your prospects buy­ing motivations?
P.S. It was also inter­est­ing to see how this old school ad medium was dri­ving the oh-so-new-school Social Media "con­ver­sa­tion."  Don't tell me offline adver­tis­ing is dead…
P.P.S. On the other side of the coin, is it just a coin­ci­dence that Ford has opted to invest their mar­ket­ing resources in launch­ing a mas­sive Social Media cam­paign around the launch of their new Ford Explorer?  Me thinks not.
P.P.P.S. Bitch about Go Daddy ads all you want, but those ads not only have proven, dra­matic ROI, they've also made Go Daddy THE house­hold name for domain reg­is­tra­tion — even amongst the Church groups who have peti­tioned against their adver­tis­ing practices.
The thing about most prod­uct tours is they suck.
Prod­uct Tours are often dif­fi­cult to under­stand, or often just plain dry, mostly because they're feature-centric rather than user-centric.
But "user-centric" doesn't really help you design a bet­ter prod­uct tour. What we mean by that is closer to "use-centric" which is another way of say­ing scenario-based (aka story-based).  And scenario-based does help you design bet­ter prod­uct tours, because you can wrap the tour around a rep­re­sen­ta­tive sce­nario rather than a ran­dom feature-by-feature basis.
Using this kind of nar­ra­tive frame­work does two things:
It trans­lates dry prod­uct fea­tures into user ben­e­fits — increas­ing both clar­ity and relevance
It ensures Web vis­i­tors click all the way through to the end of the scenario/tour — peo­ple want to fin­ish the nar­ra­tive arc
And as you may have guessed, scenario-izing infor­ma­tion and data has appli­ca­tions beyond prod­uct tours.  Check out this cool Chris Weller video for an exam­ple of sta­tis­ti­cal infor­ma­tion deliv­ered and made rel­e­vant through a nar­ra­tive framework:
While prod­uct tours are no-brainers for soft­ware and soft­ware as a ser­vice Web­sites, scenario-based "tours" should be even more com­mon on prod­uct and straight ser­vice sites as well. Trans­lat­ing fea­tures into ben­e­fits works for a lot more than just soft­ware, after all.  Apple offers extra­or­di­nary exam­ples of scenario-based tours of prod­ucts, both on their site and in many of their ads:
Scenario-izing data is a tech­nique Chris Weller uses quite fre­quently — and to great effect — in his ani­mated videos; videos that enlighten and enter­tain at the same time they show-off his con­su­mate skills: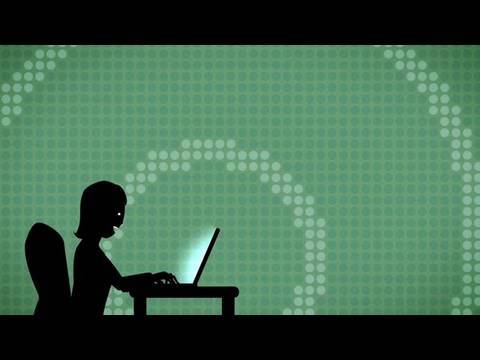 So what about you?  What bit of prod­uct or ser­vice expla­na­tion could you make scenario-based?
P.S. If you like the music from that first video, you can down­load it and a bunch of other cool Valentine-themed songs from Ama­zon for FREE!
P.P.S. I'm hardly alone in my pref­er­ence for scenario-based learn­ing, as it is the main theme of one of the fore­most experts in learn­ing the­ory, cog­ni­tive sci­ence, and e-Learning also advo­cates for story-based teach­ing.