Steven Pressfield is a writer of two worlds.
In one world, he's the celebrated author of The War of Art – a book that has quickly become the field manual for anyone engaged in creative or artistic work of any kind, especially entrepreneurs and writers. In the other world he's the king of all military epics and historical sagas – a thinking man's Tom Clancy whose novels about The Battle of Thermopylae, Alexander the Great, and The Peloponnessian War are favorites among grunts, generals, and literary critics alike.
Unfortunately, there's not nearly enough cross pollination between the two worlds. Few of Steven's fiction fans have read his non-fiction, and even fewer of his non-fiction fans have read his novels. And if you're reading this blog, you probably fall into the latter category, which means you're missing out, because the themes and messages that have moved you from The War of Art (and now, Do The Work) resonate throughout his novels.
But don't take my word for it, just read the following e-mail interview that Steve was gracious enough to grant me, and you'll see exactly what I'm talking about:
Question 1: At one point in The Legend of Bagger Vance, the narrator, a WWII vet, says of a Baby Boomer medical student/intern, Michael:
"… I found myself thinking of ancient Greece, which had become, for it's troubling parallels with our own time, more and more a preoccupation of mine. The so-called Golden Age lasted only three generations. Junah's was the first generation, the first of our American Golden Age. Mine was the second; Michael's now the third. In Athens, Junah's and mine would have been the gallant decades of Aeschylus and Sophocles, Pericles and Themistocles; ours would have been the glories of Marathon and Thermopylae, Salamis and Artemisium. Michael's would have been the bitter third generation of Alcibiades, the generation of plague and empire when painted youth mocked the Mysteries and fell from the excess of their own brilliance.

This is what I feared for Michael. That his generation, so strong, so well made, so bright and aware beyond its years, would compare itself to us in envy, envy of the clarity of our challenges and the brutish obviousness of our enemies."
Also, on your blog and in your book, Do The Work, you have been very open about initially setting The Profession much closer to current-day times than it ended up. That, in fact, moving the story further out to the future was necessary to keep readers from feeling the parallels too keenly to maintain their "willing suspension of disbelief."
So the natural question becomes, how has writing The Profession either strengthened or changed your observation of these parallels?
Steve's Answer:
Great question, Jeff. I confess I hadn't even thought about it consciously till you asked. But yes, very definitely "The Profession" is my statement about that Third Age, the age of empire descending. The difference between an Alcibiades and a Gen. Salter (in "The Profession") is that the former believed that he could singlehandedly resurrect the Golden Age as a reflection of his own brilliance (he couldn't), whereas Salter has a much darker view of the arc of empire and harbors no such illusions. He's not really a narcisssist or a megalomaniac; he's a man who sees empire's rise and fall all too clearly — and conceives of himself as seizing the reins of power as much to protect his countrymen from worse men as from any idea of mad ambition or self-aggrandizement.
Question 2: Many authors talk about "hearing the voice" of a character, and that once they get the voice right, everything sort of falls in place. Did this happen for you with The Profession? Gent seems to have such an authentic voice, practically taking on a life of its own in Chapter 3, that it almost seems as if you might have started with that?
Steve's Answer:
That's exactly right, Jeff. Gent's voice is the whole book. I started with that. Oddly enough, I met and became great friends with a real-life warrior (who shall remain nameless for the moment) during the writing of the book. He was as close to a real-life Gent as it is possible to come, which really helped my confidence in the character. You know, it's not too hard to envision larger-than-life characters in fiction set a couple of millennia into the past, but doing the same in the present can be a little dicey. So yes, "The Profession" started with Gent's voice and his voice carries the story through all the way.
Question 3: Which character formed himself first in your mind: Salter or Gent? And how soon after the first did it take for the other to arrive? Also, can you speak a little bit of how the dynamic between these two characters evolved?
Another great question. Gent came first, then Salter right behind. The one implied the other. Part of Gent's "universal soldier" ideal was his need for and loyalty to a great leader. The way a Macedonian of the phalanx needed Alexander or a legionnaire needed Caesar. The leader defines the cause for the warrior and makes him believe in the possibility of it and of his own greatness. But buried within that belief on the warrior's part is the seed of becoming his own leader, of evolving beyond the "loyal trooper" model to realizing and actualizing his own beliefs and his own code. That took a long time to evolve in the writing and needed some serious aid from my colleague and friend, Shawn Coyne. He made me see the character of Gent much more deeply than I had originally envisioned him.
Question 3a: If Salter is an Alcibiades-like character (or Coriolanus / Alcibiades hybrid), would you characterize Gent as a Telamon – a leader who would be "great" but whose lack of the monstrous prevents him from taking those fateful, monstrous acts of an Alexander or Caesar or Salter?
Steve's Answer:
You hit the nail right on the noggin, Jeff. I originally conceived of Gent as Telamon (a recurring character in two of my previous books — a mercenary warrior of the 5th Century B.C.) because I've always loved him and wanted to give him his own book. I was curious what he would say and do. Telamon (and Gent) are pure warriors, in that they fight for the fight alone, not for a flag or a cause. In fact they despise flags and causes. They ask, "Why is one flag better than another, or one cause?" And of course they aren't?

Gent/Telamon are ronin Samurai. They're adherents to the dark code of the isolated warrior, for whom all causes and dreams have proved false over centuries and who now serve the god of war alone, Ares (or Eris, strife.) And you're right, they lack the element of the monstrous, to their credit, so they remain grounded and in their own way moral and good. They're like the seven samurai in the Kurosawa movie of the same name, who fight and die only for their brothers and the peasants whose village they couldn't find on a map — and for a bowl of rice if they're lucky enough to get it.
Question 4: Can you talk about the notion, featured in the book, of "the intersection of necessity and free will"? The only time I've heard any kind of phrase like that before is from C.S. Lewis in describing his conversion to Christianity. Can you explain how Salter see this and also, if you feel similarly, how you see it?
Actually I stole that phrase from myself, from "Tides of War," in which it appears as Alcibiades' philosophy. Salter understands the arc of empire, in the sense that as a nation like the United States recedes from its apogee of greatness, certain darker political strains will appear, like the polarization we're seeing today, like the reluctance of society's youth to serve anything grander than their own ambition, and so forth. That's Necessity. The republic–any republic–is trapped in it. As empires decline, we see time after time the increased employment of mercenaries, the rise in popularity of blood sports, a decline in traditional morals, etc. So that arc is fixed. But at the same time, the actions of a great man can, if not deflect this arc, then at least align themselves with it and ride the tiger. That's free will. Alcibiades believed he could manipulate Necessity by the use of his will (though he, being Greek, saw it in terms of winning the favor and intercession of the gods). Salter knows better than that. His view is more Thucydidean and darker. He sees human nature as unchangeable. He's trying to align with the imperatives of history and enact them as best he can — and better for the nation than other, lesser men might enact them.
Question 5: "I fight for money. Why? Because gold purges vanity and self-importance from the fight. Shall we lay down our lives, you and I, for a flag, a tribe, a notion of the Almighty? I did, once. No more. My gods are now Ares and Eris. Strife. I fight for the fight itself. Pay me. Pay my brother."
This paragraph, taken from the first chapter of the novel, introduces us to Gent and the idea of widespread use of whole-scale mercenary armies. And also gives us Gent's self-identity as both a mercenary and a warrior. And it also bears an incredibly strong resemblance to the idea, expressed in The Legend of Bagger Vance and The War of Art and Do The Work, of doing the work as a pure act, purged from hopes, ego, desire for fame, etc. Doing the work for the work. And yet, this conception seems to fail the larger test within the scope of the novel: a fight is always a fight over something larger than the fight itself; in the end, power is exercised towards ends. Can you talk a bit about that?
Another great observation, Jeff. And I didn't realize this myself till I was into the 13th or 14th draft of the book, influenced by my friend Shawn. The reason the code of fighting-for-the-fight-alone is so dark is that it's spawned from despair, the despair of the realization that society as a whole has lost its ideals and the once-noble vision that formerly sustained it. A fight, as you say, "is always over something." That's the ethical dimension that Gent comes to embrace in the end and that every artist, if he's going to be true to his art, has to embrace and embody in his work. If you think back to "The Seven Samurai," what makes them great in the end is that they gave up their "fight only for the fight" mentality and really embraced the needs and desperation of the villagers who had hired them. That's what the Toshiru Mifune character does for the others. He's not a "real" samurai (ronin would be the proper word, meaning "masterless samuria" — in other words, dispossessed warriors who have lost their original code and had to cobble together a substitute out of courage, skill, etc. bereft of an overarching ideal of service) and so he's free to really care about the farmers and the children and the wives. That's what makes him great and also what kills him. So yes, you're absolutely right. The warrior code needs to be informed by an ideal of virtue greater than the fight itself.
And that's it folks. I leave you with two things:
1) A special thanks to Steven Pressfield for his books and for this interview, and
2) This trailer for The Seven Samurai: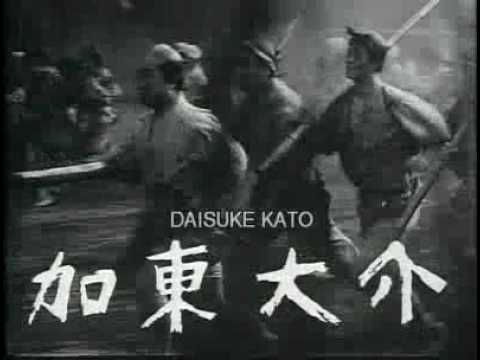 Comments