Before any­thing else, watch this not-so-safe-for-work video (lots of cussing):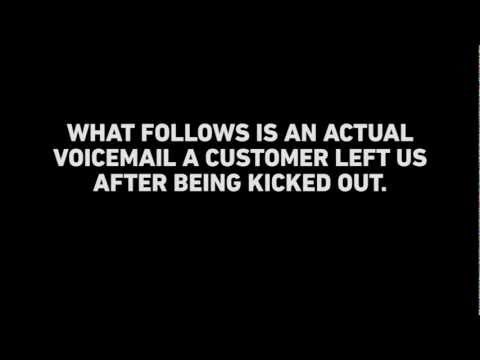 Now, here's what the Alamo Draft­house has to say about the inci­dent:
We do not tol­er­ate peo­ple that talk or text in the the­ater. In fact, before every film, we have sev­eral warn­ings on screen to pre­vent such hap­pen­ings. Occa­sion­ally, some­one doesn't fol­low the rules, and we do, in fact, kick their asses out of our the­ater. This video is an actual voice­mail from a woman that was kicked out of one of our Austin the­aters. Thanks, anony­mous woman, for being awesome.
Just one ques­tion: after watch­ing that video, do you have any doubt that the Alamo Draft­house is seri­ous about pro­tect­ing the customer's movie-going experience?
Of course not. Why? Because you know that they not only are will­ing to kick peo­ple out for dis­tract­ing vio­la­tions, but that they've done it in the past and are not at all afraid to take some heat for it. This video serves as a mas­ter­ful dis­play of trans­parency in adver­tis­ing, a per­fect form of proof, and a strong sig­nal of intent to any prospec­tive customer.
What's the intent? To pro­vide the ulti­mate in seri­ous move-watching expe­ri­ence. The Alamo Draft­house is a movie the­atre with steep sta­dium seat­ing guar­an­teed to pro­vide an unob­structed view of the screen, and wait­ers and wait­resses that serve real food and beer, allow­ing cus­tomers to bet­ter enjoy the movie and to avoid any hunger or thirst-induced interruptions.
So while this video may indeed repel some customers,it'll likely attract a lot more. In fact, it'll be sure to attract the seri­ous movie-goer — which is exactly the kind of cus­tomer the Alamo Draft­house wants.
Not a bad way to turn a cranky, complaint-ridden phone call into a bril­liant piece of viral adver­tis­ing, no?
What about you? How could you take what might be con­sid­ered a down­side or "cost" or com­plaint and turn it into proof of your main UVP?
"Songs with words are recalled more quickly (and with greater accu­racy) than music that has no words. Like­wise, pic­tures with peo­ple in them are viewed more often (and longer) than pic­tures that have no people."
- Roy H. Williams, Secret For­mu­las of The Wiz­ard of Ads
I've always cringed at the men­tion of "per­sonal branding."
"Per­sonal brand­ing" grates on me because I believe that it's far more prof­itable to under­stand cor­po­rate brand­ing through the lens of per­sonal rep­u­ta­tion than to cre­ate some kind of con­trived rep­u­ta­tion through use of cor­po­rate branding.
For exam­ple, if you under­stand brand as rep­u­ta­tion, you can't help but under­stand that:
And yet, I do believe that the very best advo­cates for per­sonal brand­ing have a worth­while point or two, namely that:
1. Peo­ple want to do busi­ness with other peo­ple — peo­ple they know and trust
There's magic to George Zim­mer promis­ing us that "You'll like the way you look, I guar­an­tee it." Or a Lee Iacocca chal­leng­ing us with "If you can find a bet­ter car, buy it."
The magic lies in the human con­nec­tion, in the sense of doing busi­ness with a live human being invested with the mag­i­cal power of free will, instead of with some face­less orga­ni­za­tion, utterly with­out agency.
When given a choice, we pre­fer busi­nesses run by peo­ple whose pas­sion for what they do extends beyond mak­ing money. Peo­ple who'll do the right thing; peo­ple that care.
We want to know that Mama Gert Boyle sim­ply won't stand for her com­pany to pro­duce any­thing less than the best, even to the point of tor­ture test­ing Columbia's cloth­ing on her own son. This hits us at a far deeper level than tech­ni­cal specifications.
Want to see what it looks like when a small busi­ness puts some of this magic into their advertising?
Check out Tim Mile's brand­ing cam­paign for a local Heat­ing and Air Con­di­tion­ing Company
2. (most) Peo­ple can't "know" the real you
Do you think that any of us actu­ally knows the real Lee Iacocca? Other than his wife, kids, and close friends? Heck no. And yet most of us feel as if we know him. He has a pub­lic persona.
The rea­son most of us don't have a crafted pub­lic per­sona is because most decent peo­ple shy away from self aggran­dize­ment. It goes against the grain and feels icky.
We're far more com­fort­able with Jimmy Stewart's "aw shucks" foot twist­ing than Don­ald Trump's "I'm the great­est" chest thumping.
We have to grow more com­fort­able both with the need for self-promotion and with the need to pro­vide the pub­lic with a nar­rower and more eas­ily grasped pro­jec­tion of our­selves than could pos­si­bly fit our own com­plex per­son­al­i­ties. We have to be OK with the pub­lic per­ceiv­ing us as some­thing approach­ing a car­i­ca­ture of our real selves.
I'm sure the owner of the HVAC Com­pany that Tim Miles renamed "Dr. Com­fort" prob­a­bly wouldn't have thought to car­i­ca­tur­ize him­self as a method to brand his com­pany. Nor would he most likely have been too com­fort­able with what must have seemed a boast­ful and over-reaching title — that of "Dr. Comfort."
And yet the strate­gic use of the Dr. Com­fort per­sona has con­vinced a lot of peo­ple to do busi­ness with him.
How Domino's Could Have Made "Rate Our Chicken" Even Better
Want to see this at work in a national ad cam­paign?  Check out Tom Wanek's analy­sis of Domino's Rate Our Chicken Ad.
Just keep in mind that Tom approaches this analy­sis from a Credibility-based per­spec­tive.  He's ana­lyz­ing how Domino's use of trans­parency and sig­nal­ing lends cred­i­bil­ity to their claim of supe­rior chicken.
And from that per­spec­tive, Tom finds fault with how the "Rate Our Chicken" ad opens and closes its mes­sage. It opens with a weak, non-attention-bragging image and it closes with a show of hes­i­tancy and doubt on the part of Domino's chicken expert. Tom rec­om­mends a more con­fi­dent clos­ing image — and he's right!
But that's com­ing from a logical/credibility perspective.
What actu­ally unites the two men­tal images has noth­ing to do with logic and every­thing to do with the magic of "Pic­tures with Peo­ple."  Tate Dil­low is the thread run­ning through­out the com­mer­cial, and he is who com­mands both the open­ing and clos­ing images of the ad.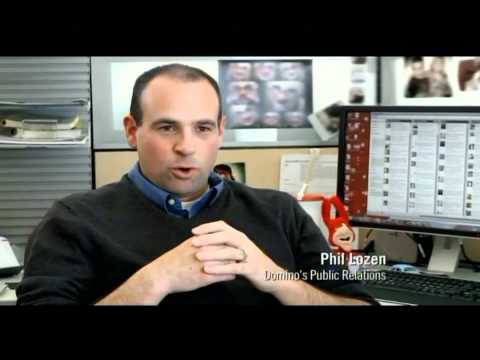 As much as Domino's is look­ing to gain cred­i­bil­ity through trans­parency, they are also look­ing to gain an emo­tional involve­ment through Tate Dillow's pub­lic per­sona as Mr. Domino's Chicken. And for the most part it works.
But as Tom so rightly points out, it could be made bet­ter by strength­en­ing the open­ing and clos­ing images. Yet know­ing that Tate is the thread that holds the com­mer­cial together, we wouldn't want to remove him from either the open­ing or clos­ing images. Nor would we want to do away with any image that helps to con­vey Tate's human­ity to the audience.
So my sug­ges­tion would be to sim­ply switch the open­ing and clos­ing men­tal images.
Show me the trans­par­ently human and under­stand­ably nervous-about-the-box Tate Dil­low first. Make me curi­ous why the box has him so worked up. Hook me into his story.
Then, at the end of the com­mer­cial, show me the con­fi­dent, "My Name's Tate Dil­lon and I am Domino's Chicken" image, leav­ing me with the impres­sion that this guy's hell-bent on giv­ing me great chicken.
The Bot­tom Line:
The best bet for your ads isn't to be either purely log­i­cal or emo­tional, but to com­bine the two in the evi­dent pas­sion and ver­i­fi­able actions of a spokesper­son the pub­lic can trust.  And if you're the owner of the com­pany, that spokesper­son should likely be you.
Are you up for it?
P.S. I couldn't find an already-online ver­sion of Roy H. Williams' essay, "Song's with Words, Pic­tures with Peo­ple," so I made a hasty scan of it and posted it here. Enjoy…