Before any­thing else, watch this not-so-safe-for-work video (lots of cussing):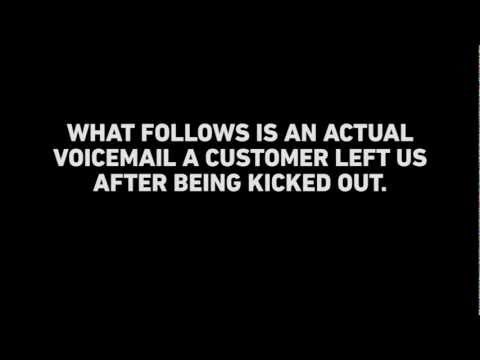 Now, here's what the Alamo Draft­house has to say about the inci­dent:
We do not tol­er­ate peo­ple that talk or text in the the­ater. In fact, before every film, we have sev­eral warn­ings on screen to pre­vent such hap­pen­ings. Occa­sion­ally, some­one doesn't fol­low the rules, and we do, in fact, kick their asses out of our the­ater. This video is an actual voice­mail from a woman that was kicked out of one of our Austin the­aters. Thanks, anony­mous woman, for being awesome.
Just one ques­tion: after watch­ing that video, do you have any doubt that the Alamo Draft­house is seri­ous about pro­tect­ing the customer's movie-going experience?
Of course not. Why? Because you know that they not only are will­ing to kick peo­ple out for dis­tract­ing vio­la­tions, but that they've done it in the past and are not at all afraid to take some heat for it. This video serves as a mas­ter­ful dis­play of trans­parency in adver­tis­ing, a per­fect form of proof, and a strong sig­nal of intent to any prospec­tive customer.
What's the intent? To pro­vide the ulti­mate in seri­ous move-watching expe­ri­ence. The Alamo Draft­house is a movie the­atre with steep sta­dium seat­ing guar­an­teed to pro­vide an unob­structed view of the screen, and wait­ers and wait­resses that serve real food and beer, allow­ing cus­tomers to bet­ter enjoy the movie and to avoid any hunger or thirst-induced interruptions.
So while this video may indeed repel some customers,it'll likely attract a lot more. In fact, it'll be sure to attract the seri­ous movie-goer — which is exactly the kind of cus­tomer the Alamo Draft­house wants.
Not a bad way to turn a cranky, complaint-ridden phone call into a bril­liant piece of viral adver­tis­ing, no?
What about you? How could you take what might be con­sid­ered a down­side or "cost" or com­plaint and turn it into proof of your main UVP?
Comments