My colleague Tom Wanek recently published a few Ogilvy quotes to celebrate the ad giant's birthday, and I thought, heck — why wait for a birthday!
And that gave me license to pulled out my little booklet of Leo Burnett quotes and start flipping through the pages. At first I was only going to jot a few down for your enjoyment, but as the quotes piled up, I thought I'd better organize them for you. So I stole Roy Williams' adage of "Talk to the Dog in the language of the dog, about what's important to the dog" and used that as a quick and dirty template.
Hope you enjoy reading these quotes as much as I did!
On Understanding — and Speaking to — the Heart of the Customer:
"If you can't turn yourself into your customer, you probably shouldn't be in the ad writing business at all."
"Good advertising does not just circulate information. It penetrates the public mind with desires and belief."
"I listen to everybody and take notes. Particularly salesmen. They get close to people."
"It seems axiomatic that you have to make a friend before you can effectively make him a proposition."
"The work of an advertising agency is warmly and immediately human. It deals with human needs, wants, dreams, and hopes. Its 'product' can not be turned out on an assembly line."
On Speaking the Language of the Customer:
"In this agency business we are people talking to people, and that's what we should keep running through our fingers."
"Keep it simple. Let's do the obvious thing — the common thing — but let's do it uncommonly well."
"A really good creative person is more interested in earnestness than in glibness and takes more satisfaction in converting people than in wowing them."
"Advertising says to people, 'Here's what we've got. Here's what it will do for you. Here's how to get it'"
"As I have observed it, great advertising writing, either in print or TV, is always deceptively and disarmingly simple. It has the common touch without being or sounding patronizing."
"The secret of all effective originality in advertising is not the creation of new and tricky words and pictures, but one of putting familiar words and pictures into new relationships."
"If you are writing about baloney, don't try to make it Cornish hen, because that is the worst kind of baloney there is. Just make it darned good baloney."
On The Real Purpose of Ads and Advertising
"Our real purpose in life is that of improving the sales effectiveness and reputation of our clients through ideas."
"We want consumers to say, 'That's a hell of a product' instead of 'That's a hell of an ad.'
"It seems to us there should be less concern about the dimensions of a business. And considerably more concern about its heartbeat — the values, zest and spirit behind its physical and financial facade."
"Before you can have a share of market, you must have a share of mind."
"Fun without sell gets nowhere but sell without fun tends to become obnoxious."
On Working as an Effective Copywriter
"Plan the sale when you plan the ad."
"I have learned that it pays to fight for concepts and causes that may appear unpopular at the moment, rather than following the course of quick and easy agreement."
"Rarely have I seen any really great advertising created without a certain amount of confusion, throw-aways, bent noses, irritation, and downright cursedness."
"Steep yourself in your subject, work like hell, and love, honor and obey your hunches."
And one more for a bonus: the video of Leo's famous speech to the agency that bears his name titled, "When to take my name off the door":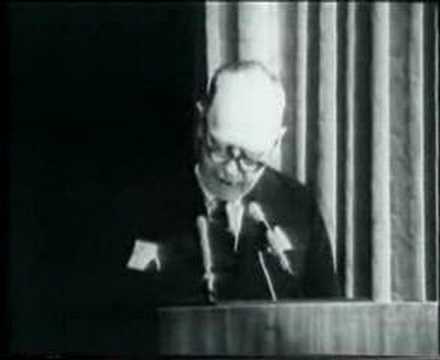 Comments