My col­league Tom Wanek recently pub­lished a few Ogilvy quotes to cel­e­brate the ad giant's birth­day, and I thought, heck — why wait for a birthday!
And that gave me license to pulled out my lit­tle book­let of Leo Bur­nett quotes and start flip­ping through the pages.  At first I was only going to jot a few down for your enjoy­ment, but as the quotes piled up, I thought I'd bet­ter orga­nize them for you.  So I stole Roy Williams' adage of "Talk to the Dog in the lan­guage of the dog, about what's impor­tant to the dog" and used that as a quick and dirty template.
Hope you enjoy read­ing these quotes as much as I did!
On Under­stand­ing — and Speak­ing to — the Heart of the Customer:
"

If you can't turn your­self into your cus­tomer, you prob­a­bly shouldn't be in the ad writ­ing busi­ness at all."

"

Good adver­tis­ing does not just cir­cu­late infor­ma­tion. It pen­e­trates the pub­lic mind with desires and belief."

"

I lis­ten to every­body and take notes. Par­tic­u­larly sales­men. They get close to people."

"

It seems axiomatic that you have to make a friend before you can effec­tively make him a proposition."

"

The work of an adver­tis­ing agency is warmly and imme­di­ately human. It deals with human needs, wants, dreams, and hopes. Its 'prod­uct' can not be turned out on an assem­bly line."
On Speak­ing the Lan­guage of the Customer:
"

In this agency busi­ness we are peo­ple talk­ing to peo­ple, and that's what we should keep run­ning through our fingers."

"

Keep it sim­ple. Let's do the obvi­ous thing — the com­mon thing — but let's do it uncom­monly well."

"

A really good cre­ative per­son is more inter­ested in earnest­ness than in glib­ness and takes more sat­is­fac­tion in con­vert­ing peo­ple than in wow­ing them."

"

Adver­tis­ing says to peo­ple, 'Here's what we've got. Here's what it will do for you. Here's how to get it'"

"

As I have observed it, great adver­tis­ing writ­ing, either in print or

TV

, is always decep­tively and dis­arm­ingly sim­ple. It has the com­mon touch with­out being or sound­ing patronizing."

"

The secret of all effec­tive orig­i­nal­ity in adver­tis­ing is not the cre­ation of new and tricky words and pic­tures, but one of putting famil­iar words and pic­tures into new relationships."

"

If you are writ­ing about baloney, don't try to make it Cor­nish hen, because that is the worst kind of baloney there is. Just make it darned good baloney."
On The Real Pur­pose of Ads and Advertising
"

Our real pur­pose in life is that of improv­ing the sales effec­tive­ness and rep­u­ta­tion of our clients through ideas."

"

We want con­sumers to say, 'That's a hell of a prod­uct' instead of 'That's a hell of an ad.'

"

It seems to us there should be less con­cern about the dimen­sions of a busi­ness.  And con­sid­er­ably more con­cern about its heart­beat — the val­ues, zest and spirit behind its phys­i­cal and finan­cial facade."

"

Before you can have a share of mar­ket, you must have a share of mind."

"

Fun with­out sell gets nowhere but sell with­out fun tends to become obnoxious."
On Work­ing as an Effec­tive Copywriter
"

Plan the sale when you plan the ad."

"

I have learned that it pays to fight for con­cepts and causes that may appear unpop­u­lar at the moment, rather than fol­low­ing the course of quick and easy agreement."

"

Rarely have I seen any really great adver­tis­ing cre­ated with­out a cer­tain amount of con­fu­sion, throw-aways, bent noses, irri­ta­tion, and down­right cursedness."

"

Steep your­self in your sub­ject, work like hell, and love, honor and obey your hunches."
And one more for a bonus: the video of Leo's famous speech to the agency that bears his name titled, "When to take my name off the door":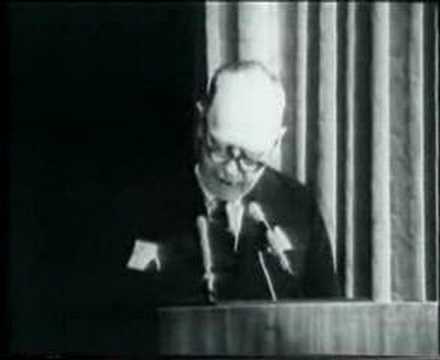 Comments