I'm a fan of explana­tory videos for sev­eral reasons:
High engage­ment (for at least the first 20 — 60 sec­onds). In a

TL

;

DR

world a well placed video will hold a visitor's full atten­tion for at least 20 seconds.
Multi-media. You've got mov­ing pic­tures, words, music, and sound effects all work­ing to con­vey infor­ma­tion and cre­ate emotion.
Emo­tion

&

Impact. Noth­ing beats video when it comes to high-impact demos and/or con­vey­ing pas­sion, enthu­si­asm and sincerity.
Unfor­tu­nately, very few explana­tory videos take full advan­tage of these strengths.
Many waste their high-engagement win­dow with too much unadorned expo­si­tion and preamble.
Most over-use the "say-it, show it" tech­nique and under-use visual sto­ry­telling tech­niques to point where they become noth­ing more than poorly illus­trated radio ads.
And more than a few tend to over­play the cartoon-y ani­ma­tion in ways that under­mine effec­tive emo­tional impact
But Sales­force knocked their video on Cloud Com­put­ing out of the park. If you haven't seen it yet, watch it now: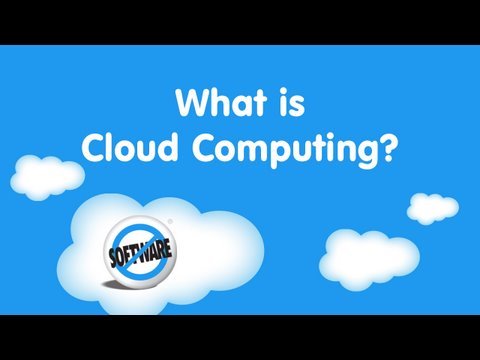 Granted, the video could jump to the point even faster than it does, but even still, the cen­tral meat of the mes­sage starts after 15 sec­onds — within the 20 sec­ond win­dow of engage­ment. More­over, the fast-moving ani­ma­tion eas­ily keeps view­ers' atten­tion until then. And after that, the video just keeps get­ting better.
Here are some spe­cific aspects of the video that are worth not­ing, copy­ing, and demand­ing from your explana­torry video, should you decide to get one:
1. The video coun­ter­points less-emotional words with more emo­tional imagery
For exam­ple, at the 40 sec­ond mark, the audio says "you call tech­ni­cal sup­port, and they don't know, so they blame some­one else." But the imagery shows the tech sup­port guy loung­ing in a chair with his feet up, laugh­ing at the cus­tomers predica­ment while mind­lessly throw­ing darts. The neu­tral audio com­bines with the cut­ting video to cre­ate a mes­sag­ing impact that's greater than either one alone. Nice.
Another great exam­ple occurs when one stick fig­ure "sticks up" a cus­tomer stand-in, fir­ing a pis­tol that unfurls into a microsoft flag — all while the announcer says, "…the way you pay for cloud apps is also dif­fer­ent."  Well played, Sales­force. Well played : )
2. The ani­ma­tion enhances the emo­tional impact of the mes­sag­ing rather than under­min­ing it
At the 44 sec­ond mark, the video shows a rather unstable-looking stack of soft­ware, which top­ples when one of the soft­ware boxes get's swapped out forr an upgrade.  The top­pling of the boxes is meant to rep­re­sent and dra­ma­tize a seri­ous real-world problem.
A less-effective video would show the stack crash­ing straight to one side or another, with­out employ­ing any depth cueus. In cin­e­matic terms, they'd use flat stag­ing, more suit­able to com­edy than drama. Worse, they'd prob­a­bly make the crash car­toony in a way that would belit­tle the real-world con­se­quences sup­pos­edly rep­re­sented by the animation.
In the Sales­force video, on the other hand, they show the stack crash­ing towards the camera/viewer, using depth stag­ing and seri­ous sound effects to enhance the dra­matic effect of the crash. And it works, because the pro­duc­ers of the video knew their craft as visual storytellers.
You can see this same depth stag­ing when the "hair­ball" crushes the small busi­ness two. The scene is shot at an angle, look­ing up at the advanc­ing hair­ball, rather than shown flat.
Remem­ber: videos should use seri­ous stag­ing and seri­ous sound effects for seri­ous sub­ject matter.
3. The video builds upon visual sym­bols from one scene to the next
The Sales­force video empha­sizes the mess of a soft­ware crash by cre­at­ing a giant hair­ball of IT difficulty/failure around the top­pled soft­ware stack at the 50 sec­ond mark. Then that same hair­ball crushes a small busi­ness under the weight of IT dif­fi­cul­ties 10 sec­onds later, while the audio track says, "small busi­nesses don't stand a chance."
Great pair­ing of visual sto­ry­telling and sym­bol­ism (IT fail­ure will kill your small busi­ness) with explana­tory audio.
Later the video will also con­trast the wob­bly soft­ware stack dis­played at the video's 44 sec­ond mark with a nice, super-stable, cloud-supported stack of cloud-based apps show­cased at the 2:40 mark.
4. The Video Makes Effec­tive Use of Real­ity Hooks and Analogies
When the Sales­force video com­pares gmail with Microsoft Exchange, a light goes on. Any­one with the slight­est gMail expe­ri­ence knows that it truly deliv­ers on Apple's claimed promise of "It just works." gMail might not have the best inter­face in the world, but it does work uber-reliably, with no tech­ni­cal fid­dling required on the part of the user.
So what bet­ter way to drive home the advan­tages of cloud-based com­put­ing over reguar, enter­prise level soft­ware than bring­ing it to the level of imme­di­ate, shared expe­ri­ence.  The abil­ity to bring the ben­e­fits of cloud-based apps home to the viewer, serves not only as an explana­tory anal­ogy, but as a per­sua­sive "real­ity hook."
5. The video's strongest and bold­est claims are fol­lowed by a gen­uine "Here's why" sequence
Start­ing at the 1:50 mark and run­ning all the way till 2:10, the Sales­force video makes sev­eral bold claims about cloud-based apps: that you can be up and run­ning in a few days, that their apps cost less, are more scal­able and secure and reli­able than reg­u­lar soft­ware. Then, they give a nice reason-why expla­na­tion for those claims.
Right at the 2:10 mark the video launches into an expla­na­tion of multi-tenancy, com­par­ing it to rent­ing space in an office build­ing (rather than pay­ing for the whole build­ing your­self).  Strong, Rel­e­vant Claims + Cred­i­ble Proof = Per­sua­sion. The sales­force video gets this in a way that a lot of explana­tory videos don't.
6. The video uses music to its advantage
Go ahead and lis­ten to the video as it switches from the piano music of frus­tra­tion and pain while it explains busi­ness software's short­com­ings to play­ing a high-beat, up-tempo music when explain­ing the advan­tages of cloud com­put­ing. When you con­trol the music, you con­trol the emo­tional tone of the video, mean­ing that every explana­tory video ought to make per­sua­sive use of music, just like Salesforce's video does.
The Bot­tom Line
If you're plan­ning on cre­at­ing an explana­tory video for your busi­ness or start-up, it's well worth the time to watch a bunch of them from dif­fer­ent providers.  Watch them with the sound off. Watch them with the sound on but the video cov­ered up. Now ask yourself:
Which ones make full use of visual storytelling?
Which make effec­tive use of music?
Which take too darn long to get to the point?
And which ones actual achieve both clar­ity and cred­i­bil­ity regard­ing the prod­ucts claimed benefits?
What you'll prob­a­bly find is that great explana­tory videos require a strongly per­sua­sive script AND strong visual sto­ry­telling. Just make sure you're get­ting both parts of that equa­tion into your video…
P.S. There are a lot of solid explana­tory videos out there and I'll be review­ing more in the com­ing weeks, so if you've got a favorite you'd like ana­lyzed, link to it in the comments.
Comments