40 years ago, Coke made their leg­endary "Hill­top" com­mer­cial, fea­tur­ing a cho­rus of young peo­ple singing "I'd Like to Teach the World to Sing (In Per­fect Har­mony)."  You can watch it here: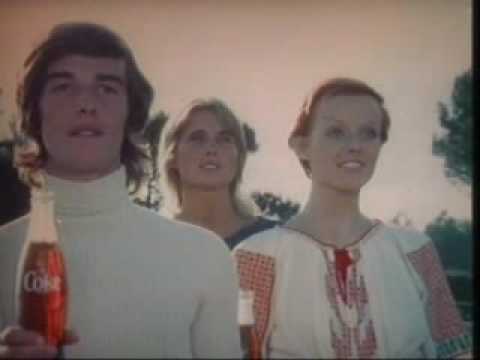 And 40 years later, Coke made this com­mer­cial, titled "Cho­rus," fea­tur­ing another cho­rus of young peo­ple, this time singing a small sec­tion of the Oasis song, "What­ever." It's another bril­liant ad, that's start­ingly dif­fer­ent from "Hill­top" despite the super­fi­cial sim­i­lar­i­ties. Check it out:
So what are these star­tling differences?
There Are 3 Dif­f­ences in Content
1) Ignor­ing vs. Admit­ing the Gritty Reality/Downside
"Hill­top" is sort of a fan­tasy world of "apple­trees and honey bees / and snow white tur­tle doves," with not a cloud in site or so much as an evil or greedy thought to be found.
The "Cho­rus" ad on the other hand, con­tin­u­ously acknowl­edges the exis­tence of tanks, greed, cor­rup­tion, weapon sys­tems, defen­sive and xeno­pho­bic walls, etc.  And yet, the opti­mism of the ad is strength­ened rather than harmed for the acknowl­edge­ment. More on this later!
2) Sen­ti­men­tal­ity vs. Data
The "Hill­top" ad is all about the emo­tional moment, with no text on the screen or fac­tual any­thing to get in the way. They believe in world piece and are sym­bol­i­cally rep­re­sent­ing it by singing in uni­son within their mul­ti­cul­tural youth cho­rus. It's a sen­ti­men­tal piece purely in step with the zeit­geist of 1971.
The "Cho­rus" ad has an over­all pos­i­tive sen­ti­ment — there are rea­sons to believe in a bet­ter world — but the text on the screen pro­vides those very rea­sons for believ­ing. Rea­sons which take the form of hard math and sta­tis­tics: for every X bad things, there are 10x good things."
3) Wishes vs. Action
The "Hill­top" ad lit­er­ally sings of what these young peo­ple "would like" to do — "I'd like to build the world a home and fur­nish it with love" — regard­less of how dif­fi­cult or just plain impos­si­ble the feat or of how lit­tle these peo­ple are actu­ally doing to make this candy-coated sen­ti­ment a reality.
In con­trast, when the "Cho­rus" ad cham­pi­ons the rea­sons to believe in a bet­ter world, they con­sist of actions that peo­ple are tak­ing: mak­ing teddy bears, donat­ing blood, bak­ing a cake, hav­ing a baby. For­get what you'd like to do, tell me what you've done.
So What Does Coke Know That You Don't?
Whether Coke con­sciously under­stands this or whether they're just able to hire tal­ented artists who grok it sub­con­sciously, our cul­ture rad­i­cally changes it's over­all world­view every 40 years.  The spirit of the times changes on a pro­found level, and if you're left out of step with those times, you and your mes­sage will get dis­missed and ignored, if not riducled outright.
So what are these 40 year cycles I'm talk­ing about?
I learned about them from my part­ner Roy H. Williams, and to under­stand them, you first need to re-frame the way you think about a "generation."
We typ­i­cally think of a gen­er­a­tion as a set of birth cohorts: peo­ple born within 5–10 years of each other. But for this model, it helps to think of a gen­er­a­tion as a gen­eral world out­look that kids develop and then upsell to their par­ents.  And there are really only two tem­plates for this outlook:
Ide­al­ist
Civic
So every 40 years we swap from an Ide­al­ist Gen­er­a­tional out­look to a Civic Gen­er­a­tional out­look.  1963 rep­re­sented a swap from  Civic to Ide­al­ist, and 2003 rep­re­sented the shift back from Ide­al­ist to Civic.  And from that you might have a pretty good idea of what the two gen­er­a­tional out­looks are like, but let's expand on that a bit…
Ide­al­ist Generations
Ide­al­ist gen­er­a­tional out­looks cre­ate spir­i­tual awak­en­ings. And sure enough, we've had a "Great Awak­en­ing" in this coun­try every 80 years or so, pretty much like clock­work, start­ing from the first Great Awak­en­ing in 1720 and con­tin­u­ing onto the "Fourth Great Awak­en­ing" in the early 1960s.
Ide­al­ists, or what Roy terms "Me Gen­er­a­tions" prri­mar­ily engage the cul­ture through:
A Beau­ti­ful Dream of Free­dom from Restraint
A Hunger for Self Expression
A Search for Individuality
That sort of sounds like the 60s and 70s, doesn't it?  Of course, take these val­ues too far and you get the phony pos­ing, con­spic­u­ous con­sump­tion, and alien­ation of the 80s. React­ing to exactly that excess, you get a grad­u­ally ris­ing Civic Gen­er­a­tional out­look, first expressed by Gen-Xers, and brought into the main­stream by Millenials…
Civic Gen­er­a­tions
Civic Gen­er­a­tions are gen­er­ally known for com­ing together in the face of a cri­sis, usu­ally through mil­i­tary action. Think "The Great­est Gen­er­a­tion" in WWII. And, yes, you can take that same basic 80 year cycle and track major wars by that same cycle, Rev­o­lu­tion­ary, Civil, and WWII.
As opposed to an Ide­al­ist gen­er­a­tion, the Civic out­look includes:
A Beau­ti­ful Dream of Work­ing Together for the Com­mon Good
A Hunger for Accep­tance as a Mem­ber of a Team
A Search for Significance
If the Boomers of the six­ties rejected con­for­mity, the Gen-Xers and Mil­lenials of the aughts rejected pre­tense — they wanted the truth, even if it was ugly. The didn't want to "sell out," but sought to do some­thing "real" that "mattered."
This is how "Being cool" become "Keep­ing it Real."  And why the preter­nat­u­rally cool, liv­ing large, and totally in charge James Bond  became the dam­aged and flawed Jason Bourne, deal­ing with a seri­ously messed up sit­u­a­tion that's big­ger than him and that he didn't cre­ate, but that he's forced to solve anyway.
Ide­al­ist = "Hill­top" and Civic = "Chorus"
So ulti­mately, what Coke knows that you don't is how to stay in-step with the spirit of the age in order to ensure your mar­ket­ing mes­sage is as effec­tive as possible.
So where can you learn more about Ide­al­ist and Civic gen­er­a­tions, and specif­i­cally what to expect and how to suc­ceed as this cur­rent Civic gen­er­a­tion rises to a peak?  For­tu­nately, Roy H. William's new book, Pen­du­lum, explains exactly that. It's an eye-opening fas­ci­nat­ing read, from an intel­lec­tual stand­point, and also one of the more prac­ti­cal books you'll buy this year.
Now, while you cer­tainly can go buy the book from Ama­zon, you can also get that same hardover book for the dis­counted rate of $7 over at Pen­du­lu­mI­n­Ac­tion while also get­ting some extra "imme­di­ately action­able" good­ies thrown in as a bonus.  The extra good­ies were cre­ated by the co-author of the book, Michael Drew, and they include some great stuff.
P.S. As a sort of guar­an­tee, if you buy it on my rec­om­men­da­tion (and for the record, I've pur­posely cho­sen NOT to get any kind of affil­i­ate pay­ment for this) and you don't end up find­ing the book use­ful and impor­tant, let me know and I'll pay­pal you a refund.
P.P.S. In case you didn't catch my men­tion of it ear­lier, and in the inter­est of full dis­clo­sure, I am a busi­ness part­ner with Roy Williams and a friend of Michael Drew's. 
Comments