Holy mega-bucks, Bat­man! On Sat­ur­day, the orig­i­nal Bat­mo­bile (from the old Adam West TV Show) sold for a whop­ping 4.2 Mil­lion Dollars.  
You can watch the entire bid­ding process in the embed­ded YouTube video, if you want, but I'd advise skip­ping to the 8:14 mark, where they inter­view the win­ning bidder: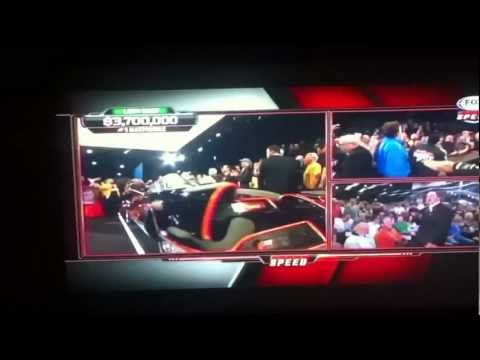 In response to the ques­tion, "what made you want that car?" Rick Cham­pagne gave the fol­low­ing list:
I grew up in that era, so it meant a lot to me.
I've been watch­ing that car for 20 years and wait­ing for this day [when it would finally be sold]
I've been a Bar­ret Jack­son cus­tomer for well over 15 years
The car is going to go in my liv­ing room
I

KNEW

I was going to get it
So, just a few reflec­tions from me on the event and Mr. Champagne's list:
Sen­ti­ment
&

Emo­tional Con­nec­tion

MATTERS

Yes, there is also exclu­siv­ity dri­ving up the price of this car, but by far the biggest fac­tor, and the one men­tioned first by the win­ning bid­der, is the emo­tional con­nec­tion to the old TV show, and in turn, to the famous Batmobile.

If you're not tak­ing this into account — if you're not bak­ing a lit­tle Mag­i­cal Think­ing into your mar­ket­ing and adver­tis­ing — you prob­a­bly ought to be.
Baby Boomers Con­trol 70% of the Dis­pos­able Income in the 
US
Of course, given the era of the Bat­man TV show, it's not sur­pris­ing that the win­ning bid­der was a Baby Boomer. But don't over­look the fact that the major­ity of the buy­ers slosh­ing obscene amounts of dis­pos­able income around that auc­tion house were also Boomers. That's because Baby Boomer's hold the major­ity of wealth and dis­pos­able income in Amer­ica.
If you're sell­ing lux­ury or high-end prod­ucts or ser­vices and your mar­ket­ing speaks pri­mar­ily to or from a youth mind­set, you might want to rethink that.
Antic­i­pa­tion Com­bined with Con­fi­dence Is An Unbeat­able Combo
Rick Cham­pagne has been wait­ing to buy this car for 20 years. That's a lot of antic­i­pa­tion, a lot of time Rick spent imag­in­ing him­self buy­ing that car.
Rick's also done busi­ness with the auc­tion house, Bar­ret Jack­son, for "well over 15 years." That's a lot of repeat busi­ness and confidence.
It also helped, of course, that Bar­ret Jack­son had the car's orig­i­nal builder/designer and single-person owner on hand to fur­ther ver­ify the authen­tic­ity of the vehi­cle. Per­son­ally, I think it would have been even bet­ter to have had Adam West there, too, but you can't have every­thing, I guess.
At any rate, the end result is that Rick Cham­pagne was absolutely 100% cer­tain that he was get­ting exactly what he wanted — the 100% gen­uine real deal — from a com­pany that he had full faith and con­fi­dence in to deliver.
This is why he walked into the auc­tion KNOWING that he was going to walk out as the new owner of that car.
What does your com­pany do to help peo­ple IMAGINE buy­ing from you and IMAGINE get­ting the ben­fit from your prod­uct or ser­vice?
When peo­ple walk into your busi­ness do they KNOW that they are going to buy from you? Or do they think they might pos­si­bly buy from you, if the pric­ing is com­pet­i­tive and you seem to have what they want?
So what are
YOU

doing to:
Take advan­tage of, or estab­lish, emo­tional connections?
Give peo­ple full faith and con­fi­dence in your prod­uct or service?
Allow peo­ple to develop con­fi­dence in you through pre­vi­ous busi­ness dealings?
Pro­vide some­thing worth wait­ing for?
Here's a small busi­ness exam­ple: for most HVAC com­pa­nies, the pay-off is when some­one buys a new Heat­ing and Air Con­di­tion­ing Sys­tem from them. That's payday.
But the smart com­pa­nies don't wait for pay­day to try to get your busi­ness. They'd rather you develop con­fi­dence in them BEFOREHAND.
This process is started with great ads that estab­lish an emo­tional con­nec­tion to the lis­ten­ing audi­ence. And if that emo­tional con­nec­tion seems based on old-timey val­ues and slightly older cul­tural ref­er­ences, well, that's prob­a­bly NOT an accident.
This emo­tional con­nec­tion is fur­ther strength­ened by the offer of value-priced, high-quality tune-ups and fast, effec­tive repairs. A strat­egy that ensures prospects call YOU when they need a tune-up.
And after 5 or more years of hav­ing their sys­tem tuned by you, YOU become the first per­son they call when there is a break­down — and the only peo­ple they trust when it's time to buy that new sys­tem. Payday!
The icing on the cake? Well, with any luck, that new sys­tem will come with:
advanced fil­tra­tion,
added humid­ity control,
room tem­per­a­ture equal­iz­ing func­tion­al­ity, and
energy sav­ing features.
The kind of sys­tem that makes a home notice­ably more com­fort­able and pleas­ant; a lux­ury sys­tem that the home owner desired for some time and planned on buy­ing "some­day," when it was time for a new one.
And that's how you can put some super-hero-powered CRACK-POW! — BAM! into your mar­ket­ing and advertising.
Comments