"Balls Beat Brains, Balls Beat Bud­gets" — Andy Nul­man
Adver­tis­ing with heart kicks two ways:
1) Adver­tis­ing with Val­ues &                    Pas­sion (heart = soul)
2) Coura­geous Adver­tis­ing                       (heart = lion hearted) 
And, as you can see, both ways inter­sect in the heart. The word "courage" even comes from the French word for heart, which is why you can not only be coura­geous, but can encour­age oth­ers, help­ing them to "take heart."
This isn't just the­ory, either; it's observ­able fact.
Every small busi­ness adver­tiser I've worked with who had the guts to take a strong stand in their adver­tis­ing (and then to back their claims up when the time came) always found the source of their gutsy courage in deeply and pas­sion­ately held beliefs and val­ues. Val­ues imparted through fam­ily tra­di­tions, defin­ing moments, and relationships.
This is impor­tant because it's the busi­ness own­ers capa­ble of adver­tis­ing with heart that expe­ri­ence the most impres­sive (and sus­tained) growth.
So let's take a closer look at Andy Nulman's quote:
Balls Beat Brains
Of course smarts mat­ter and sound strat­egy is cru­cial. But when it comes to small busi­ness adver­tis­ing, the obsta­cles to adopt­ing and imple­ment­ing a sound strat­egy is rarely a lack of smarts or the inabil­ity to come up with (or have a pro­fes­sional come up with) a great strat­egy. The obsta­cle is always a lack of courage to embrace that great strat­egy once it has been presented.
Because great strate­gies are  always gutsy.
This isn't to say they are risky, though. Often the riski­est thing is NOT to use a gutsy strategy.
Gutsy gets con­fused with risky sim­ply because the iden­tity of a pri­vately owned com­pany is inex­tri­ca­bly tied to the self-image of the owner. So an owner of good taste and respectabil­ity can't help but react to any nec­es­sar­ily out­ra­geous (i.e. gutsy) adver­tis­ing strat­egy by feel­ing as if it requires tak­ing excep­tional risks with her self image.
Here's how that usu­ally manifests:
1) "The risk of insult is the price of clarity"
To make an adver­tis­ing claim pow­er­ful, you have to use sur­pris­ing, vivid lan­guage, and your state­ments have to be made with­out the usual con­di­tion­als, exemp­tions, caveats, and con­tex­tual pre­am­bles that would ren­der them per­fectly defensible.
In other words, your words have to be dra­matic. And to be dra­matic you have to "cause a scene," which is to say you have to exhibit the crass bad man­ners of draw­ing atten­tion to your­self by lever­ag­ing other people's atten­tional triggers.
Busi­ness own­ers with man­ners don't want to "cause a scene," so their nat­ural ten­dency is to wimp on the mes­sag­ing by fil­ing off all the sharp edges from the ads. "We just can't say that!"
It takes courage (or shame­less­ness in gen­eral) to look at sharp mes­sag­ing strat­egy and com­mit to it with­out flinching.
2) Say­ing what you stand against means mak­ing enemies
This one's pretty obvi­ous, isn't it?  If you choose whom to lose and state what you stand against, you're not only pur­posely exclud­ing some peo­ple and draw­ing a line in the sand, you're also call­ing out any­one who believes otherwise.
Most busi­ness own­ers don't want to do that. They want every­one to like them (and give them their busi­ness), so piss­ing off any­one seems like a bad way to adver­tise. Unfor­tu­nately, no busi­ness can be all things to all peo­ple, and you can't have insid­ers with­out out­siders. You have to be for some­one in par­tic­u­lar, not every­one in gen­eral, if you want your mes­sage to resonate.
So only those busi­ness own­ers with the emo­tional pas­sion to take a stand and the courage to make ene­mies end up with loyal cus­tomers, real brand value, and adver­tis­ing capa­ble of attract­ing and build­ing such.
3) Strong Offers Absent Fine Print Means Occas­sion­ally Tak­ing It On the Chin
My part­ner, Roy Williams calls it "bud­get­ing for the knuck­le­head fac­tor," and it comes down to this: when you make uncon­di­tional guar­an­tees on some­thing — the qual­ity of your prod­ucts, a no excuse deliv­ery date, an offer of a free trial — you have to over­come the fear that peo­ple will take advan­tage of you.
Make no mis­take, it's not a base­less fear; a small per­cent­age of peo­ple WILL take advan­tage of you. That small per­cent­age will shame­lessly return an obvi­ously abused or past-the-service-life item and ask for a replace­ment. Or glut­to­nously thieve three or four free tri­als, rather than lim­it­ing them­selves to one. And so on.
Those peo­ple are knuck­le­heads, and yes, you should antic­i­pate and bud­get for their shenani­gans, pre­cisely so that you can take it on the chin and smil­ingly live up to your promise.
Yet the real fear that busi­ness own­ers face isn't the rea­son­ably assessed risk that a small per­cent­age of peo­ple will take advan­tage of them; it's the night­mare sce­nario where 30% to 100% of them do. For­tu­nately, that sce­nario only exists in night­mares. Any busi­ness owner with the heart and the courage to face that fear down inevitably finds that the knuck­le­heads make an exceed­ingly small per­cent­age of the population.
Believe it or not, the vast major­ity of peo­ple will treat you fairly, the vast major­ity of the time. Just ask com­pa­nies like Wal­mart and LL Bean and Nord­stroms — com­pa­nies that make uncon­di­tional guar­an­tees and suf­fer the knuck­le­heads in order to enjoy the busi­ness and loy­alty (and prof­its) from the rest of us.
So for small busi­nesses, this kind of adver­tis­ing requires a dou­ble dose of courage: one to look past the irra­tional fear and make the strong promise or guar­an­tee, and another to take it on the chin when the inevitable knuck­le­head forces the issue.
4) Telling Your Gen­e­sis Story Requires Real Vulnerability
Telling an audi­ence about your life-defining moment takes guts because you are openly expos­ing your soul. But it's also one of the only ways we'll ever believe in your mis­sion and your irra­tional com­mit­ment to it. As I wrote ear­lier, if you want us to believe in your super­pow­ers, you've got to tell us about your gen­e­sis story.
And because telling a gen­e­sis story requires vul­ner­a­bil­ity, includ­ing one in your adver­tis­ing takes guts. It takes heart in both senses of the word. Some busi­ness own­ers have it. Most don't. Just ask your­self, would you be will­ing to expose some­thing like this:
"When I was seven years old, I held my father's head in my hands as he took his last breath and died. A thing like that stays with you. It helps you under­stand that rela­tion­ships – peo­ple – are what life's all about.You gotta tell'em you love'em.

This is J.R. Dunn. So now you know why I became a jew­eler. Fine jew­elry is one of the ways we tell peo­ple we love 'em. When I got older and fell head-over-heals for Ann Marie, the love of my life, I didn't have enough money to buy her an engage­ment ring. She mar­ried me any­way. Go figure.

But I can promise you this: If you're think­ing of get­ting engaged to the love of your life, come to J.R. Dunn Jew­el­ers in Light­house Point. No one in Florida, no one in Amer­ica, is going to give you a bet­ter engage­ment ring for your money than me. One of the great joys of my life is to make it pos­si­ble for guys to give the woman they love the dia­mond she deserves.

There was nobody there for me when I needed an engage­ment ring. But I promise I'll be there for you."
That's J.R. Dunn's Gen­e­sis story. And it took real heart to broad­cast it to the world in a radio ad. Would you have the courage to do the same?
Balls Beat Budgets
The for­mula is quite simple:
Salience * Rep­e­ti­tion = Long Term Mem­ory Storage
Salience is just another word for emo­tional impor­tance (aka rel­e­vance). The more emo­tion­ally impor­tant some­thing is, the less rep­e­ti­tion it takes to lodge in your long term memory.
You can prob­a­bly remem­ber how and when you pro­posed to your wife, even though you only pro­posed once (and if you had to pro­pose more than once, that def­i­nitely got per­mantly chis­eled into your con­scious­ness). You can also likely recall exactly where you were and what you were doing when you heard the news about 9–11.
And as a for­mer high school teacher, I can also tell you that the oppo­site is true: as emo­tional impor­tance falls to zero, the num­ber of rep­e­ti­tions required to make some­thing stick approaches infinity.
Coura­geous Adver­tis­ing amps up the emo­tional impor­tance — the sur­prise and the audac­ity — of the ads in order to boost the salience of the mes­sage. Assum­ing, of course, that the mes­sage had any rel­e­vance to the cus­tomer to begin with. Com­mit­ing to a rel­e­vant mes­sage to begin with requires courage, and then accept­ing gutsy wording/copy requires addi­tional courage from the busi­ness owner.
The upshot is that coura­geous ads require sig­nif­i­cantly less rep­e­ti­tion. And in adver­tig­ing, rep­e­ti­tion = money.  That's how small bud­gets beat big bud­gets, or in Andy's terms, how Balls Beat Budgets.
Bet­ter yet, auda­cious adver­tis­ing gets it's own free press and atten­tion — on an order way beyond what even most big bud­gets can buy.  Just ask the cre­ators of the Poo Pourri video below how much free news cov­er­age and viral shar­ing their video received. It's on the order of hun­dreds of mil­lions. And it was made for just a few thou­sand dollars.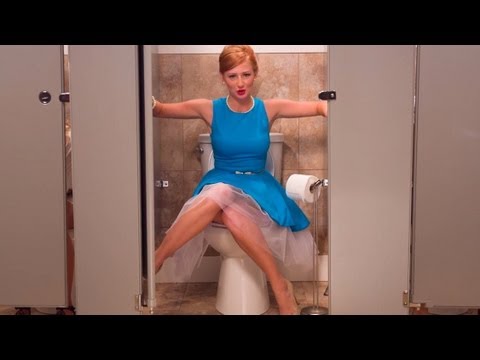 Of course, it takes some audac­ity to make an ad like that, but that's the point, isn't it?
And it's not just about videos. This applies to pub­lic­ity stunts, sig­nage, store dec­o­ra­tion, direct mail pack­ages — every­thing. Audac­ity gets noticed, remarked on, and spread by word of mouth, social media, news, etc. This is another way that balls beat budget.
Of course, audac­ity is one thing, but audac­ity that reflects your val­ues and deeply held beliefs is even bet­ter. Remem­ber, it's best to com­bine both mean­ings of courage — heart and balls.
That's why effec­tive adver­tis­ing is almost always coura­geous advertising.
Comments