New recurrent column: Fancy-Pants Friday!
Most often the visuals — meaning videos, charts, graphs, cartoons, pics — play only a supporting role to my posts. Hey, I'm a copywriter at heart; I skew towards words. But each Friday I now promise to bust out a Fancy-Pants Visual.
First up is a humorous but pointed video courtesy of Roy H. Williams:
I posted this not only because it's a video worthy of Fancy-Pants Friday, but also because it gets back to a point I made earlier about the importance of reaching people not yet in the market for your product.
Also, this video was posted to Vimeo as a sample of Wizard of Ads Live. If you liked what you saw, you might want to check it out. And if you're interested in getting a copy of that Kijiji Snowblower Ad for your own enjoyment, you can download it here.
Oh, and happy Friday!
P.S. For those that are wondering Kijiji is an ebay subsidiary that's become the Craigslist of Canada
Kindness and Professionalism — that's what great customer service boils down to, according to my colleague Tim Miles.
And while Tim has drilled down to discover the 7 elements in small business Kindness and Professionalism (which you should consider a must-read), for me the real genius is in his general formula of "Kindness and Professionalism." Why?
Because it's the opposite of "Adding insult to injury."
Believe it or not most medical malpractice suits, along with most "United Breaks Guitars" PR and word of mouth catastrophes all prominently feature both elements — often with the "insult" taking precedence over the injury.
Imagine what would typically happen without the "Insult." If united broke the guitar and then apologized and even only partially compensated Dave Carroll for the loss, do you still think he would have made that video. Think about that: even if the ordeal still cost Dave hundreds of dollars — even if the "injury" part of the equation was still present — that element alone would never have sparked a viral YouTube revenge without the added injury of an uncaring and calloused bureaucratic response.
But flipping the equation goes beyond avoiding PR nightmares; adding kindness to professionalism offers a powerful mental framework for creating emotionally compelling customer service. And these elements are present in every "WOW" customer service story you'll ever hear or experience, whether it's the I Heart Zappos story, the various Nordie stories, and so on.
So, think about it: Kindness and Professionalism.
And then head on over to Tim's blog to see everything that can go into each part of that dynamic duo.
Before anything else, watch this not-so-safe-for-work video (lots of cussing):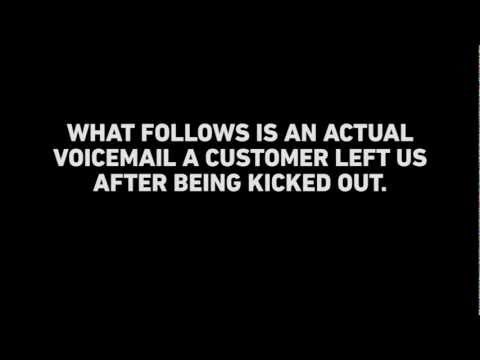 Now, here's what the Alamo Drafthouse has to say about the incident:
We do not tolerate people that talk or text in the theater. In fact, before every film, we have several warnings on screen to prevent such happenings. Occasionally, someone doesn't follow the rules, and we do, in fact, kick their asses out of our theater. This video is an actual voicemail from a woman that was kicked out of one of our Austin theaters. Thanks, anonymous woman, for being awesome.
Just one question: after watching that video, do you have any doubt that the Alamo Drafthouse is serious about protecting the customer's movie-going experience?
Of course not. Why? Because you know that they not only are willing to kick people out for distracting violations, but that they've done it in the past and are not at all afraid to take some heat for it. This video serves as a masterful display of transparency in advertising, a perfect form of proof, and a strong signal of intent to any prospective customer.
What's the intent? To provide the ultimate in serious move-watching experience. The Alamo Drafthouse is a movie theatre with steep stadium seating guaranteed to provide an unobstructed view of the screen, and waiters and waitresses that serve real food and beer, allowing customers to better enjoy the movie and to avoid any hunger or thirst-induced interruptions.
So while this video may indeed repel some customers,it'll likely attract a lot more. In fact, it'll be sure to attract the serious movie-goer — which is exactly the kind of customer the Alamo Drafthouse wants.
Not a bad way to turn a cranky, complaint-ridden phone call into a brilliant piece of viral advertising, no?
What about you? How could you take what might be considered a downside or "cost" or complaint and turn it into proof of your main UVP?
So, today being All Saints Day, I couldn't help but think of intercessory prayer and the idea of intercession in general. Thoughts which somehow made their way over to marketing, and word of mouth advertising in particular.
For those unfamiliar with the terms intercede and intercession, to intercede for someone is to act as both a go-between and advocate for them to some other person or authority. If a friend of yours has ever been friends with a girl (or boy) you wanted to date, and you asked your friend for an introduction and endorsement, then you probably already intuitively understand the concept.
Now, most businesses make the mistake of thinking that WOM is a form of intercession; they think that the customer endorsed the company out of a desire to help out the company. Generally speaking, that's simply not the case. Unless your business is a charity or the customer in question is a personal friend or relative, most WOM recommendations are not motivated by the customer's desire to help you, the business.
In fact, most Word of Mouth is meant to benefit the customer who provides it. I'm not being cynical nor am I referring to direct kickbacks, affiliate links, and loyalty rewards; I'm simply pointing out that the benefits of WOM are typically every bit as social in nature as the act itself. Here's how it works:
The customer benefits from what her knowledge, discernment, and association with the business says about her, and
The customer benefits by the built up goodwill that the recommendation gains her
If I recommend a really cool place to eat or a particularly fabulous product, or even way-above-average carpet cleaner, then – assuming the recommendation pans out – I end up looking just a bit more in-the-know or with-it or relatable. And this same dynamic extends to more professional or corporate realms as well; having the know-how to recommend a great Word Press theme, relevant blogger/author, or graphic designer augments your professional status.
Much the same can be said of the goodwill that develops if I save you from a crisis by recommending just the right service provider or product. You'll remember the recommendation as a favor or help – again, assuming that my recommendation pans out.
So why don't more people spread the word via WOM?
Because of the "assuming it pans out" caveat. Theres's a risk to WOM recommendations as well as a reward. If I recommend you and the advice proves ill-founded, it reflects back on me.
So how can you minimize the risk and maximize the reward?
Give them something they can bank on – I can't bank on service because service is variable with the server; you might not get the same consultant, waiter, or technical support staff member that I did. But I can bank on hand-tossed pizza and an exposed wood fired oven, or a service guarantee, or certain gratuitous services that are always offered. So whatever you want customers to talk about, make sure they can be confident that your WOM-worthy element will be there for the person they send your way. Make sure they can be confident that their recommendation will pan out.
Give them something they can talk about – Roy Williams breaks WOM-worthy business elements down into three categories: Architectural, Kinetic, and Generous. So the exposed wood-fired stove would be an architectural WOM trigger, the hand-tossing of the pizza dough would be a kinetic trigger, and the free house-wine offered with every large pizza would be a generous trigger. Notice how these elements also meet the "bankable" criteria.
Make what you stand for easily shared through stories – If you have a great "how I got into this business" story, or strong core values that are proven through actual business-practices, then you should make sure your clients and customers know those stories. You should make sure the public knows those stories. That way a recommendation for your business helps to associate the referring customer with values she shares and admires while also giving that customer a neat story to share.
Give referred customers a great deal and go easy on benefits for the referring client – Let your client feel that she wasn't just passing along a great recommendation, but helping their friends and acquaintances get a deal they couldn't otherwise get. Don't make your clients feel guilty or conflicted by giving them a too-big reward for recommending you. Remember, outside of well-defined affiliate marketing campaigns, clients recommend you largely for social benefit/reasons, and providing a large commercial benefit kills the social nature of the recommendation.
And those are my thoughts on this All Saints Day. But I'd love to hear yours…
What have been your experiences with WOM marketing and recommendations? Are you one of the exceptions where customers really were pulling for you and interceding on your behalf rather than just talking you up as an act of social grooming? Let me know.
Eight years after it was first published, Steven Pressfield's The War of Art has sold significantly more copies this year than any year following its initial release.
In an industry where writers expect to lose money on their non-fiction books, and further expect their titles to languish, unsold and ignored after the initial publishing push, this books recent surge in sales and popularity represents an incredible success story – one accomplished without a traditional marketing push, or a plug by Oprah (though it darn well deserves it, if you happen to be reading, Ms. Winfrey), or even a re-release from the publisher.
How did Steve do it?
A few reasons come to mind, some more salient than others:
The book has proved itself a modern classic for its intended audience of writers and regularly makes appearances in Top 10 lists of books for writers. There's nothing like solid content and great user experience to drive customer evangelization.
Steve has actively welcomed and encouraged a new audience for his book, one that eventually saw that the book was only superficially about writing or fine art, and was, at heart, a textbook for anyone looking to do valuable, creative, and remarkable work. Don't underestimate this, not many authors would have bothered to notice the interest of an unanticipated audience, let alone actively welcomed and courted it.
Steve has given away lots of new content written in the same spirit as the book. He has embraced the counterintuitive notion that giving away content expands your base of fans willing to pay for content.
Steve has actively engaged with his fans and that increased engagement has resulted in increased sales. This goes beyond just opening his blog to comments and responding to them. In fact, Steve has actively given interviews, appeared in guest posts, been available on Twitter, and generously corresponded with even the lowliest of bloggers.
OK, so the list hardly surprises, right? It basically reads like an online marketer's checklist of "What's Working Now." Who hasn't been told to "be authentic," or to "do great work," or especially to engage in the "gift economy," after all?
So rather than detailing the oft discussed items within the list, let's look at the hidden forces and motivations behind the successful implementation of those items.
The Emotional Dynamic Underneath "Authenticity"
The most striking thing about Steve's success is also the most striking thing about his writing and his "style" in general: his profound ability to relate insight into the human condition in a way that's practical for those of us slogging through our own work-a-day worlds. If you're interested in a "from the foxhole" perspective, shared from a generous intent to pass on what actually works down in the mud and the blood and the sweat and the tears, you won't do better than Steve's stuff.
But a recommendation to copy this particular virtue of Steve's sounds suspiciously like yet another exhortation to "be authentic" dressed up in fancier language.
So how do you bridge the gap? How do you imbue your own online marketing efforts with some of the same magic that took a nearly 10-year-old non-fiction book on the psychology of writing and turned it into everyone's favorite handbook for doing work that matters?
Territory vs. Hierarchy
As it turns out, Steve provides the answer both in his book and in his inaugural Writing Wednesday's post. Here's a quote from that post, talking about what separates successful pros at blogging from the also-rans:
"There are many excellent and extremely professional bloggers and their stuff is a pleasure to read. They are making contributions. They're part of the solution. But I also see no few writers of blogs who are stuck in their own egos. You can tell it from the first sentence, even the first phrase. It's in their tone of voice. The text reeks of jealousy, pettiness, competitiveness and bile. It's like the tone academics take when they're sticking knives in each other's backs. It has nothing to do with solutions and everything to do with fear, ego and narcissism. They are writing as amateurs. Their aim, though they will deny it even after being waterboarded 283 times, is to advance (or simply preserve) their own egos. I know, because I've been in that place. When the happy breakthrough comes for those writers, their work will rise an entire level overnight, then keep rising for levels and levels beyond that."
With this quote in mind, look at the list again. Now ask yourself how easy any of those things would be if your primary motivation was to climb to a higher place in the pecking order? How easy? How about next to impossible.
Acting out of ego engages a hierarchical mindset, and no one can look to maintain or improve their place in the hierarchy while giving away their best stuff to their audience and fans. You can't be enamored of your position within the group while fearlessly inviting outsiders to join in. Neither can you comfortably venture outside your group, away from where you hold status, expertise, power, etc. Nor can you reject the urge to second-guess your audience if everything you write, say, and do is aimed at impressing or manipulating them.
In short, the more hierarchical your value system, the more difficult you'll find "new marketing."
And yet, we're practically programmed to think hierarchically in school, at our jobs, and socially. There are the alpha dogs and the under dogs. The queen bees and the wanna-bees. Thinking hierarchically is the default position for most of us, and it's what our lizard brain/yetzer hara/Resistance steers us towards.
So there's no jettisoning hierarchical thinking without replacing it with some other mindset; self-identity has to come from somewhere. The other option, as Steven describes it in The War of Art, is to replace hierarchy with territory: claiming a territory of practice/service and drawing your identity through that practice rather than your place in the pecking order. As Steven writes:
"We humans have territories too. Ours are psychological. Stevie Wonder's territory is the paino. Arnold Schwarzenegger's is the gym. When Bill Gates pulls into the parking lot at Microsoft, he's on his territory. When I sit down to write, I'm on mine.

What are the qualities of a territory?

1. A territory provides sustenance. Runners know what a territory is. So do rock climbers and kayakers and yogis. Artists and entrepreneurs know what a territory is. The swimmer who towels off after swimming her laps feels a hell of a lot better than the tired, cranky person who dove into the pool 30 minutes earlier.

2. A territory sustains us without external input. A territory is a closed feedback loop. Our role is to put in effort and love; the territory absorbs this and gives it back to us in the form of wellbeing.

When experts tell us that exercise (or any other effort-requiring activity) banishes depression, this is what they mean.

3. A territory can only be claimed alone. You can team with a partner, you can work out with a friend, but you only need yourself to soak up your territory's juice.

4. A territory can only be claimed by work. When Arnold Schwarzenegger hits the gym, he's on his own turf. But what made it his own are the hours and years of sweat he put in to claim it. A territory doesn't give, it gives back.

5. A territory returns exactly what you put in. Territories are fair. Every erg of energy you put in goes infallibly into your account. A territory never devalues. A territory never crashes. What you deposited, you get back, dollar for dollar"
Beyond that, a territory is where we can go in humility, to serve our higher calling, not as a bid for attention but as a gift to our tribe, specifically, and to the world in general.
As my mentor and partner, Roy Williams says,
"Any goal that begins with the words, 'My goal is to have…' is certain to bring unhappiness. Goals that scratch your life-itch are the ones that begin, 'I will serve people by….'

…So who are your people and how do you plan to serve them?"
Yet even though it would seem your tribe would come first, and your method of service would come afterwords, in relation to the tribe, this doesn't often work in a modern and (in an anthropological sense) post-tribal world. You find your territory first, and your tribe will be drawn by what your work has produced.
You identify your territory by knowing what you'd do if you were the last person on earth. What would still be worth doing if there was no one to impress and no way to move up in the pecking order?
And you claim that territory through putting in the work, selflessly, as a professional. When that happens you're no longer afraid to share your best stuff, because you're always getting better, always coming up with new stuff. Welcoming new members becomes second nature, as does engaging in open conversation with people regardless of their status in the pecking order.
Territory-based identity, as Steven defines it, makes Web 2.0-style marketing workable. Without it, you'll be fighting your own instincts and, ultimately, sabotaging your efforts.
And yet, even though following this path makes life easier, Resistance – Resistance in the form of procrastination, rationalization, and ego – gets in the way, making it feel like the harder option. Focusing on claiming your territory through the work helps steel you for those battles against resistance.
Sound like something worth pursuing? Well, realize that this potentially life altering stuff on Territory vs. Hierarchy is compressed into only a few pages of a 165-page book – and the rest of the books is every bit as good, if not better!
Most of the The War of Art is about overcoming resistance, the necessary first step to doing the honest work needed to claim a territory, making it pretty much THE book for creative entrepreneurs who struggle with procrastination.
If that sounds like a must-read book to you, YOU'RE RIGHT! Go buy a copy.
Better yet, buy the new, digital copy for your favorite e-reader for 1/5th the price of the paperback. The sooner you start reading this stuff, the faster you can begin moving past resistance, to claim your territory, and achieve the real work you were meant for.
For every reader who clicks through to see your blog post, another 9 will pass you by, solely on the basis of your headline, subject line, tweet, etc.
Yes, Dorothy, headlines really are that important. Want to get the hell out of your own personal Kansas and over the rainbow of attention-grabbing success? Great headlines are the ticket to your next whirlwind success.
I'll be speaking at the Conversion Conference East on October 4th on Headlines that Work. And while I won't say that I'm an especially brilliant speaker, I can say that I've got content worth coming to the event for.
Unlike the vast majority of headline advice that is template-based, of the "Who else wants…" variety, my presentation actually shows attendees how to create compelling headlines from first principles. You'll finally be able to understand what makes great headlines great and how to make yours a whole lot better.
I know this is sort of a last minute announcement, but if you're within driving distance of the DC, Northern Virginia area, I'd be thrilled to see you there and happy to share my promo code with you:
The promo code CCE627 provides a $250-discount off of the current rate for all eligible passes.
If you plan on coming, feel free to drop me a line so we can meet up for coffee or something.