You're think­ing of buy­ing some­thing or some ser­vice and an acquin­tance says, "Don't do it; I bought that/hired them and it was a total waste of money.  I got screwed."
Do you trust that acquain­tance enough to let them sway your deci­sion? Gen­er­ally speak­ing, yes.
But if you're on Ama­zon, look­ing at an inter­est­ing book, and you see a hand­ful of 5-star reviews, many claim­ing that this is "The Best" book on the sub­ject, do you trust the pos­i­tive reviews?
Well, it depends on how well writ­ten and sub­stan­ti­ated the reviews are, etc. But gen­er­ally speak­ing, no, you don't really trust them.  All else being equal, we tend to give far less cre­dence to pos­i­tive reviews than neg­a­tive ones.
Why we trust neg­a­tive reviews more than pos­i­tive recommendations
Basi­cally, we grant oth­ers author­ity in the mat­ter of their own per­sonal expe­ri­ences. If they say their favorite color is blue, we believe them.  If they say they had a bad expe­ri­ence with such and such a prod­uct or ser­vice provider, we believe that too, because they are speak­ing from their own per­sonal expe­ri­ence in that one situation.
You don't have to be an expert on vacum clean­ers to know that the one you bought has failed you mis­er­ably. And your expe­ri­ence alone is often enough to sway some­one from buy­ing that brand.
But a gen­eral rec­om­men­da­tion is dif­fer­ent. The abil­ity to cred­i­bly make a pos­i­tive rec­om­men­da­tion requires more than just per­sonal expe­ri­ence with a given prod­uct. For a rec­om­men­da­tion to be per­sua­sive, the reader must have faith in the reviewer's over­all judge­ment and in their field-specific knowl­edge.
You can tell me you liked a spe­cific type of ergonomic chair, but your expe­ri­ence alone isn't enough to make me want to buy that chair because there are a lot of good chairs out there and I'm not look­ing for good — I'm look­ing for the best my money can buy.
In order to per­suade me that the chair you bought is the best chair for my money, you have to have more than just your expe­ri­ence with the chair.  You need to have broad knowl­edge and exper­tise (or at least expe­ri­ence) with the top ergonomic chairs on the mar­ket so that you can com­pare mul­ti­ple chairs and com­pe­tently pick out the best per­form­ing chair for the money.
To believe and act on your rec­om­men­da­tion, I'd need to know:
that your use of the chair is sim­i­lar to mine,
that you've already tried a bunch of chairs, and
what your cri­te­ria were for select­ing the chair you did.
All this over and above your per­sonal expe­ri­ence with the chair you even­tu­ally bought and recommended.
See the difference?
A Social Media "Friend" isn't nec­es­sar­ily a friend
A lot has been made recently about stud­ies pur­port­ing to show that peo­ple trust their friends less and experts more. It's well worth look­ing at the study, but be care­ful about apply­ing this too broadly.
First of all, what the study is really say­ing is that peo­ple trust anony­mous reviews less than rec­om­men­da­tions stem­ming from an author­i­ta­tive source.  Well, duh!
Does that mean reviews and tes­ti­mo­ni­als have lost impor­tance?  Hell no.  Keep­ing in mind what we just dis­cussed, here's what I believe it means:
Neg­a­tive reviews can still have an out­sized impact.
Pos­i­tive review­ers need to sub­stan­ti­ate their unbi­ased nature and sub­ject mat­ter expertise.
Sean D'Souza is ahead of the curve, as usual
What this really reminds me of is Sean D'Souza's advice on Tes­ti­mo­ni­als, advice that clearly under­stood (and mas­ter­fully lever­aged) this phe­nom­ena sev­eral years ago when his prod­uct first came out.  He used to give the PDF away to mem­bers of his newslet­ter, but the prod­uct he's sell­ing now for $40 is well worth it, in my hum­ble opin­ion — and I've sam­pled more than my fair share of copy­writ­ing books, info-products, and guru advice
Tech­ni­cally, aug­mented real­ity is con­fined to iPhones, iPhone com­peti­tors, and other advanced DARPA-like exper­i­men­tal gad­gets. But that's an idi­otic techno-geek under­stand­ing of the phenomenon.
In truth, cul­ture is the ulti­mate aug­mented reality.
As most peo­ple under­stand it, aug­mented real­ity tech­nol­ogy over­lays infor­ma­tion onto the visual land­scape being viewed through the smart phone/head-up display/gadget. Think of it as a real-time mash-up of info over­layed onto what­ever you're cur­rently view­ing.
But if aug­mented real­ity adds addi­tional info onto what we nor­mally see, it's prob­a­bly worth ask­ing if we ever really see any­thing with­out "aug­men­ta­tion."
Do you see a BMW as just a car, or do you read much more into those fly­ing pro­pellers? Does a per­son wear­ing a har­vard sweat­shirt come across merely as some­one wear­ing a sweat­shirt, or do the cul­tural impli­ca­tions of Har­vard Uni­ver­sity "aug­ment" your view of the per­son wear­ing that sweatshirt?
From this per­spec­tive, all brand­ing is an attempt at aug­mented real­ity. So is all edu­ca­tion and all cul­ture.  And per­haps on of the more amus­ing amal­gams of all three would be Foster's "How to Speak Aus­tralian" commercials:
I'm almost sur­prised Fos­ters hasn't already come up with an iPhone aug­mented real­ity app loosely based around the premise of the ads.
Yes, "aug­men­ta­tion" hap­pens all the time and often blinds us as much as it aids. Once taught that an apple is an "apple," we quickly pass through the 2-year old's fas­ci­na­tion with it to see the apple as "only an apple"  - to the point where it takes all of Cézanne's painterly tal­ent to res­cue apple from "apple" and get us to see the thing sans "augmentation."
And so it is with copy­writ­ing.  Good copy often approaches sub­jects from an unusual per­spec­tive so as to "trick" the reader into see­ing what's really there — to over­come the dys­func­tional cul­tural cues that cause us to dis­miss things from con­scious­ness.
A more humor­ous and super­fi­cial exam­ple of aug­mented real­ity at work within copy­writ­ing would be this bit of copy from Best Made Axe:
"When you own a good ax, you see the world dif­fer­ently. Scrap wood in the yard? Kin­dling. Ugly table? Kin­dling. Over­due library book? Kin­dling. Spouse? Some­one who would love a beau­ti­ful bespoke ax this hol­i­day! Best Made Axes are the delux­est wood­cut­ters out there, with hand-finished hick­ory han­dles and fine-grain steel heads. They even come in cus­tom wooden crates. (Kindling.)"
But the far more seri­ous and pow­er­ful exam­ple would be the actual "aug­men­ta­tion" of per­cep­tion that Best Made Axe has pulled off within its cus­tomer base.  After expo­sure to Best Made Axe, these cus­tomers no longer see an axe as a util­i­tar­ian tool.  They now see an axe (or at least a Best Made Axe) as a tal­is­man, sym­bol, design ele­ment, and entrance ticket or ini­ti­a­tion into a more self suf­fi­cient, vir­tu­ous, and (dare I say?) manly, world.  Hence the company's abil­ity to sell out full pro­duc­tion of $250-$500 axes.  Axes whose technical/functional merit is likely no bet­ter than most $100 axes.
Yes, Seth Godin is right: start­ing a prof­itable brand in today's world is very much the same as start­ing a "tribe." What his read­ers often fail to grasp is that start­ing a tribe requires the cre­ation of a worth­while sub-culture.  And that means cre­at­ing a (func­tion­ally use­ful) aug­mented real­ity for tribe members/users of your product.
Wanna-be mar­keters fail because they don't select an "aug­mented" real­ity that will help the tribe mem­bers - A real­ity that is more true than the one it's sup­posed to replace or add to. Instead they hope to induce a delu­sion or infat­u­a­tion around their prod­uct for purely self­ish rea­sons. But a cult of per­son­al­ity is not a tribe.
So the ques­tion for you is: are you offer­ing the world a bet­ter cul­ture and greater insight, or are you merely ped­dling a self-serving delu­sion?  Are you help­ing us see more of what's really there, or are you hop­ing to add "the light that never was" onto a sub­stan­dard product?
If your answer is the for­mer, might I sug­gest that learn­ing increases res­o­lu­tion? That your copy might pro­vide more than a lit­tle learn­ing dis­guised as art­ful fun, or serve to con­vey a bit of that high-res user expe­ri­ence. And that blogging/content mar­ket­ing is often the best way to aug­ment your read­ers' real­ity over time.
The bot­tom line: augmented real­ity isn't an iPhone app; it's the ulti­mate mar­ket­ing app.
Are you using it in your marketing?
Con­ver­sion Opti­miza­tion con­sul­tants, more than a few copy­writ­ers, and most SEO experts used to look down on Flash-based sites.
Flash sites weren't well indexed by search engines and had a bad habit of turn­ing a pull medium into a not-so-interactive video.  Oh, and their con­tent was often more gra­tu­itous than per­sua­sive in a flash-animated splash page sort of way.
Most all of that has changed, and we're really start­ing to see inter­ac­tive video come into its own, as is the case with Eloqua's new promotional/lead gen­er­a­tion video.  If you haven't seen it yet, you really should take a few min­utes out of your day to take a look.  And maybe spend a few more min­utes to poke around dif­fer­ent path­ways and responses.
Another great exam­ple is Boone Oakley's "YouTube Web­site," as demon­strated by their home page that I've embed­ded below: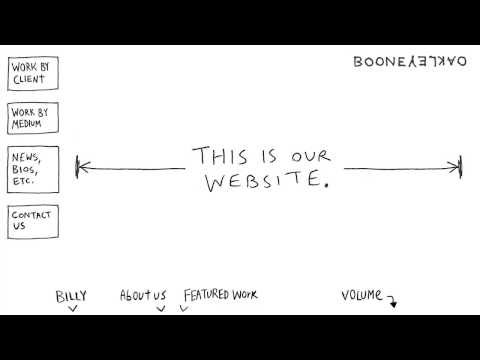 But make sure to look past the tech­nol­ogy to see the copywriting.
Yes, you read that right: I said copy­writ­ing. That video — includ­ing each and every one of it's forked paths — was planned out, scripted, and sto­ry­boarded. The video is cool; the mes­sag­ing is brilliant.
Viewed through that lens, you'll notice that most of the core per­sua­sive points remain the same regard­less of whether you click on "Mar­ket­ing" or "Sales" or "Exec­u­tive."  What changes is the focus on this or that fea­ture set, the videos order­ing of tak­ing points, and the per­spec­tive in which some of the mate­r­ial is cov­ered.  Bril­liant.  And a tech­nique that Bryan and Jef­frey Eisen­berg pio­neered with text-and-hyperlink-based sites.
So while I love the video and I think it rep­re­sents new oppor­tu­ni­ties to inject per­son­al­ity and charisma into inter­ac­tive "con­ver­sa­tions," keep in mind that tech­nol­ogy has to sup­port mes­sag­ing, and the core inter­ac­tiv­ity involved is no dif­fer­ent than that of reg­u­lar old embed­ded hyper­links.  Proper per­sua­sive plan­ning is still required.
Hyper-targeting isn't new.  Nei­ther is intru­sive media.
But a com­bi­na­tion of the two… could be incred­i­bly effec­tive.  Just imag­ine if Face­Book had ads like this Apple Skyscraper/Banner ad:
Watch the fully ani­mated ad over at The Unof­fi­cial Apple Weblog — it's quite obvi­ously an intru­sive ad (in a good way).
For those unfa­mil­iar with the term, intru­sive basi­cally equals sound: radio or tele­vi­sion, and, to a degree, ani­mated ban­ner ads.  It's intru­sive because you can't close your ears and the ads inter­rupt some­thing else that you are doing, like lis­ten­ing to music or watch­ing TV or read­ing the online ver­sion of the NYT.
Yet when it comes to radio and tele­vi­sion, select­ing the show or sta­tion is as tar­geted as it gets. That's why they call it mass media and broadcast­ing.  Direct mail, on the other hand, can be tar­geted by gen­der, age, income, buy­ing activ­i­ties, inter­ests, pro­fes­sion, etc — yet still man­ages to get dumped in the trash unopened and un-looked at a shock­ing per­cent­age of the time.
Which brings us back to the target-ability of Face­book ads.  Want to only show your ads to moth­ers of 3 kids between the ages of 32–38 who live on the west side of New­port, RI?  No sweat.  Want to make sure those same moth­ers of three actu­ally LOOK at your ad?  Hous­ton we have a prob­lem.
As of now, Face­Book ads are mostly sta­tic and entirely with­out sound.  There also kind of, um, spammy. With­out motion or sound to attract mem­bers' atten­tion, most ads end up look­ing like the exam­ple to the left.
But ban­ner ads/online space ads don't have to be that way, as the recent Apple ad proves.  Nor does Face­Book have to give up edi­to­r­ial con­trol on what kind of ads get run.  Just like many fash­ion mag­a­zines already do, Face­Book could require ads to meet a cer­tain non-annoying or cool thresh­old.
Flash dri­ven ads with sound that had a high cre­ative thresh­old could prove to be the best of both worlds.  You'd get tar­geted ads that are also intru­sive enough to seduce Face­Book view­ers away from their news­feeds long enough to watch and click through.
What do you think?
"Check out my blog" I tweeted, and almost nobody did — I got exactly what I deserved
But I learned my lesson.
So a day or two later, I tweeted the fol­low­ing: "Why telling the truth rarely works," along with a link to my post, Does Your Copy Tell or Com­pel. That's when a fair fol­low­ing of peo­ple clicked through to my blog.
My first tweet was all about me, no mat­ter how humbly or sim­ply I worded it, so few read­ers responded.
The follow-up tweet promised an inter­est­ing read on a topic my audi­ence cared about — it was all about them and they responded accordingly.
In both cases I got exactly what I deserved
Here's how this works out­side of Twit­ter headlines
Let's say you own a local restau­rant.  If you have a Face­Book page, what do you think should be on it?
Of course, you'll likely have some pic­tures of the restau­rant up, and maybe even the menu, but what should the major­ity of your sta­tus updates focus on?
If you're aim­ing to deserve social media suc­cess, here's what I'd recommend:
Announce­ment of FB-friend only spe­cials. Doesn't have to be a sav­ings or sale, it could sim­ply be an off-menu spe­cial that only your

FB

friends know about.
Pic­tures of your guests (posted with their per­mis­sion). Take pho­tos of your patrons and din­ers and ask them either for their

FB

names so you can tag them in the pho­tos, or encour­age them to Friend you and tag the pho­tos themselves.
A few behind-the-scenes pics and com­ments to let peo­ple know about the extra effort you go through to make sure the food is out­stand­ing.  Let them see some of your pas­sion with­out mak­ing too big a deal about it.
Notice that 2 out of 3 rec­om­mended updates are focused on your cus­tomers — it's all about them — and that even the last item is indi­rectly about the cus­tomer, as the cus­tomers are the focus and ben­e­fi­cia­ries of all the hard work and pas­sion the sug­gested updates would be doc­u­ment­ing. For­mer Grok read­ers will rec­og­nize this as a case of customer-centric ver­sus we-we copy.
And the great thing about this near uni­ver­sal prin­ci­ple?  You can test it for your­self with almost no risk or invest­ment. Social Media pro­vides near-instant feed­back and your test can be as close as your next tweet, sta­tus update, or blog post.
Give it a shot and see if these prin­ci­ples don't work for you.  I already know they've worked for me and for my wife's pho­tog­ra­phy business.