Cre­ativ­ity in ads is great — and usu­ally incred­i­bly nec­es­sary as well.
But there's a dis­tinct dif­fer­ence between cre­ativ­ity that helps to emo­tion­ally com­mu­ni­cate the adver­tis­ing mes­sage and cre­ativ­ity for the sake of cre­ativ­ity. And the dif­fer­ence isn't always so black and white. Take, for exam­ple, these two ads: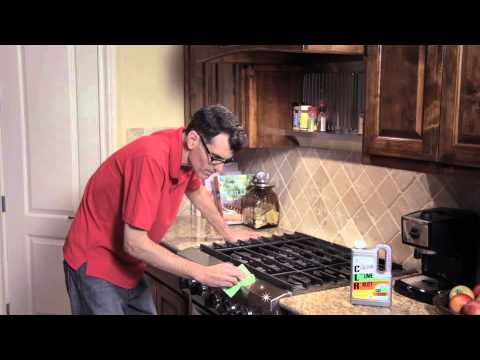 The ads DO make a point and they ARE cre­ative. But to what extent is the cre­ativ­ity help­ing to sharpen the point of the mes­sage, and to what degree is the cre­ativ­ity get­ting in the way?
First, I'll say that the CLR ad is the best use of potty-mouth in an ad that I've seen in a long time. Much bet­ter than K-mart's "Ship Your Pants" or "Big Gas Savings."
Why?
Because CLR used the swear­ing to com­mu­ni­cate the authen­tic­ity of customer's sur­prise at just how well CLR cleans — a strat­egy based in some sound neu­ro­science. The Kmart ads, on the other hand, just used the potty mouth gag as, well, just that: a gag that was totally gra­tu­itous and uncon­nected with the mes­sag­ing itself.
So the swear­ing was rel­e­vant to the mes­sag­ing, and the mes­sag­ing was based on a true real­ity about the prod­uct itself. Nice.
But while watch­ing that CLR ad, I couldn't help think that a lit­tle Oxy­Clean and Billy Mays-style demo would have dra­mat­i­cally boosted the cred­i­bil­ity and effec­tive­ness of the ad. Would Billy Mays have pitched you the clean­ing pow­ers of Oxy­Clean with­out SHOWING you just how amaz­ing it was? Heck, no! He insisted on demon­stra­bil­ity for his prod­ucts and actual demon­stra­tions in his ads.
And con­trary to pop­u­lar belief, the two approaches of clever cre­ative and straight-up demo can eas­ily co-exist. It wouldn't have taken more than 3 or 4 sec­onds at the end of the CLR ad to SHOW the prod­uct in action, instantly remov­ing lime/soap scum, stain­less steel stove stains, etc.
All of which brings us to the sec­ond ad for the Sam­sung vac­uum cleaner, because the prob­lem with that ad, as I see it, boils down to not enough demo. Yes the baby chase con­cept was cute and cre­ative, but how much time did it waste in NOT show­ing the unique fea­ture of the prod­uct that the ad was pre­sum­ably showcasing?
If that ad had cut about 50% of the cute-baby-imitating-cop crap and sub­sti­tuted in more demon­stra­tion of prod­uct it would have ended up a much stronger ad.
As the say­ing goes: "if you've got it, flaunt it." If your prod­uct can be demon­strated to amaz­ing effect, why in the world wouldn't you want to demo it in your ads? Case in point, this ad for the Dyson ball:
Or take a gan­der at this very cre­ative but almost purely demo spot for Samsonite's Spin­ner luggage: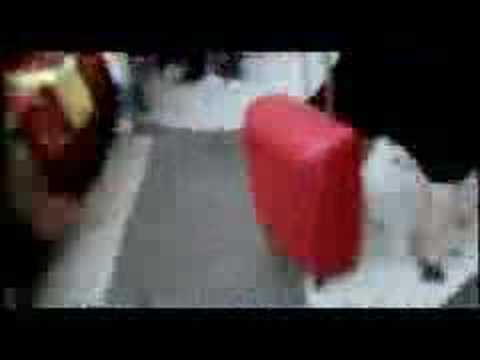 As I said, cre­ative is great — and nec­es­sary, as an ad absolutely needs to cap­ture and hold people's atten­tion. But, really, there is just as much adver­tis­ing craft and cre­ativ­ity in the last two demo-heavy spots as there is in the CLR and Sam­sung spots, and the demo-heavy spots man­aged to get the sales mes­sage across far more clearly.
Bot­tom Line: If you can make a TV ad into a demo, you prob­a­bly ought to give seri­ous thought into doing so, regard­less of whether or not it "feels" creative.
Every super­hero fran­chise begins with a Gen­e­sis story.
Action Comics #1 starts with a baby superman-to-be sent forth from the doomed planet Kryp­tonite. Sent forth with his father's desire that he become a force for good on Earth. The Amaz­ing Spider-Man #1 tells how Peter Parker gained super-powers after he was bit­ten by the radio-active spi­der and how he became Spider-man in reac­tion to his uncle Ben's murder.
In the same way, if you take any super­hero movie that's the first in its fran­chise, you'll find a gen­e­sis story of that super­hero — a tale that tells the audience:
How the hero came to posses his powers,
Who the hero is as a per­son, and
What his mis­sion is and Why he's ded­i­cated to it
If you don't do that, you're hero won't be believ­able. Nor will he be sym­pa­thetic. You'll end up with a char­ac­ter whose super pow­ers will seem too fan­tas­tic and "made up," and who will fail to inspire any­one to care about or root for him.
It's that sim­ple: no gen­e­sis story, no superhero.
Super­heros and Advertising
Inter­est­ingly, the three tasks of a Gen­e­sis story over­lay per­fectly with Aristotle's three ele­ments of Ethos — the three things you must estab­lish in order to per­suade through an appeal to char­ac­ter. Here's how they match-up, using Jay Henrich's mod­ern updates for the Ethos ele­ments of phrone­sis, eunoia, and arete:
Craft = Phrone­sis / Prac­ti­cal Wis­dom = Pow­ers
Car­ing = Eunoia / Good­will = Who the hero is as a person 
Cause = Areté / Virtue = Mis­sion
Want to present a busi­ness owner as some­one prospec­tive cus­tomers should like and trust?
Then you need to cover these char­ac­ter ele­ments. You have to con­vince the audi­ence that the owner is great at what he does, that he cares about his cus­tomers, and that, at the end of the day, he's on a big­ger mis­sion than just mak­ing money.
And once you under­stand the super­hero angle, it becomes pretty obvi­ous that the most pow­er­ful way to com­mu­ni­cate these ele­ments is through a Gen­e­sis story.
Put more directly, if you're pre­sent­ing the busi­ness owner as some­one with super­pow­ers — whether that's the power to hero­ically save the cus­tomer from a tough sit­u­a­tion, or sim­ply the power to do X bet­ter than any other busi­ness on the planet — than you're pre­sent­ing them as a de facto super­hero, and you need to tell the darn gen­e­sis story to make that mes­sage at all believable.
A Jew­elry Super­hero Gen­e­sis Story
Want an exam­ple of an Adver­tis­ing Gen­e­sis story?
Here's one from my busi­ness part­ner, Roy Williams [para­graph­ing mine]:
"When I was seven years old, I held my father's head in my hands as he took his last breath and died. A thing like that stays with you. It helps you under­stand that rela­tion­ships – peo­ple – are what life's all about.You gotta tell'em you love'em.

This is J.R. Dunn. So now you know why I became a jew­eler. Fine jew­elry is one of the ways we tell peo­ple we love 'em. When I got older and fell head-over-heals for Ann Marie, the love of my life, I didn't have enough money to buy her an engage­ment ring. She mar­ried me any­way. Go figure.

But I can promise you this: If you're think­ing of get­ting engaged to the love of your life, come to J.R. Dunn Jew­el­ers in Light­house Point. No one in Florida, no one in Amer­ica, is going to give you a bet­ter engage­ment ring for your money than me. One of the great joys of my life is to make it pos­si­ble for guys to give the woman they love the dia­mond she deserves.

There was nobody there for me when I needed an engage­ment ring. But I promise I'll be there for you."
After hear­ing this ad, you now know, with absolute clarity:
What kind of per­son J.R. Dunn is
How he got his super­pow­ers (along with how those super­pow­ers can help you)
What mis­sion he's on and why he's ded­i­cated to it
Bet­ter yet, you not only know these things about him, but you believe them. You believe these things about J.R. Dunn because he told you his gen­e­sis story. See how that works?
So what's YOUR gen­e­sis story, and are you both­er­ing to tell it the way it ought to be told?
What tells you it's time to stop digging?
That repen­tance is nec­es­sary for sal­va­tion is hardly a prin­ci­ple con­fined to Chris­tian­ity. It's really as sim­ple as say­ing that if you've dug your­self into a hole, you need to:
real­ize you're in a hole, and
stop dig­ging,
become open to solu­tions (aka, a way out)
Until you do these three things, you won't have much hope of get­ting out of that hole. Obvi­ously, the sooner you rec­og­nize the hole, the eas­ier the process is. Just as obvi­ously, this applies to busi­nesses as well as individuals.
In fact, a lot of hole-digging in busi­ness involves max­i­miz­ing short term profit at the expense of long-term rep­u­ta­tion, cus­tomer sat­is­fac­tion, prod­uct improve­ment, etc. Mostly because prof­itabil­ity is fer­vently mea­sured while the long term things often don't even have indi­ca­tors, let alone mea­sure­ments. This means many com­pa­nies don't real­ize they've dug them­selves into a hole until a cri­sis hits.
So what are your early indi­ca­tors for these "soft" or long-term fac­tors? Have you both­ered to set any up, or are crises going to be the only indi­ca­tor that the hole you've dug your­self into is deeper than you can climb out of?
******************************
Are you demand­ing a state of grace, or are you will­ing to take peo­ple as they are?
One of the few things I don't like about Get­ting Things Done is the "state of grace" fac­tor.  Mean­ing you have to start your sys­tem from a point at which every­thing is accounted for on a slip of paper in your in-box, which means you have to take 1–2 days out of your life to get your­self to the start­ing point.
I think that's one rea­son there are far more vari­ants of GTD and peo­ple using mod­i­fied GTD sys­tems than there are actual GTD prac­ti­tion­ers. Peo­ple like the sys­tem, but most can't start from that all-too-hard-to-achieve state of grace.
Sim­i­larly, busi­nesses that are will­ing to take peo­ple as they are gen­er­ally do a whole lot bet­ter than busi­nesses that force cus­tomers to have got­ten their ducks in a row beforehand.
Peo­ple want solu­tions, not an "I told you so."
Think of the dif­fer­ence between a nor­mal uni­ver­sity and most online uni­ver­si­ties. They'll always be a Har­vard, but I think a lot of 3rd Tier Col­leges and Uni­ver­si­ties are about to get crunched as more and more peo­ple opt for edu­ca­tional alter­na­tives that will take them where they are — lit­er­ally and figuratively.
What about your busi­ness?  Are you will­ing to meet peo­ple where they are - to save them from their past stu­pid­ity if needed — or are you demand­ing cus­tomers enter your doors in a state of grace?
****************************
The object of giv­ing some­thing up is to gain some­thing else
Chris­tians fast and make sac­ri­fices dur­ing Lent  – i.e., they give up tem­po­ral, worldly plea­sures and activ­i­ties — so as to bet­ter con­cen­trate their minds on the eter­nal and the spir­i­tual. It's not just about giv­ing some­thing up, it's about elim­i­nat­ing some things to focus more on others.
This is a recog­ni­tion that you can't just add and add and add with­out hav­ing things get crowded out of the pic­ture — usu­ally the wrong things, the most impor­tant things.
While we all tend to end­lessly add To-Dos to our list, there's only so much time in the day. How many of us actively focus on a Stop Doing list? The idea is to replace less effec­tive and effi­cient strate­gies and prac­tices with more effec­tive ones.  So shouldn't we have as many "Stop Doing" items as "Start Doings"?
What's on your "Stop Doing" list?
Back in 1973, Mas­ter Lock ran one of the most effec­tive Super Bowl ads of all time. If you haven't seen it before, here it is:
Now, I'm not sure how many crim­i­nals would shoot a lock — seems to me they'd be more likely to just use a pair of bolt cut­ters — but that doesn't mat­ter, because watch­ing a lock lit­er­ally take a bul­let and still con­tinue to do its job impresses us at a fun­da­men­tal, sym­bolic, and sub­con­scious level.
And it's this sub­con­scious, largely sym­bolic level where real buy­ing deci­sions are made, which is one rea­son why Mas­ter Lock, bol­stered by the suc­cess of this ad, went on to dom­i­nate the indus­try in 70s and con­tin­ues to be dom­i­nant today.
In fact, peo­ple still talk about this "tough under fire" demon­stra­tion to this day. Heck it fea­tured in an episode of MythBusters.
Of course, the dif­fer­ence between today and the 70's is that now cus­tomers expect to be able to find more infor­ma­tion on the inter­net. So if Mas­ter Lock were to run an ad like that today, we'd expect to go to the web­site, see the ad, and then get more infor­ma­tion, pre­sum­ably includ­ing an added demon­stra­tion of how the haft of the lock is hard­ened against reg­u­lar bolt cut­ters and such.
In other words, the Web is where we expect busi­nesses to add more info, close more loop­holes, and really con­vince us — all after they've impressed us with their mass media ads.
And that brings me to the ad Mas­ter Lock really should have aired last Sun­day. Because you don't know it, but the front door lock on your house is ridicu­lously, stu­pidly easy to over­come. It doesn't even require reg­u­lar lock-picking skills or really any­thing close to what one might call spe­cial tools or skills.
Nope. Pick­ing the lock on your house sim­ply requires a bump­key and a few minute demo on how to use it. See for your­self within the first 90 sec­onds of this news special:
Think you could make a pretty dra­matic ad out of that bit of info?
Yeah. Me too.
Now, here's the thing — Mas­ter Lock has come up with a lock cylin­der that's pretty much bump-proof. Unfor­tu­nately their pro­mo­tional video for the tech­nol­ogy is slow, bor­ing, and long. It is, how­ever, convincing: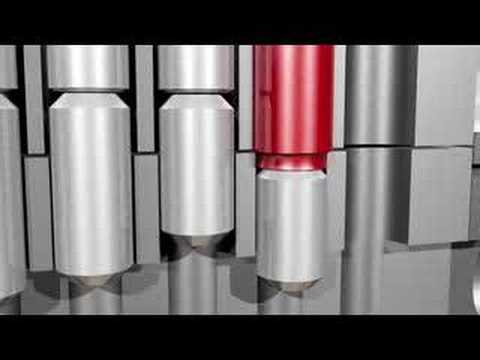 So why not have a super dra­matic, riv­et­ing Super Bowl ad that demon­strates lock bump­ing and how exposed 99% of all homes are to the tech­nique, then show­cas­ing how bump-proof Mas­ter Lock's new lock cylin­ders are?
If you really want to get seri­ous, throw out a challenge:
View­ers pick out a replace­ment Mas­ter Lock for their door and order it along with home instal­la­tion to be done by a a local Mas­ter Lock dealer,
All of which is

FREE

if the instal­la­tion crew can't bump lock the front door lock they'll be replac­ing on your home.

"

If we can't open your door lock as easy as this [image of bump lock open­ing] your new Mas­ter Lock is on us!
See com­plete details at masterlock.com
What do you want to bet that that ad would sell a boat load of new door locks?
And that's the ad we should have seen this Super Bowl.
Holy mega-bucks, Bat­man! On Sat­ur­day, the orig­i­nal Bat­mo­bile (from the old Adam West TV Show) sold for a whop­ping 4.2 Mil­lion Dollars.  
You can watch the entire bid­ding process in the embed­ded YouTube video, if you want, but I'd advise skip­ping to the 8:14 mark, where they inter­view the win­ning bidder: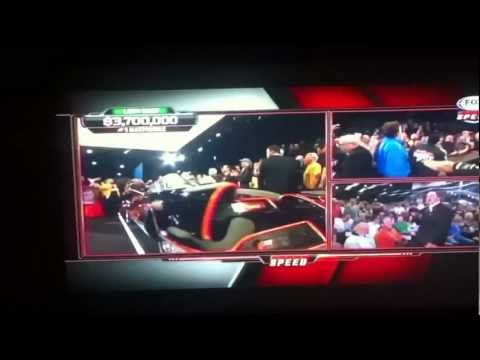 In response to the ques­tion, "what made you want that car?" Rick Cham­pagne gave the fol­low­ing list:
I grew up in that era, so it meant a lot to me.
I've been watch­ing that car for 20 years and wait­ing for this day [when it would finally be sold]
I've been a Bar­ret Jack­son cus­tomer for well over 15 years
The car is going to go in my liv­ing room
I

KNEW

I was going to get it
So, just a few reflec­tions from me on the event and Mr. Champagne's list:
Sen­ti­ment
&

Emo­tional Con­nec­tion

MATTERS

Yes, there is also exclu­siv­ity dri­ving up the price of this car, but by far the biggest fac­tor, and the one men­tioned first by the win­ning bid­der, is the emo­tional con­nec­tion to the old TV show, and in turn, to the famous Batmobile.

If you're not tak­ing this into account — if you're not bak­ing a lit­tle Mag­i­cal Think­ing into your mar­ket­ing and adver­tis­ing — you prob­a­bly ought to be.
Baby Boomers Con­trol 70% of the Dis­pos­able Income in the 
US
Of course, given the era of the Bat­man TV show, it's not sur­pris­ing that the win­ning bid­der was a Baby Boomer. But don't over­look the fact that the major­ity of the buy­ers slosh­ing obscene amounts of dis­pos­able income around that auc­tion house were also Boomers. That's because Baby Boomer's hold the major­ity of wealth and dis­pos­able income in Amer­ica.
If you're sell­ing lux­ury or high-end prod­ucts or ser­vices and your mar­ket­ing speaks pri­mar­ily to or from a youth mind­set, you might want to rethink that.
Antic­i­pa­tion Com­bined with Con­fi­dence Is An Unbeat­able Combo
Rick Cham­pagne has been wait­ing to buy this car for 20 years. That's a lot of antic­i­pa­tion, a lot of time Rick spent imag­in­ing him­self buy­ing that car.
Rick's also done busi­ness with the auc­tion house, Bar­ret Jack­son, for "well over 15 years." That's a lot of repeat busi­ness and confidence.
It also helped, of course, that Bar­ret Jack­son had the car's orig­i­nal builder/designer and single-person owner on hand to fur­ther ver­ify the authen­tic­ity of the vehi­cle. Per­son­ally, I think it would have been even bet­ter to have had Adam West there, too, but you can't have every­thing, I guess.
At any rate, the end result is that Rick Cham­pagne was absolutely 100% cer­tain that he was get­ting exactly what he wanted — the 100% gen­uine real deal — from a com­pany that he had full faith and con­fi­dence in to deliver.
This is why he walked into the auc­tion KNOWING that he was going to walk out as the new owner of that car.
What does your com­pany do to help peo­ple IMAGINE buy­ing from you and IMAGINE get­ting the ben­fit from your prod­uct or ser­vice?
When peo­ple walk into your busi­ness do they KNOW that they are going to buy from you? Or do they think they might pos­si­bly buy from you, if the pric­ing is com­pet­i­tive and you seem to have what they want?
So what are
YOU

doing to:
Take advan­tage of, or estab­lish, emo­tional connections?
Give peo­ple full faith and con­fi­dence in your prod­uct or service?
Allow peo­ple to develop con­fi­dence in you through pre­vi­ous busi­ness dealings?
Pro­vide some­thing worth wait­ing for?
Here's a small busi­ness exam­ple: for most HVAC com­pa­nies, the pay-off is when some­one buys a new Heat­ing and Air Con­di­tion­ing Sys­tem from them. That's payday.
But the smart com­pa­nies don't wait for pay­day to try to get your busi­ness. They'd rather you develop con­fi­dence in them BEFOREHAND.
This process is started with great ads that estab­lish an emo­tional con­nec­tion to the lis­ten­ing audi­ence. And if that emo­tional con­nec­tion seems based on old-timey val­ues and slightly older cul­tural ref­er­ences, well, that's prob­a­bly NOT an accident.
This emo­tional con­nec­tion is fur­ther strength­ened by the offer of value-priced, high-quality tune-ups and fast, effec­tive repairs. A strat­egy that ensures prospects call YOU when they need a tune-up.
And after 5 or more years of hav­ing their sys­tem tuned by you, YOU become the first per­son they call when there is a break­down — and the only peo­ple they trust when it's time to buy that new sys­tem. Payday!
The icing on the cake? Well, with any luck, that new sys­tem will come with:
advanced fil­tra­tion,
added humid­ity control,
room tem­per­a­ture equal­iz­ing func­tion­al­ity, and
energy sav­ing features.
The kind of sys­tem that makes a home notice­ably more com­fort­able and pleas­ant; a lux­ury sys­tem that the home owner desired for some time and planned on buy­ing "some­day," when it was time for a new one.
And that's how you can put some super-hero-powered CRACK-POW! — BAM! into your mar­ket­ing and advertising.
"Win­ning ad awards is a silly way to mea­sure suc­cess."  – A para­phrase of thoughts expressed by my col­leagues, Tim Miles and Char­lie Moger.
And while I heartily sec­ond that emo­tion, I usu­ally let Tim or Char­lie express it, since it's less sour-grapey to say it after you've won those kinds of awards, which they have.
But the inter­est­ing thing is that not all ad awards are based merely on creativity.
You can enter and win awards based upon mar­ket­ing effec­tive­ness! That award is called an "Effie," and you can review the 2012 Effie win­ners here.
But if you'd also like to see a meta-analysis of win­ning cam­paigns, show­ing what win­ning and final­ist entrants had in com­mon, then you're also in luck.
Effie World­wide has com­pliled just such an analy­sis in their 2012 Effie Report, and have also been kind enough to sum­ma­rize their  key find­ings as follows:
"

Effie Final­ists tend to spend more on paid media, but not nec­es­sar­ily the most. More final­ists spent in the $20 mil­lion to $40 mil­lion range than in the $40 mil­lion+ cat­e­gory, and nearly half spent less than $20 million.
Effie medal­ists have slightly fewer goals to achieve, and cam­paigns with a busi­ness objec­tive, rather than one to reach a tar­get audi­ence, col­lect more medals.
Never under­es­ti­mate David tak­ing on Goliath – he's 47 per­cent more likely to win an Effie medal.
In the Shop­per Mar­ket­ing Effie cat­e­gories, about two-thirds of final­ists' pro­grams demon­strated some aspect of dis­rup­tion – either by novel prod­uct place­ment in the store, chang­ing the way shop­pers per­ceived the retailer or chang­ing per­cep­tions of the brand."
So what I'd like to do today is take each of Effie Worldwide's bul­let points and dis­cuss it in terms of local advertising/branding:
Spend More on Paid Media
It's tempt­ing to go after "free adver­tis­ing" such as Word of Mouth, Social Media, and var­i­ous PR and Guerilla Mar­ket­ing tac­tics, but while those are effec­tive, expe­ri­ence shows that there's just no replac­ing old-school mass media mus­cle when it comes to grab­bing increased share of mind, and in turrn, share of mar­ket.
But if that's the case, then why didn't final­ist spend the most on media?  Frankly, I'm guess­ing here, but I think this indi­cates intel­li­gent media buys along with the desire to effec­tively con­cen­trate on one (or a few) media source(s) rather than a spend­ing spree spread out over too many media types.
It might also indi­cate the invest­ment in long-term, day-in and day-out media spends for brand­ing rather than mas­sive, flash-in-the-pan spend­ing for one-time mar­ket­ing blitzes.
In any case, accord­ing to Effie World­wide, effec­tive mar­ket­ing strate­gies are more likely to have intel­li­gently invested in paid media.
Focus on Fewer Goals
&

Tie Them to Busi­ness Objectives

There's an apoc­ryphal story about a copy­writer who was late to a client meet­ing, wherein the board was going to dis­cuss with him the 13 Points they wanted to their ad to cover.

So the copy­writer walks in late car­ry­ing a hockey bag over his shoul­der. With­out say­ing a word, he places the bag on the con­fer­ence table, pulls out a board that's basi­cally been turned into a bed of nails — a rather eye catch­ing prop that grabs every eye in the room as it's placed on the table.

The copy­writer then takes a fry pan out of the bag and slams it down onto the bed of nails. Lift­ing the fry pan up, he shows the exec­u­tive team the dim­ples. Then writer-boy swaps out the bed of nails with a board fea­tur­ing a sin­gle, impos­ing spike potrud­ing from it. He slams the fry pan down, forc­ing the spike clean through it, cre­at­ing a half-inch hole big enough to stare through when mr. copy­writer holds the pan up to show the board.

At this point, our intre­pid copy­writer says, "Now how many points do you want the ad mes­sag­ing to convey?"

As it is with ads, so it is with cam­paigns: one point, goal, or objec­tive per cam­paign is always best.

And if you want to nar­row it down to one objec­tive, you'll want to choose a busi­ness objec­tive. So, fig­ure out how you want to mea­sure suc­cess in term of your (or your client's) busi­ness, along with what the required time­line is, THEN cre­ate a cam­paign clearly aimed at achiev­ing that sin­gu­lar, busi­ness goal.

And by the way, "dri­ving traf­fic" isn't a busi­ness goal. Increas­ing gross sales might be, but merely get­ting traf­fic through the door isn't. So con­ver­sion ain't just a met­ric for online businesses…
Act Like David Rather Than Goliath
Increas­ing mar­ket share when you have very lit­tle of it to begin with is rel­a­tively easy, as there are plenty of com­peti­tors to steal cus­tomers from, and plenty of prospec­tive cus­tomers to steal. On the other hand, once you've cor­nered 30–35% of the mar­ket, grab­bing more of that same mar­ket is darned difficult.
This is why, again accord­ing to the Effie Report, smaller busi­nesses tak­ing on larger com­pe­ti­tion are more likely to find their adver­tis­ing effec­tive — because gain­ing mar­ket­share always involves steal­ing it from some­one else. So when you're already hold­ing almost all the mar­bles, there are fewer and fewer left to acquire.
For local busi­nesses that means that once you become the Goliath of your cat­e­gory, you either have to open up a new store in another mar­ket, or open up another busi­ness, or business-line, in the same mar­ket. Either way, your future growth will be pow­ered by your Davids rather than your Goliaths.
Of course, this assumes that the smaller busi­ness has some­thing new or inter­est­ing to offer the cus­tomer… which leads us to
Prac­tice Disruption
If you look at how that last bul­let point is worded, it's basi­cally say­ing you need to do two things:
Pro­vide peo­ple with some sort of Unique Sell­ing Proposi­ton,

OR

change the way they

FEEL

about the brand
In other words, if you're offerng the exact same thing as every­one else, in the exact same man­ner, and if your ads are pre­dictable, bor­ing and dull, then it won't mat­ter that you're invest­ing in paid media in order to air ads aimed at achiev­ing mea­sur­able busi­ness goals for a busi­ness that has plenty of mar­ket share left to steal — you'll still lose.
But if you're ads cap­ture the inter­est and imag­i­na­tion of the buy­ing pub­lic, while offer­ing them a strong rea­son to do busi­ness with you, you'll soon dis­rupt the power struc­ture of your indus­try as you dom­i­nate every mar­ket you care to enter.
My only note of cau­tion is to add in a third point: cred­i­bil­ity. You can grab their atten­tion and promise them a tempt­ing and rel­e­vant ben­e­fit, but if your audi­ence doesn't believe you, your ads won't achieve much.
Rel­e­vance and Cred­i­bil­ity are the meat of the mes­sage. The nov­elty part sim­ply ensures that your mes­sage is heard long enough to be deemed rel­e­vant and credible.
Ah… Val­i­da­tion
Inter­est­ingly enough, these are the same prin­ci­ples espoused by all Wiz­ard of Ads Part­ners, includ­ing Tim and Char­lie, so it's grat­i­fy­ing to see them espoused by a insti­tu­tion ded­i­cated to pro­mot­ing effec­tive adver­tis­ing, such as Effie Worldwide.
If you're inter­ested in explor­ing these prin­ci­ples to grow your busi­ness, why not con­tact one of us?
2013 is just get­ting started, why not make it your year to thrive?