Let's say you raise chick­ens and farm eggs for a living.
And unlike big agribusi­ness, you're try­ing to raise your chick­ens under humane con­di­tions, to fol­low the spirit and not just the let­ter of the law for "organic," and that your chick­ens truly are "free range."
How do you com­pete with all the aggribusi­ness jerks who cut cor­ners, spin words, play the loop­holes and then get to claim the same "organic" and "free range" titles as you?
When the aver­age shop­per looks down at all her options star­ing up at her in the Whole Foods aisle, most of her choices are all going to say the same things, over and over again: organic feed, free range/cage-free, omega 3s, yada yada yada.
How do you make your eggs stand out in a sea of sameness?
Answer: put a num­ber on your claim:
The other eggs say "Cage Free" and leave it at that.
Alfreco Farms spec­i­fies "108 SQ FT Out­doors Per bird."
They put a num­ber to the idea of "free range." And that added cred­i­bil­ity was enough to win my sale.
But it's the pic­ture they draw on their Web­site that really brings it home:
Now you know EXACTLY how much the other jerks are equiv­o­cat­ing when they call their hens "cage-free" or "free-range."
And you not only know, but FEEL in your gut, just how big the dif­fer­ence is between Alfresco Farms' pasture-raising and some mega-farm's "organic" and "cage-free" practices.
So when you're faced with a sim­i­lar chal­lenge, give this a try: Put a num­ber on it, then paint a picture.
P.S. Note that this com­pany also tries to use alter­na­tive labels and cer­ti­fi­ca­tions: "pasture-raised" vs. "free range" and "cer­ti­fied humane" over and above "cer­ti­fied organic." All good things to do, but none of them have the power of putting a num­ber to the claim. 
OK, before we do any­thing else, just watch this Audi Super­bowl Commercial:
Now, let's talk about why that's such an amaz­ing piece of storytelling…
How Long Is a Moment?
There's an apoc­ryphal quote attrib­uted to Steven Spiel­berg that talks about feature-length movies as "60 two-minute scenes" — with each scene capa­ble of cap­tur­ing and riv­et­ing the audience's atten­tion. It's a fab­u­lous way to think about filmic storytelling.
And, for adver­tis­ing, it works just as well on the small scale.
Psy­chol­o­gists and neu­ro­sci­en­tists tell us that a moment lasts 2.5 to 3 sec­onds, which is also roughly the same amount of time our brains can hold and process in work­ing mem­ory.
Hand­shakes last a moment. So do hugs. So does a glance into some­one else's eyes. Go longer than that and it's both more than a moment and more than a slight change!
A moment, then, is exactly how long a sin­gle, vivid men­tal image is held in the mind's eye. Draw the imagery out too much longer than that and you're either build­ing ten­sion or risk­ing the loss of your audience's attention.
So for me, I don't think of a 30-second spot as 30 sec­onds, I think of it as 10 great moments (or 20 moments for a 60 sec­ond spot).
That's 10 men­tal images, each vivid and inter­est­ing enough to cap­ture the imag­i­na­tion, strung together to form a riv­et­ing mini-movie. For a TV spot it's a real mini-movie, and for a Radio or Print Ad, its a movie in the mind. Either way, cre­at­ing one is a game of sequenc­ing men­tal images for max­i­mum impact.
All of which leaves only two questions:
How do you pack as much wal­lop into each 3 sec­ond moment/image as possible
How do you ensure that the moments all build into a mean­ing­ful story that ends with a bang
Pack­ing Wal­lop Into a 3-Second Moment
Obvi­ously, this is a big topic. Whole books could be (and have been) writ­ten about it. But here are the main tech­niques that come to my mind when I think about mak­ing each moment count:
And while all of these ele­ments are impor­tant (and can be found in the Audi ad) I can't help but feel that the first one, the use of rit­ual, or what Terry Rossio describes as situation-based writ­ing, is the key to most of the oth­ers. It's also the one that struck me the hard­est when I watched Audi's 2013 Super­bowl Ad.
Watch the ad again and see if you can't pick out every sin­gle rit­u­al­is­tic moment that whaps you in the face every three seconds:
Look­ing in the mir­ror before a big event
Mom see­ing you off before High School Prom
Younger sibling/sister as truth teller
 Dad hand­ing you the keys to the car
The vis­ceral thrill of fir­ing up a high-performance V-8
Pulling up to and glanc­ing over at the other car at a light
Look­ing on with envy at the antics of the (limo-riding) in-group

"

Burn­ing" the other car at a light
Park­ing in the "Big Man's" reserved spot to thumb your nose at authority
Strut­ting into a build­ing while cooly flick­ing the car lock remote
Enter­ing a hap­pen­ing dance/club/party
Stalk­ing your way through a crowded dance floor/club/party.
Spot­ting the hottest girl in the room
Approach­ing a hot girl danc­ing in the midst of all her friends
Tak­ing a chance at kiss­ing the pretty girl of your dreams
The high school fight (over a girl)
The post-fight black eye (worn with pride)
The post-kiss sigh of ecstasy
The "it was worth it" rebel yell
The end­ing mes­sage: "Brav­ery. It's what defines us."
What you'll notice, as you watch the film, is that the vast major­ity of those moments come and go before you ever have a chance to get bored with them.
The ad always enters these scenes late and then leaves early because the cre­ators chose each moment with care: they're either arche­typal Amer­i­can growing-up rit­u­als or just every­day, everyone-has-them rit­u­als. No back­story or expla­na­tion required; we encounter them in media res and instantly know what's going on.
Not only that, but many of these moments are fur­ther aug­mented by mul­ti­ple cam­era shots within the space of a sin­gle 3-second moment. These sto­ry­tellers are putting the ped­dle to the metal visu­ally, 'cause they ain't tak­ing a chance with los­ing your attention.
Only two of those moments are allowed to linger and grow preg­nant with suspense:
Spotting/walking up to the girl and kiss­ing the girl being one sequence, and
The brew­ing, shocked, then angry reac­tion of the prom king.
Those sequences grow past a sin­gle moment because they gain in sus­pense and inter­est as they move past three sec­onds in length.
He kisses her for more than a moment, which sends your mind off spin­ning: How long is he going to kiss her? Is she going to slap him? No, holy crap, she's kiss­ing him back! Shit, her date sees him, he's about to deck him, isn't he?
The other thing about these par­tic­u­lar moments is that they're the oblig­a­tory scenes in the story.
Once the incit­ing inci­dent kicks off —- once you find out the kid is going to prom alone — the ques­tion arises as to what he's going to do about it. What's he going to do at prom when he gets there? Yeah, he's got a cool car, but what's he going to do after he parks it and shows up at prom all alone?  These moments answer that ques­tion, and so they deserve to play out over more than just a few seconds.
And this idea of set-up and pay-off brings us to…
Story Arc — Con­nect­ing Moments Together Meaningfully
The coun­ter­point to Spielberg's blurb on "60 two-minute scenes" is his quote on story structure:
"Peo­ple have for­got­ten how to tell a story. Sto­ries don't have a mid­dle or an end any more. They usu­ally have a begin­ning that never stops beginning."
So it's not only about indi­vid­ual scenes — they still have to be con­nected in a way that makes a point.
Obvi­ously, this is a HUGE topic that many of the great­est minds in his­tory have tack­led. So by all means, go read what Aris­to­tle had to say on the sub­ject. Go read McKee's Story and all the other modern-day story struc­ture gurus.
But also, let's maybe bring this down to the level of a blog post and talk about some quick and dirty how-to's. And with that in mind, here's what I've got for ya:
And again, for me, the first ele­ment is key. If you're not con­nect­ing one moment to the next through cau­sa­tion or upset, then what's the point?  Either you're pay­ing off the promise of a pre­vi­ous moment with a "there­fore," or you're throw­ing the audi­ence off-guard by sub­vert­ing their expec­ta­tions with a "but then."
If you're not doing one of those two things, you're prob­a­bly wast­ing time and los­ing the audience's attention.
What Makes Great The­atre and Holds Attention
Ulti­mately, most ads suck because peo­ple think they're mak­ing ads, and are will­ing to accept ads that sound like ads. They think ads don't have to grab your atten­tion and hold your inter­est like a great movie or TV show or radio drama.
They are breath­tak­ingly, spec­tac­u­larly wrong.
This is explained bril­liantly over at the Sell! Sell! Blog [Empha­sis Mine]:
"Do You Only Know How To Make Ads?

The things that make a print advert work are the same things that make an edi­to­r­ial lay­out, or piece of printed art strong. The things that make a TV com­mer­cial great are the same things that make a TV pro­gramme, film or piece of video art great. The cru­cial dif­fer­ence being that, obvi­ously, the ulti­mate job of the com­mer­cial work is to meet its brief; sell a prod­uct, change your opin­ion about some­thing, etc. But still, the things that make it work in the end are the same craft skills that make other things strong in that media.

The prob­lem comes when you for­get this, and you think about mak­ing adverts. Peo­ple tend to do things to adverts that they wouldn't do to an edi­to­r­ial piece of design, or to a film. But unfor­tu­nately ads don't get processed dif­fer­ently by peo­ple. Either it's good or it isn't good. There are no excuses just because it's an ad. But still, peo­ple try to cram in way too much infor­ma­tion, over-the-top brand­ing, social media logos, and other guff, because it's an ad.

Some­times it makes you think that peo­ple, clients and agency alike, have for­got­ten how to make inter­est­ing things that also hap­pen to be great ads, and they only know how to make things that look and sound like adverts."
So the ques­tion you ought to be left with is: does your ad guy just make ads that sound like ads, or is he a mas­ter at grab­bing and guid­ing people's atten­tion and desires?
Could your copy­writer have scripted any­thing half as good as that Audi Ad?
P.S. Spe­cial shout out to my col­league Tim Miles for inspir­ing me to dis­sect this ad and answer exactly why I like it as much as I do.
Drama­tists advise each other to "enter late and leave early."
That means take the dra­matic focal point or pur­pose of a given scene, and move the "cut" or "fade in" — the entrance — as close to that point as pos­si­ble. Elim­i­nate the preamble.
Then, exit the scene as soon as you've accom­plished the dra­matic moment. Don't tie up the lose ends and don't spell out the ram­i­fi­ca­tions. Let the audi­ence fill in the gaps between one scene and the next.
This empha­sizes the drama by cut­ting out the "bor­ing bits." And it works. But  almost no one ever men­tions the impor­tance of rit­ual to this process.
Because a rit­ual is a defined process, one can enter into the mid­dle of one and have per­fect ori­en­ta­tion around what's going on — what hap­pened before enter­ing the scene and what to expect next. Expec­ta­tions that can then be har­nessed for sus­pense and/or sub­verted for surprise.
And rit­ual offers the same help for leav­ing a scene early: the audi­ence already knows how the rit­ual is sup­posed to end. So the writer doesn't have to show you, or he can high­light the dra­matic depar­ture from the ordi­nary by fore­ground­ing how the end­ing dif­fers from expec­ta­tion. Brides are sup­posed to walk out of the church mar­ried to the man they met at the altar, so run­ning away from the altar with a crazy man that showed up halfway through the cer­e­mony (like in the grad­u­ate) is pretty dra­matic.
Here's a great video exam­ple of John August edit­ing a new­bies script and apply­ing exactly this principle: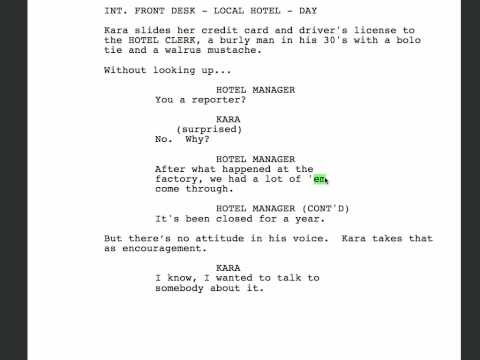 The rit­ual, in this case, is check­ing into a hotel. We've all done it, we know how that rit­ual starts and ends — so why show all of it?
For adver­tis­ers, enter­ing a rit­ual late and leav­ing it early lets you squeeze more story into less air time. Like this Clorox ad: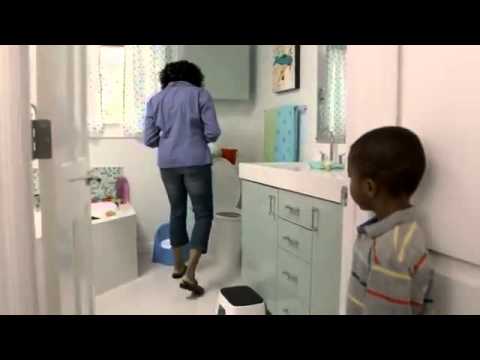 The entire ad is built around a rit­ual that is then sub­verted to make a point. And that would be cool enough if it was just a typ­i­cal 30-second ad, but if you look at the time­line on the video, it's actu­ally a 15-second spot. Clorox com­pressed the ad into half the typ­i­cal time­frame, allow­ing them to com­bine two of these style ads — two full story arcs — into a 30-second ad-space.
Enter Late and Leave Early Through Ritual!
An images story appeal is its abil­ity to cause view­ers to imag­ine the story sur­round­ing the cap­tured moment.  What hap­pened before and after the moment depicted in the paint­ing of photo, and, by exten­sion, what's the mean­ing of the moment being captured?
The idea is for peo­ple to see the image and ask them­selves, "What's the story here?" That's story appeal.  And at least accord­ing to David Ogilvy, story appeal is cru­cial for adver­tis­ing imagery, which makes it a skill worth studying.
And with that in mind, is there any­body in the world bet­ter at cre­at­ing images with story appeal than Nor­man Rockwell?
Just take a look at the following:
Any chance you could look at any of those and NOT under­stand the story that's being told, not "pic­ture" the imme­di­ate before and after moments belong­ing to these images?
How He Does It
Rockwell's depicts rituals.
It is the eas­ily rec­og­nized and self-identifiable nature of these Amer­i­can rit­u­als that give his paint­ings their emo­tional appeal. And because we rec­og­nize the rit­ual, we also instantly know what took place just before and after the moment cap­tured in the pic­ture. In our minds, we enter into the sto­ry­land Rock­well illus­trates for us.
With­out rit­ual it's much harder for an audi­ence to have that reac­tion, or for an image to exert that kind of story appeal.
Show me a car dri­ving down the road and I feel no auto­matic urge to enter into the story of that car and it's dri­ver. There's no rit­ual there. Show me a car dri­ving down the road that's drag­ging a bunch of shoes from the bumper and has a "Just Mar­ried" on the back win­dow, and the story becomes clear — both of what hap­pened before the cou­ple got into the car and what'll most likely hap­pen when they get out of the car at their destination.
That's the sto­ry­telling power of rit­ual. But rit­ual isn't just lim­ited to sacra­ments and for­mal­i­ties. We all have our daily rit­u­als, too. Show me a guy climb­ing into his car with his travel cof­fee mug and a brief­case, and I'll think "com­mute." Our take lunchtime for example:
Why This Matters
While the impor­tance of story appeal is obvi­ous for visual ads, it's impor­tant for radio (and TV) ads, too. Here's why:
Just as every writer has heard the advice to "Show, Don't Tell," every writer of drama has heard the adage to "enter late and leave early" when writ­ing their scenes. Basi­cally, skip the expo­si­tion at the begin­ning (enter late), and let the audi­ence fig­ure out the obvi­ous con­clu­sions while you move onto a new scene (leave early).
But that sort of begs the ques­tion: how do you do that?
Answer: tap into the power of rit­ual — show rec­og­niz­able situations.
And how do I know this works and is sound advice?
An Adver­tis­ing Example
Want to see an inter­est­ing exam­ple of a com­mer­cial that taps into the power of rit­ual and both enters late and leaves early?  Check this out:
So what about you? How are you har­ness­ing into the power of rit­ual and story appeal with your ads?
When ani­ma­tors, and often times writ­ers, wish to show an inter­nal, emo­tional state, they're forced to look for and use "objec­tive cor­rel­a­tives."  In other words, they have to use the out­ward cues and signs that cor­re­spond to the emotion.
And just as impor­tantly, they then have to "ani­mate" those cues and signs through a form of artis­tic exag­ger­a­tion. For instance, when a man sees an excru­ci­at­ingly attrac­tive woman, his pupils will dilate, his eyes will widen, and his heart will race a bit, or "skip a beat."  This is all rel­a­tively sub­tle (even if the atten­dant leer­ing and head snap­ping is not), but sub­tle is not how ani­ma­tors need to do things.  So this is how they rep­re­sent it: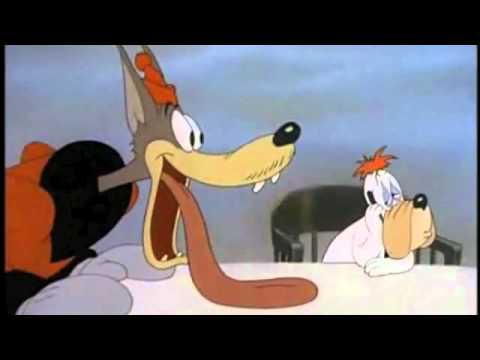 Under­stand that this is not just crude exag­ger­a­tion, but instead rep­re­sents a process of:
Find­ing the right cues and signs (aka small spe­cific details) for a given emo­tion, reac­tion, or situation
Exag­ger­at­ing those cues and signs through the ani­ma­tion prin­ci­ple of Squash and Stretch.
Apply­ing This to Your Marketing
When asked what makes them dif­fer­ent, unique, and bet­ter, a whole lot of Main Street Busi­nesses end up with the response that "we care about the cus­tomer," or "we sim­ply pro­vide bet­ter qual­ity and bet­ter service."  
Yet while it's won­der­ful that they do care — I wouldn't want to write ads for a busi­ness owner who didn't, frankly — you sim­ply can't put that in your adver­tis­ing and expect results.
So what do you do?
You look for the objec­tive cor­re­lates and you apply some squash and stretch.
In other words, what are the signs and cues of your car­ing and your supe­rior qual­ity?  Car­ing is an inter­nal state on your part. How does the cus­tomer end up sens­ing or expe­ri­enc­ing that care?  What actions do you take and what sac­ri­fices do you make because you care?
If you insist on higher qual­ity, how does that play out in the con­struc­tion process?  How does that impact the cus­tomers expe­ri­ence of your prod­uct?  In what ways would they be sorry if they didn't get that higher level of quality?
Now exag­ger­ate and ani­mate these things in your adver­tis­ing. So let's sup­pose you own a bak­ery that spe­cial­izes in donuts and, well, you really care about the qual­ity of your donuts.  And one of the objec­tive cor­rel­a­tives of that is that you're will­ing to get up at an ungodly hour in order to ensure that your morn­ing cus­tomers will get freshly made donuts each day. Here's what a lit­tle squish and squash might do for you: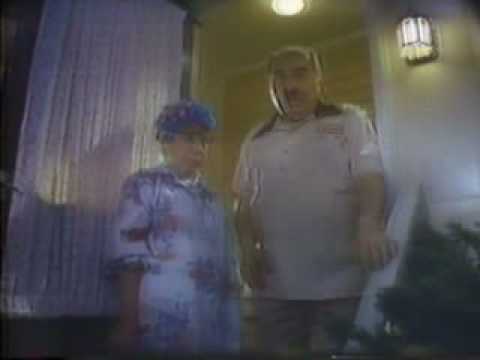 If the squish and squash part seems a bit tricky, you're right to think so — it IS tricky.  And if you're guess­ing this doesn't just apply to the ads, but to the busi­ness itself, you're guess­ing right on that as well.  Cre­at­ing some objec­tive cor­rel­a­tives and then exag­ger­at­ing them a bit is a big part of imput­ing qual­ity and "learn­ing to think like the cus­tomer."  More on this later : )
There's a sim­ple axiom amongst direct response copy­writ­ers: "make it easy for the cus­tomer to say yes."
Sounds like a "duh" piece of advice, but it's amaz­ing how often this advice gets botched.  And it usu­ally get's botched in one of two ways:
1) The copy doesn't make it easy for the cus­tomer to real­ize WHAT she would be say­ing yes to.  
In other words, the site doesn't clarify:
WHAT

is being offered for sale,

WHEN

or in what

FORM

the cus­tomer should expect the actual deliv­er­ables to arrive

WHY

this is a good deal and bet­ter than the other options

HOW

MUCH

the offered prod­uct or ser­vice will cost
2) The copy doesn't make it clear HOW to say yes and take that next step.
Now, don't get me wrong: I'm a big fan of hav­ing dif­fer­ent con­ver­sion points for early, mid­dle, and late stage shop­pers (where appro­pri­ate), but  you shouldn't let that get in the way of hav­ing a nice, clean, sim­ple Call to Action.  If prospec­tive cus­tomers have to decide between 14 options just to buy, you're mak­ing them work too hard, and your sales will suf­fer accordingly.
You Might Be Mess­ing This Up If…
What's really insid­i­ous about this par­tic­u­lar con­ver­sion flaw is that your mar­ket­ing and Web teams are unlikely to know about sim­ply because they're suf­fer­ing under The Curse of Knowl­edge.  To them the offer seems per­fectly clear, and the dif­fer­ent options for buy­ing are  a bonus rather than a bur­den.  So even if you don't think you suf­fer from this, you might want to check to see if:
You have unusu­ally high bounce rates on your home page.
Peo­ple are click­ing on your Calls to Action and then back­track­ing to "How it Works," "

FAQ

," and "About Us" pages — almost as if they're look­ing one last time to see if they can't find some answers.
You have unusu­ally high exit rates from "How it Works," Ser­vices, and Prod­uct pages
Your cart or check­out aban­don­ment rates stay high despite a high-quality check-out process and repeated opti­miza­tion efforts aimed at this por­tion of your Website.
I'm not say­ing these issues are proof pos­i­tive that your mes­sag­ing and basic offers need work, just that the rep­re­sent a good rea­son to look into it.
How to Fix It
The best advice is to hire an out­side expert. I real­ize that sounds a bit self-serving, com­ing from a messaging-driven Web­site Opti­miza­tion pro­fes­sional, but, well, what can I say? It's the sim­ple truth.
But if you're try­ing a DIY approach, here's what I recommend:
A) Try the "Here's the Deal" Exercise.
Imag­ine that you're at the bar with an acquain­tance who knows almost noth­ing about your prod­uct or ser­vice, but who would ben­e­fit from it, if only she under­stood a few things. If you were to turn to her and say, "so here's the deal," what sort of short and sweet pitch would you give to her that would get her ready to say yes or com­mit to learn­ing more in 120 sec­onds or less?
Also, make sure you don't use jar­gon — remem­ber, this prospect isn't an indus­try insider — dur­ing your "so here's the deal" speech, and make sure the ben­e­fits are dra­ma­tized and compelling.
B) Try Using Schemas
I had Baba Ghanoush for the first time a few months ago, and when I asked what it was, a whole bunch of peo­ple started to explain it to me, with vary­ing degrees of suc­cess.  But then Bryan Eisen­berg — a con­su­mate mar­keter and my per­sonal Web­site Opti­miza­tion men­tor — nailed it when he said it was "egg­plant gua­camole."  Boom. Sud­denly every­body got it.
Why?
Because Bryan invoked a schema we already rec­og­nized, gua­camole, and then mod­i­fied it with egg­plant. Isn't that a much more ele­gant expla­na­tion than Wikipedia's, "a Lev­an­tine dish of egg­plant (aubergine) mashed and mixed with vir­gin olive oil and var­i­ous seasonings"?
The same thing hap­pens with movies, too.  Accord­ing to Chip and Dan Heath, Speed was ini­tially pitched as "Die Hard on a Bus."  Boom. You get it.  Aliens is a sci­ence fic­tion movie, but it's noth­ing like Star Trek. Totally dif­fer­ent feel, right?  But if you say "Jaws in Space," you instantly grasp both the con­cept and the feel of the movie.
So what schema could you use to describe your prod­uct or service?
Cau­tion — the schema you use can greatly impact the customer's expec­ta­tion of value and price, so choose wisely.
C) Stream­line Your Call to Action and Con­ver­sion Process
Now, don't get rid of your lead nur­tur­ing pro­gram or any­thing, but do con­sider whether you might nar­row down your offer­ings and options. Or at least con­sider mak­ing one option the "default" and most pro­moted option. And as with any piece of Web Opti­miza­tion advice, test it out. See what actu­ally con­verts the best. You might just be sur­prised at the results.
And that's today's Prac­ti­cal Tac­ti­cal Tues­day Tip