In case you're not up on your enter­tain­ment news, Nicol­lette Sheri­dan, of Des­per­ate House­wives fame, is suing her for­mer boss for wrong­ful ter­mi­na­tion and battery.
Lots of off-stage drama has ensued dur­ing the court pro­ceed­ings, and lots of indus­try insider infor­ma­tion has been revealed as well.
This LA Times piece does a great job of sum­ma­riz­ing the action to date, but one quote from that arti­cle struck me as par­tic­u­larly impor­tant for copywriters:
"A mid-level writer tes­ti­fied that she earned $648,000 for one season's work, elic­it­ing groans from a spectator's gallery packed with reporters earn­ing sub­stan­tially less for putting verbs after nouns."
That quote thwacked me upside the head because of it's mis­taken assump­tion.  Truly, the rea­son that TV writer earns sev­eral times more than most jour­nal­ists* is because her job DOESN'T involve "putting verbs after nouns."
Today's Prac­ti­cal Tac­ti­cal Tues­day is going to be a com­plete re-publishing of a Mon­day Morn­ing Memo from Roy H. Williams, fol­lowed by a Web exam­ple or two. Not because I'm lazy, but because I think this infor­ma­tion is that impor­tant and prac­ti­cal for small busi­ness own­ers, free­lancers, con­sul­tants.  So here it is: Read more
Tom Fatjo is a big-time CEO of huge pub­licly traded com­pany, who got to that posi­tion through an unin­terupted string of entre­prenue­r­ial suc­cess.  From 1966 through 1981 Tom built 3 hun­dred mil­lion dol­lar companies:
1) Browning-Ferris Indus­tries, Inc. the world's largest solid-waste dis­posal com­pany at that time, with sales in excess of $550 million
2) Mort­gage Bank, ser­vic­ing over $400 mil­lion in mort­gage loans (back in 1981, when bank­ing and mort­gages were respectable industries…)
3) Cri­te­rion Cap­i­tal Cor­po­ra­tion, whose sub­sidiaries and affil­i­ates man­aged over $2 billion.
In other words, the guys an entre­pre­neur­ial and busi­ness stud.
But what does this have to do with you? Read more
With the movie ver­sion of The Lorax out at the­aters near you, I thought you might enjoy this:
So, it's funny because it's true, right?
It also high­lights the dif­fer­ence between, what a story or movie or ad is super­fi­cially about, and what it's REALLY about. An impor­tant nuance that a lot of copy­writ­ers screw up.
An ad for a car might be about the car, but it's REALLY about cel­e­brat­ing the fact that you've arrived. And while this ad is for a watch rather than a car, the copy­writer def­i­nitely got that distinction:
You are stand­ing in the snow, five and one-half half miles above sea level, gaz­ing at a hori­zon hun­dreds of miles away. It occurs to you that life here is very sim­ple: you live or you die. No com­pro­mises, no whin­ing, no sec­ond chances. This is a place con­stantly rav­aged by winds and storm, where every ragged breath is an accom­plish­ment. You stand on the upper­most pin­na­cle of the earth. This is the moun­tain they call Ever­est. Yes­ter­day it was con­sid­ered unbeat­able. But that was yes­ter­day. As Edmund Hillary sur­veyed the hori­zon from the peak of Mount Ever­est, he mon­i­tored the time on a wrist­watch that had been specif­i­cally designed to with­stand the fury of the world's most angry moun­tain. Rolex believed Sir Edmund would con­quer the moun­tain, and espe­cially for him they cre­ated the Rolex Explorer. In every life there is a Mount Ever­est to be con­quered. When you have con­quered yours, you'll find your Rolex wait­ing patiently for you to come and pick it up at Jus­tice Jew­el­ers. I'm Woody Jus­tice and I've got a Rolex… for you.
So when writ­ing your ads, make sure you ask your­self: "What's this about? What's it REALLY about?"
P.S. If you have trou­ble with this, think in terms of cre­at­ing an emo­tional under­stand­ing of an intel­lec­tual truth.
If you can find that ker­nel, the core of what that prod­uct is, so that when you talk about it, no mat­ter how you talk about it, peo­ple respond and say "Yes! That's right!", then if you talk about it in a strong, inter­est­ing, mem­o­rable way, they say "Yeah that's right, I'm gonna buy it."

- Jim Dur­fee (co-founder, Carl Ally Inc.) as quoted in Art & Copy
Every now and then an ad comes along that really nails the true essence of the prod­uct. Ads that achieve both max­i­mum impact and dra­matic sales suc­cess. Think "Got Milk."
This Clorox ad belongs in that category: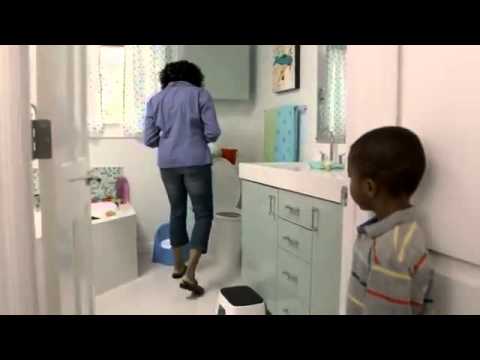 Think about it, bleach isn't really about just get­ting things clean. Soap does that well enough. Nor is it about merely dis­in­fect­ing things, although that's closer to the mark. Bleach is about mak­ing things "rit­u­ally clean."
When a kid poops in the tub and you bleach it, you not only cleaned the tub of poop, you removed what­ever imag­i­nary, psy­cho­log­i­cal con­ta­gion might have been left over. That's how we think of bleach — it's beyond clean, beyond merely dis­in­fected, and taken all the way to pristinely, immac­u­lately, safe. And, yes, there's a whole lot of Mag­i­cal Think­ing involved in this.
The essence of Clorox isn't just what it does (Pine Sol and Lysol also dis­in­fect), but encom­passes as well what we uncon­sciously believe bleach does, as well as the full con­text of it's use and role in our lives.
Remem­ber that when cre­at­ing adver­tis­ing for your products.
Most peo­ple think of trans­parency as almost the oppo­site show­man­ship. Most peo­ple are wrong.
Trans­parency is let­ting prospec­tive cus­tomers see through to what­ever they feel they need to ver­ify in order to con­fi­dently give you their money. Or to at least take that next step toward doing busi­ness with you.
But a lot of per­sua­sive tech­niques help build con­fi­dence in the prospect.  The dif­fer­ence is that trans­parency cre­ates con­fi­dence in highly skep­ti­cal or sus­pi­cious prospects, in sit­u­a­tions where most other per­sua­sive tech­niques sim­ply wouldn't work. "See­ing is believ­ing," and all that — it's pow­er­ful stuff.
So the less trust, the more you need trans­parency. When the police offi­cer pulls you over, he's not going to take it on faith that you don't have a gun — he wants you to keep your freakin' hands where he can see them. He demands transparency.
Sim­ple, right? But like most buzz­words "trans­parency" is most mis­un­der­stood by the very peo­ple mouthing it most often, to the point that they're obliv­i­ous to the proper way to use this per­sua­sive tool in mar­ket­ing small and medium-sized businesses.
And for the record, the proper way is the way that not only cre­ates trust, but also increases prof­its. The proper way requires trans­parency AND showmanship.