I'm re-publishing this post for Practical Tactical Tuesday because I like it and because very little is more practical than "How To" advice on writing better headlines.
Hope you enjoy:
My confession? Even though my copy always had great headlines, my blog posts frequently didn't.
I wasn't (yet) struck by the need for trouble – and without a hint of taboo, or a challenge to the norm, or a perceived conflict, or at the very least a paradox, most headlines just never get off the ground.
Here's why there has to be a sense of trouble living at the heart of your headline:
Your headline needs to hook the reader into reading your "story," and stories are created by and live off of conflict. In fact, another phrase for trouble is "story appeal."
Your goal: entice the reader with a hint of conflict, and then she "has" to click through so she can know how the conflict is resolved and what kind of transformation takes place as a result.
4 Ways to Create Conflict in your Headlines: Read more
If actions speak louder than words, how effective can a TV ad be if its imagery contradicts its sales message? Don't think this happens? Check out this ad FedEx ran during the Super Bowl no less: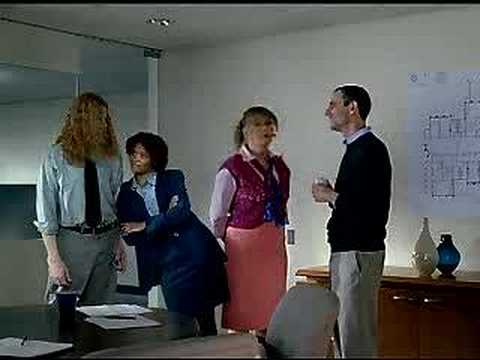 The message: You shouldn't judge something based on a name; FedEx ground is faster than you think
The imagery and action: You CAN judge things by their name and the only person who doesn't question that is the only relatable character in the entire ad.
And this sort of thing happens all the time, usually in the name of humor or entertainment, where the ad ends up with imagery and on-screen action that belies the sales message.
But here's what it looks like when you do it right — when the imagery perfectly aligns and strengthens the sales message:
The message: Benihana turns an ordinary dinner out into an EVENT
The imagery: Glamourous people flocking to Benihana to be delighted and thrilled and entertained by the kinetic choreography that is a Japanese steak house.
Hey, if you're going out for a special dinner, why not make it an event? Now that's a near-perfect ad with absolutely perfect imagery.
In case you're not up on your entertainment news, Nicollette Sheridan, of Desperate Housewives fame, is suing her former boss for wrongful termination and battery.
Lots of off-stage drama has ensued during the court proceedings, and lots of industry insider information has been revealed as well.
This LA Times piece does a great job of summarizing the action to date, but one quote from that article struck me as particularly important for copywriters:
"A mid-level writer testified that she earned $648,000 for one season's work, eliciting groans from a spectator's gallery packed with reporters earning substantially less for putting verbs after nouns."
That quote thwacked me upside the head because of it's mistaken assumption. Truly, the reason that TV writer earns several times more than most journalists* is because her job DOESN'T involve "putting verbs after nouns."
Today's Practical Tactical Tuesday is going to be a complete re-publishing of a Monday Morning Memo from Roy H. Williams, followed by a Web example or two. Not because I'm lazy, but because I think this information is that important and practical for small business owners, freelancers, consultants. So here it is: Read more
Tom Fatjo is a big-time CEO of huge publicly traded company, who got to that position through an uninterupted string of entreprenuerial success. From 1966 through 1981 Tom built 3 hundred million dollar companies:
1) Browning-Ferris Industries, Inc. the world's largest solid-waste disposal company at that time, with sales in excess of $550 million
2) Mortgage Bank, servicing over $400 million in mortgage loans (back in 1981, when banking and mortgages were respectable industries…)
3) Criterion Capital Corporation, whose subsidiaries and affiliates managed over $2 billion.
In other words, the guys an entrepreneurial and business stud.
But what does this have to do with you? Read more
With the movie version of The Lorax out at theaters near you, I thought you might enjoy this:
So, it's funny because it's true, right?
It also highlights the difference between, what a story or movie or ad is superficially about, and what it's REALLY about. An important nuance that a lot of copywriters screw up.
An ad for a car might be about the car, but it's REALLY about celebrating the fact that you've arrived. And while this ad is for a watch rather than a car, the copywriter definitely got that distinction:
You are standing in the snow, five and one-half half miles above sea level, gazing at a horizon hundreds of miles away. It occurs to you that life here is very simple: you live or you die. No compromises, no whining, no second chances. This is a place constantly ravaged by winds and storm, where every ragged breath is an accomplishment. You stand on the uppermost pinnacle of the earth. This is the mountain they call Everest. Yesterday it was considered unbeatable. But that was yesterday. As Edmund Hillary surveyed the horizon from the peak of Mount Everest, he monitored the time on a wristwatch that had been specifically designed to withstand the fury of the world's most angry mountain. Rolex believed Sir Edmund would conquer the mountain, and especially for him they created the Rolex Explorer. In every life there is a Mount Everest to be conquered. When you have conquered yours, you'll find your Rolex waiting patiently for you to come and pick it up at Justice Jewelers. I'm Woody Justice and I've got a Rolex… for you.
So when writing your ads, make sure you ask yourself: "What's this about? What's it REALLY about?"
P.S. If you have trouble with this, think in terms of creating an emotional understanding of an intellectual truth.