Ear­lier this year, I wrote a prod­uct page for the fine puz­zle­smiths at Jig­saw Health.
I had used some of their prod­ucts but not this one.
I thought the page was com­plete and darned good.
Flash for­ward to now, when we're con­sid­er­ing giv­ing this prod­uct to our son.
Our words-fail-beautiful son.
I went back to the page I'd writ­ten and couldn't find answers to my own ques­tions. I had to con­tact my for­mer client today with more questions.
Hello, salience. Nice to see you again. Thanks for remind­ing me a website's never complete.
Ask your­self of your web copy: after read­ing it, would you give your prod­ucts or ser­vices to your own words-fail-beautiful?
Does your copy pass the par­ent test?
Is it time for a re-write?
P.S. I guess I'd con­sider this my first guest post, but that would be cheat­ing.  Really, this post was writ­ten by the great Tim Miles for the Amer­i­can Small Busi­ness blog which is cur­rently cocooned away await­ing trans­for­ma­tion.  But this post was too good to hide away and I wanted to link to it for my mas­sive Resource-Intensive List Post.  So I stole it and put it here.  
Copy­writ­ing skill usu­ally pro­gresses along 3 stages:
Stage 1: Under­stand­ing the Mechanics — The untrained copy­writer can become expo­nen­tially bet­ter in a day's worth of train­ing. It really is that easy. And a copy­writer that's made that min­i­mum effort can get results, right away. That's why a lot of A-List copy­writ­ers will tell you that you don't have to become a great writer to make money writ­ing copy.
Stage 2: Learn­ing the Psy­chol­ogy of "Sales­man­ship in Print" — Semi-decent copy­writ­ers won't con­tinue to get bet­ter with­out at least a few month's or a year's worth of con­tin­ued study and prac­tice. That's because they're mov­ing from the core mechan­ics and basic mind­set of copy­writ­ing, to apply­ing effec­tive sales psy­chol­ogy to their writing.
Stage 3: Becom­ing a Seri­ous Stu­dent of Adver­tis­ing Artistry — Mov­ing from sea­soned, jour­ney­man copy­writer to true pro DOES require that you become a bet­ter writer. You must become adept at direct­ing the "movie in the mind" of the prospect, and that requires supe­rior word­smithing along with artistry above and beyond the pre­vi­ous two stages. Nat­u­rally this takes longer to learn.
So why should you care?
First, it's impor­tant to know that you can get dra­matic improve­ments and busi­ness results from mov­ing through the first two stages. Mean­ing that it's worth the lim­ited effort to get bet­ter even if you are NOT look­ing to become a pro­fes­sional copy­writer or marketer.
Sec­ond, if you ARE look­ing to become a pro­fes­sional copy­writer, you'll get bet­ter faster if you under­stand what stage of devel­op­ment you're in and what resources will help you the most for any given stage. That's not to say the com­po­nents of each stage don't over­lap, but that they do tend to build one stage on the other, so you shouldn't spend too much time, say, try­ing to learn rhetor­i­cal flour­ishes if you haven't mas­tered the basics of WIIFM, sub­stan­ti­a­tion and proof, etc.
And with that in mind, here are some solid, mostly free resources to get you to that next level:
Under­stand­ing the Mechanics
To me, the basic mechan­ics of copy­writ­ing includes the following:
Mov­ing from We-We to You-You Copy
The Impor­tance of

WIIFM

and Ben­e­fits vs. Fea­tures
Learn­ing

AIDAS

and/or the Four "P"s of per­sua­sive mes­sag­ing
UVPs, Irre­sistible Offers, and Calls to Action
Sub­stan­ti­a­tion

&

Proof Ele­ments
Antic­i­pat­ing and Answer­ing the (prospect's) Freak­ing Ques­tion

&

Objec­tion
Achiev­ing Clar­ity and Con­ver­sa­tional Tone
So, there's obvi­ously a bit more to the basic mechan­ics of good copy­writ­ing than JUST these ele­ments, and for you ded­i­cated stu­dents, I've come up with two entirely FREE resources to cover those:
Jef­frey and Bryan Eisen­berg have gra­ciously agreed to let my read­ers down­load a free copy of their highly praised and sought after book, Per­sua­sive Online Copy­writ­ing.
Learn­ing the Psy­chol­ogy of Sales­man­ship in Print
Sales Psy­chol­ogy is a BIG topic, and I'm sure I'm leav­ing lots of top­ics uncov­ered, but for me, the must-have basics include:
Under­stand­ing The Ele­ments of Influ­ence
Learn­ing about Tem­pera­ments

&

Decision-Making Styles/Needs
Under­stand­ing the Role of Self-Image in Per­sua­sion
Under­stand­ing the Impor­tance of Per­sua­sive Momen­tum
Fram­ing Argu­ments

&

Manip­u­lat­ing Con­text
Under­stand­ing how prospects are Pre­dictably Irra­tional
Obvi­ously, there is a lifetime's worth of learn­ing around these top­ics and any num­ber of "addi­tional read­ing" books could be rec­om­mended.  That said, the best FREE resources for this stage are Roy H. Williams first two books in his Wiz­ard of Ads tril­ogy, The Wiz­ard of Ads and Secret For­mu­las of the Wiz­ard of Ads, both which you can down­load as audio and e-books for free at Roy's Web­site.
Becom­ing a Seri­ous Stu­dent of Adver­tis­ing Artistry
Once you under­stand the mechan­ics and the psy­chol­ogy, you enter the realm of advanced tech­niques, sub­tlety of exe­cu­tion, and gen­eral artistry. This is where the ad writer has the most in com­mon with the nov­el­ist, play­wright, movie direc­tor, enter­tainer, and even the stage musi­cian. Here are
Frame­line Mag­net­ism

&

Clo­sure (aka, Know­ing What to Leave Out)
Short-Form Drama and Sto­ry­telling
Nested Sto­ry­telling
Voice
Men­tal Imagery

&

Image-based Ad Writ­ing
Mag­i­cal Think­ing
Set-ups and Pay­offs
Hook­ing the Reader /Listener
Again, there are a num­ber of books I might rec­om­mend for addi­tional read­ing, but if I am to focus in on
FREE
resources, I would rec­om­mend Roy H. Williams' 3rd Wiz­ard of Ads book,
Mag­i­cal World
s
, which you can
down­load for free directly from Roy's Web­site
.  You'll also want to sign up for the Mon­day Morn­ing Memo.  And if you're still hun­gry for more, I promise to com­pile a post of noth­ing but rec­om­mended books and blogs, rather than indi­vid­ual posts and free resources.
But for now, this resource list rep­re­sents a strong course of study. Best of luck to any and all aspir­ing stu­dents. Feel free to com­ment with your own pro­posed resources, ques­tions, etc.
Do you have the courage to say what you're not?
Most busi­ness own­ers don't want to draw that sharp line of dis­tinc­tion, and it's why their mar­ket­ing efforts blend into the clutter.
Dis­cernible edges and sil­hou­ettes allow us to visu­ally iden­tify an object, sep­a­rat­ing its fig­ure from the back­ground "noise." Elim­i­nate those dis­cernible edges and break up the sil­hou­ette, and you'll effec­tively cam­ou­flage your­self.
In the top-left pic­ture, you'll notice how the person's legs, back­pack, and hat all present a solid sil­hou­ette, with clearly defined edges. They stand out from the back­ground and are eas­ily iden­ti­fied. But the man's upper body, clothed by the cam­ou­flage pat­tern jacket, blends smoothly into the land­scape. The pat­tern breaks up his sil­hou­ette and blurs his edges into the back­ground of moun­tain­side, snow, and brush. As a result, your eyes end up visu­ally iden­ti­fy­ing the man by his pack­back and hat first, and then squint in to find where his shoul­der, body, and arms "should" be.
This works the same way for adver­tis­ing. Like our eyes, our minds also depend on edges and sil­hou­ettes.  We define by giv­ing para­me­ters, men­tally grasp­ing a con­cept by its bound­aries. With­out the "edges" of con­trast­ing ref­er­ence points, a con­cept or term remains ambigu­ous at best. To know what a donut is, you have to know the dif­fer­ence between a donut and a dan­ish — to know what isn't a donut.
This is why grab­bing after an "infi­nite" mar­ket and seek­ing to be all things to all peo­ple ends up cam­ou­flag­ing one's brand and mes­sag­ing; with­out con­trast it all just blurs into the background.
And that's a good thing because it makes it easy to stand out — if you've got the guts. Want to stand out?  Sharply define the edges between you and your com­peti­tors. It's that simple.
The bet­ter you do this, the more strongly you'll turn-off some cus­tomers. But wouldn't you rather pow­er­fully per­suade some of your mar­ket than be over­looked by all of it?
A Bold Exam­ple of Reverse Cam­ou­flage In Action
I found this ad in my local news­pa­per and was imme­di­ately struck by the bold headline:
"You don't want me to be your fam­ily doc­tor."
Pretty ballsy head­line for a doc­tor, huh? Wouldn't you feel com­pelled to read more about this doc­tor with the courage to so brazenly declare what he wasn't?
Hav­ing gained the reader's atten­tion, the body copy fur­ther explains: "Neu­ro­surgery is one of the few med­ical spe­cial­ties for which I am well-suited. I am not warm and fuzzy. I could never be suc­cess­ful as a pedi­a­tri­cian or in a fam­ily prac­tice — no one would come back a sec­ond time. But I am very good at what I do."
Dr. Good­man then sub­stan­ti­ates his claimed exper­tise with a list of very impres­sive pro­fes­sional qual­i­fi­ca­tions and accom­plish­ments, rounded off with some exam­ples of his extreme com­mit­ment to sur­gi­cal excel­lence and his patients' well-being.
While his pro­fes­sional qual­i­fi­ca­tions are truly out­stand­ing, most read­ers would never have read them with­out Dr. Goodman's use of reverse cam­ou­flage in his head­line. Say­ing what he wasn't allowed Dr. Good­man to stand out amidst the clut­ter.
3 sure-fire ways to reverse-camouflage your messaging:
1. Get your­self an enemy and/or reject a rea­son­able alter­na­tive position
Noth­ing fires the blood quite so much as declar­ing what — or bet­ter yet who — you stand against.  But you get no points for tear­ing down straw men; reject­ing a rea­son­able alter­na­tive posi­tion puts teeth into your message.
2. Present a tightly focused perspective
Once you've nar­rowed the group of cus­tomers that you're most inter­ested in attract­ing, focus your mes­sag­ing to speak most directly to their deeply felt needs, desires, and frus­tra­tions.  Peo­ple who don't share those expe­ri­ences will feel excluded, but your core audi­ence will feel an instant con­nec­tion.  Both will instantly rec­og­nize you.  Tim Miles offers a bril­liant exam­ple of this on his "About Us" page.
3. Explain what costs you're will­ing to bare and admit the down­side to your offer/product.
What you're will­ing to put up with in order to sat­isfy a pas­sion can be as much of a marker of iden­tity as the pas­sion itself. Stick shifts aren't as pleas­ant to drive in thick traf­fic, but a lot of dri­ving purists wouldn't have it any other way. Top end kitchen knives require extra care in terms of cut­ting sur­faces and using the right knife for the job, but those are points of pride for Food­ies and Chefs. So admit­ting these down­sides is not only the right and hon­est thing to do, it's also the per­sua­sive thing to do. And for two rea­sons: 1) as just dis­cussed, it helps enthu­si­asts fur­ther iden­tify with your brand; 2) admit­ting the down­side boosts cred­i­bil­ity — and cred­i­bil­ity acts as its own form of reverse cam­ou­flage amidst a back­ground of hype and BS.
P.S. If you'd like to learn more about Cam­ou­flage, I highly rec­om­mend this bril­liant piece in the New York Times.
Most small & medium-sized busi­nesses DON'T get to cre­ate brand­ing from scratch. That's the ignored real­ity and dirty truth most adver­tis­ing and mar­ket­ing advice ignores.
A suc­cess­ful small busi­ness that's sur­vived and even thrived for 5 or 15 years already HAS an iden­tity, his­tory, rep­u­ta­tion, etc. So while that busi­ness prob­a­bly won't have a ready-at-hand Unique Sell­ing Propo­si­tion or Pur­ple Cow to pro­vide to the ad writer, it also won't rep­re­sent a blank slate either.
So copy­writ­ers either have to FIND some­thing remark­able and rel­e­vant to write about, or they have to con­sign them­selves to gawd-awful hor­ror of ad-speak: "in busi­ness since… with fast friendly ser­vice… for all your ____ needs."
Bot­tom Line: ad con­sul­tants (and own­ers with­out adver­tis­ing help) have to play Iron Chef — they have to whip up that gourmet dish, not from scratch, and not by fol­low­ing a pre­de­ter­mined recipe, but by mak­ing use of what­ever ingre­di­ents are already on hand.
So let me share two prac­ti­cal tech­niques you can use to make that hap­pen. They might not sound prac­ti­cal, because I've given them weird sound­ing tags like "Phi­los­o­phize the Action" and "Do the Phi­los­o­phy," but they do work, and to quote Murphy's Laws of Com­bat: "If it's stu­pid but it works, it ain't stu­pid."  At any rate, here are the promised steps:
1) Phi­los­o­phize the Action
Frist, ignore what­ever the busi­ness owner tells you about what she or the busi­ness stands for. Ignore the mis­sion state­ment. Instead, ask the owner what tan­gi­ble, view­able, ver­i­fi­able thing or action she insists on regard­less of whether they can charge extra for it, or can pro­mote it as value-added to the client.  Some­thing they do just because they sim­ply refuse not to do it, or to do it any other way.
Put another way, actions speak louder than words, so focus on the actions. But make sure it's actions moti­vated by some inner value rather than profit, con­ve­nience, etc.
You'd think this sort of thing would be rare — busi­ness men being in busi­ness to make money and all, you'd think they'd be loath to put effort into a non-profit mak­ing effort or add on — but rather than rare, it's almost uni­ver­sal; I've never not seen it in a pri­vately owned business.
Why is this and why does it matter?
Busi­nesses are owned by peo­ple, and peo­ple can't help but express their val­ues. I've seen this done by var­i­ous own­ers insist­ing on:
Pro­vid­ing extra train­ing for their techs,
Answer­ing phones within 7 rings,
Pay­ing well above mar­ket pric­ing for higher qual­ity mate­ri­als or parts
Putting in extra brac­ing, padding, key ingre­di­ents, etc
Using only this mech­a­nism and not the more pop­u­lar, eco­nom­i­cal one
And so on.
The thing is to dig until you FIND that sort of thing. THEN fig­ure out what val­ues that com­mit­ment com­mu­ni­cates, which brings us to…
2) Act on the Philosophy
Now that you have seen an action that's insisted on even when it costs the busi­ness owner to insist, you can take that the value that the action expresses and use it to fla­vor other aspects of his business.
So if answer­ing the phone within 7 rings is the action you dug up, then per­haps the val­ues at play are respon­sive­ness and human warmth.  So see if you can't bake in bet­ter respon­sive­ness and warmth — or expres­sions of the same — into other inter­ac­tions and touch­points with the com­pany.  For exam­ple, a con­trac­tor might make a com­mit­ment to get quotes out in 24-hours and to pro­vide cus­tomers with the names and e-mail addresses of the techs han­dling their accounts.  That sort of thing.
This is dif­fer­ent than a from-scratch ingre­di­ent because it was already on-hand, even if it was hid­den at first — and also because the val­ues are already deeply held by the owner, mean­ing that the sug­ges­tions are more likely to be imple­mented with vigor than sug­ges­tions dreamt up "from scratch."  Mean­ing that the ads can promise these points of dif­fer­ence with confidence.
Once you've gone through step 2, you can now attempt to build some sort of mes­sag­ing, USP, or cam­paign around the uncov­ered value and new points of differentiation.
And since this is Prac­ti­cal Tac­ti­cal Tues­day, you know I'll make sure to give you an exam­ple. So here's a case study from the Great Tim Miles that per­fectly illus­trates this tech­nique. Go read it — you'll be glad you did.
P.S. If you've never seen Iron Chef, you should check out this short clip of the open­ing cred­its. It'll explain a lot : )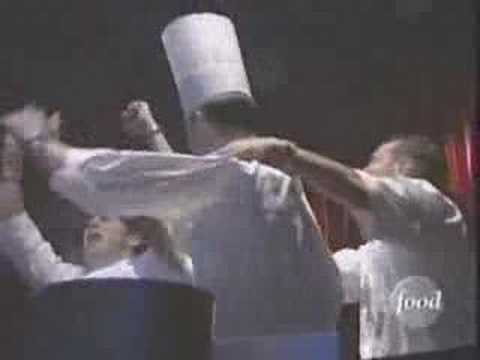 "The longer it takes to explain an idea, the smaller it seems" — Lee Clow
Great ads can deliver an idea like "Win­ning the Bat­tle of the Short List" in less than 30 sec­onds.  Or in the exam­ple below, in 9 short lines and less than 64 words. Bet­ter yet, great ads make you feel the truth of the idea in your gut.
How do they do that?
Usu­ally with drama. Take this mag­a­zine ad I ran into over at the Sell! Sell! Blog:
Totally dif­fer­ent expe­ri­ence than read­ing my blog post on the same sub­ject, right?
And they cre­ated that expe­ri­ence through short-form drama. They sucked you into a story — smack in the mid­dle of a mini drama — before you even real­ized it.  And while you were men­tally play­ing out that drama, they sucker punched you with the emo­tional truth of the idea. Here's how:
1) The image of the ad has a high degree of story appeal. The guy is look­ing at you and he doesn't look happy.  So what's that all about, right? Appar­ently there's trou­ble in River City, and where there's trou­ble, there's a story.  So curios­ity obliges you to read the copy to fig­ure it out and get the scoop.
2) The copy speaks directly to you, the reader. You are indeed being addressed by this man, and — boom! — at that instant you're now inside the drama.
3) The copy makes it imme­di­ately and painfully obvi­ous that you're walk­ing into a tough sell. A very tough sell that get's tougher with each line of copy from the prospects mouth.
So once you fin­ish read­ing and finally pop out of the mini-drama, the emo­tional truth of the mes­sage hits home. There's just no deny­ing the truth of that final "Moral."
The Beauty of Short-Form Drama
So what's the moral of THIS story?
Moral: Great ad writ­ers do use short form sto­ry­telling and short form drama to cause peo­ple to real­ize the truth of your mes­sage on an emo­tional, gut-feel level. Most adver­tis­ing fails because most ads aren't writ­ten by ad writ­ers capa­ble of per­suad­ing through short-form drama.
What kind of  per­sua­sion is your ad writer bak­ing into your ads?
OK, before you do any­thing else, watch this all the way through: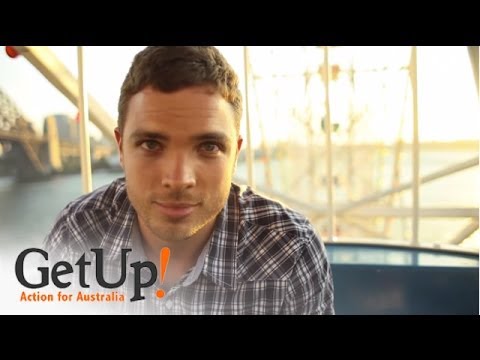 Now, regard­less of which side of this issue you are on, put that aside for now. If you don't you'll never see the per­sua­sive art at work in the film.
So what tech­niques ARE at work in the film?
Well, the grand strat­egy is to get you emo­tion­ally involved in the story of the fea­tured man's rela­tion­ship — pre­sum­ably with a woman who's "first per­son shooter" per­spec­tive you're watch­ing in the video.
In fact, the cre­ators of this video want you to not only be drawn into the nar­ra­tive arc of their story, but to be "root­ing" for the cou­ple.  So how do they do that?
1) Use of First Per­son Shooter Per­spec­tive
&

Nar­ra­tive Misdirection

When­ever fic­tion writ­ers need to write a sus­pense novel or mys­tery, they usu­ally write from a Third Per­son Lim­ited per­spec­tive, mean­ing the reader sees the world through the eyes of the main char­ac­ter and is privy to that one character's thoughts, but every other char­ac­ter is only ever pre­sented exter­nally, as seen through the eyes of the main character.

This per­spec­tive allows close iden­ti­fi­ca­tion between the reader and the main char­ac­ter.  It also allows the author to lead the reader in one direc­tion, and then yank the car­pet out from under their feet for a "big reveal."  We see Harry Potter's world through the eyes of Harry Pot­ter, and are sur­prised to find Quir­rell, and not Snape, as the bad guy at the end of Sorcerer's Stone.

Sounds kind of like the video, doesn't it?

Of course it does. In the video, you see every­thing from the per­spec­tive of the "girl" being flirted with, dated by, and romanced by "Paul." And you fre­quently expe­ri­ence you and Paul's co-participating in activ­i­ties with other het­ero cou­ples.  Lead­ing you to believe that Paul is also involved in a het­ero couple.

This sets the stage. This tech­nique allows the video to get you to think about the cou­ple absent any other pre­con­cep­tions you might have. They have to get you to like and root for the cou­ple BEFORE the big reveal.

So step 1 is First Per­son Shooter Per­spec­tive com­bined with Nar­ra­tive Misdirection.
2) Use of "Char­ac­ter Root­ing Techniques"
Screen­writ­ing gurus will tell you that you can't assume the audi­ence will like and root for your main char­ac­ter — you have to bake in scenes designed to GET the audi­ence to like and root for your char­ac­ter. The late Blake Sny­der called this "sav­ing the cat" and thought it was impor­tant enough to name his first screen­writ­ing book, Save the Cat.
And the corol­lary to sav­ing the cat? Squash­ing the cat. You either have the hero per­form some kind or heroic act, or you have the char­ac­ter suf­fer some kind of unde­served mis­for­tune. Dis­ney redeems the thiev­ing Aladin in the eyes of the audi­ence by hav­ing him give his stolen food to street urchins. He saves the cat. Cin­derella loses her mom, and gets abused by her step­mom. She suf­fers unde­served misfortune.
So what does this film do?
It starts out with play­ful, "meet cute" flirt­ing. Every adult has had this expe­ri­ence and most peo­ple reflect back on the fear and emo­tional charge of such a moment, mean­ing that you almost can't help but want suc­cess (how­ever you define it) for the peo­ple involved.
Lot's more "Like me" moments. Play­ing on the beach, meet­ing par­ents, argu­ing over direc­tions, and lots of other sim­i­lar scenes that most view­ers can instantly iden­tify with.
Play­ful­ness. Most of the scenes show "Paul" act­ing play­ful and fun. This is very human and makes the cou­ple instantly likeable.
Unde­served mis­for­tune. Paul's mom is intro­duced ear­lier in one of those "like me moments" that define the nar­ra­tive arc of the rela­tion­ship.  So when Paul's mom dies, we can't help but ache for him. And to appre­ci­ate the rela­tion­ship that helps him get through that death.
So we get lots of Char­ac­ter Root­ing Inter­est moments packed into this 2 minute video. All set­ting up max­i­mum emo­tional punch for the big reveal.
What the Heck Does this Have to Do with Advertising?
If these fic­tion writ­ing tech­niques can get you to like and root for a cou­ple in spite of a highly-charged polit­i­cally divi­sive issue, do you think they could work to get you to iden­tify with and like a brand?
Sure they could. Sim­i­lar tech­niques worked for Tony the Tiger, the Jolly Green Giant, Bar­tles & Jaymes, and "I'm a Mac." And they can be put to work for you, too, even if you're not a huge multi­na­tional. Here's an exam­ple cre­ated by my part­ner, Roy Williams, for a local HVAC client:
And here's another one: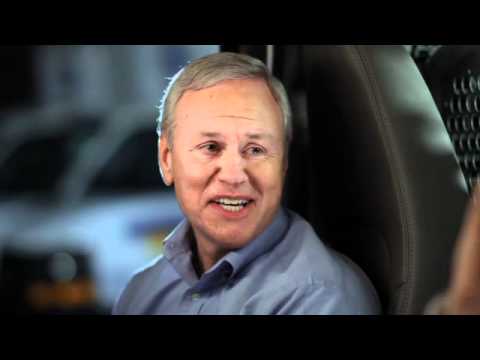 So, do you think that after watch­ing a series of these ads, you might start lik­ing and root­ing for Mr. Jenk­ins and Bobby?
Well, whether you do or not, the ads are increas­ing sales. So somebody's root­ing for Mr. Jenk­ins. Actu­ally, a whole lot of somebodies.
What are you doing to get peo­ple to root for YOUR business?